China's monetary policy in 2022: The way forward
Share - WeChat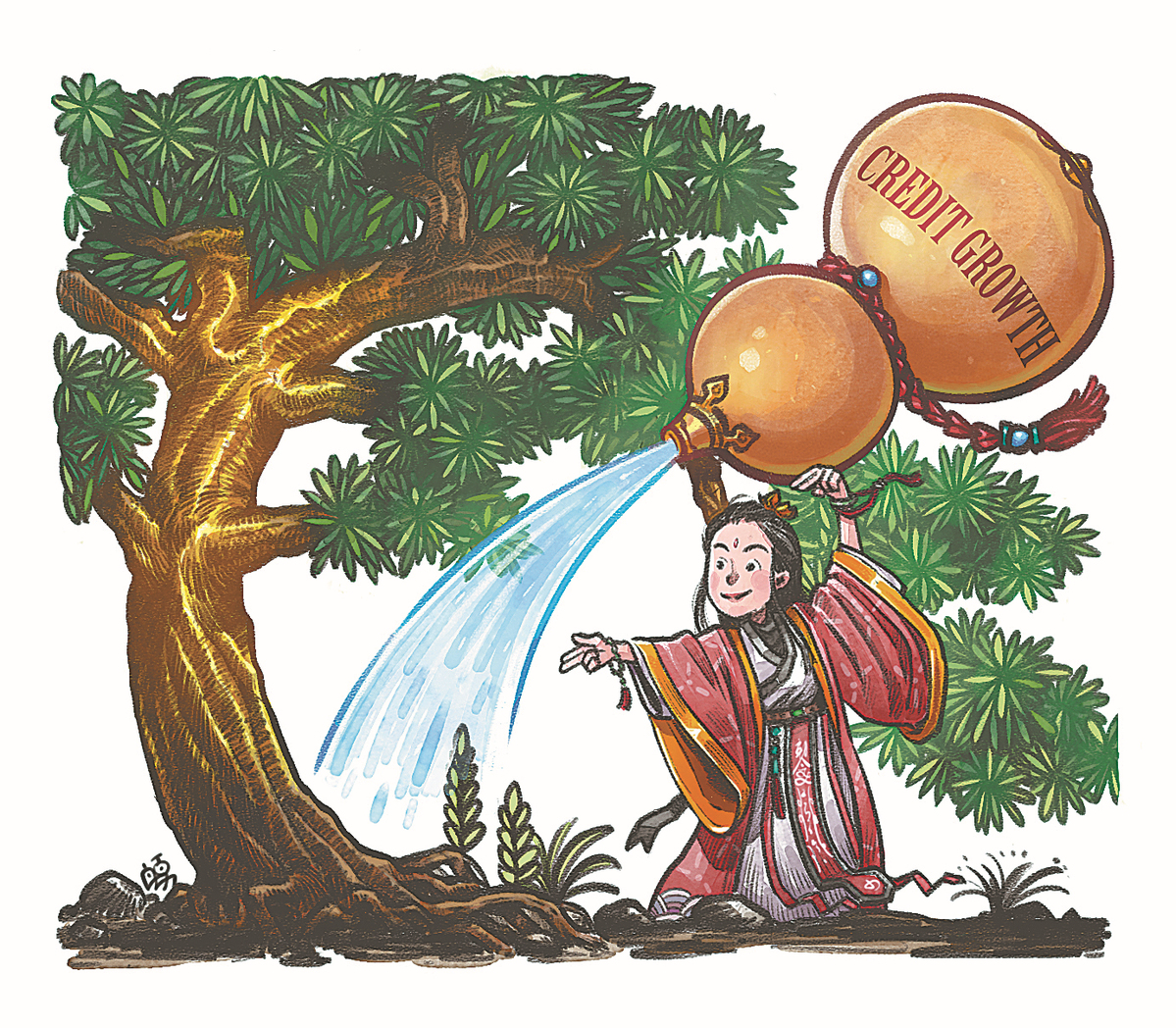 In 2022, China's economy can retain its fundamentals of long-term growth and strong resilience. Yet, it will come under downward pressure at home, compounded by growing external complexities and uncertainties.
COVID-19 continues to take its toll around the globe, especially with the quick spread of the Omicron variant and the possible emergence of new variants down the road. This will weigh on global recovery. Both the International Monetary Fund and the World Bank recently downgraded their forecast for global growth in 2022. Inflation in major economies has worsened. The annual inflation rate in the United States has risen to 7 percent in December, hitting a four-decade high. The US Federal Reserve's confirmed stance about raising interest rates and unwinding balance sheets has stoked up market expectations about Fed's tightening. Uncertainty in cross-border capital flows is notably trending upward, and emerging markets are facing the dual pressure of currency depreciation and capital outflows.
Domestically, China is grappling with contracting demand, supply slumps and weakening market expectations. Medium, small and micro-sized businesses as well as those industries severely affected by the pandemic are still faced with notable challenges. Though inflation expectations remain stable, it is important to keep an eye on any impact offshore inflation conditions may have on China. In such a context, China must adhere to a monetary policy that is forward-looking, stable, targeted, effective and independent.
With an eye on stability, the tone was set for 2022 at the Central Economic Work Conference. The People's Bank of China-the country's central bank-will introduce a monetary policy to steady the economy. The prudent monetary policy will be flexible and appropriate. Cross-cyclical regulation will be strengthened in a more proactive and progressive manner. The monetary policy will be carried out in a way that ensures stable and well-structured money supply, and guides financial institutions to scale up support for small and micro businesses, technological innovation and green development, so as to keep economic fundamentals stable and create an enabling monetary and financial environment for high-quality economic growth.
There are several keywords that help one understand what makes a prudent monetary policy work in a flexible and appropriate manner.
The first is stability. As the economy faces downward pressure, keeping growth stable is nothing short of major progress. In an effort to increase support for the real economy, stable money supply must be ensured with adequate aggregates and reasonable rates. The monetary policy must be targeted and proactive to help improve economic structure, and be front-loaded and forward-looking to stay ahead of the market curve.
The second is flexibility. The pace, intensity and focus of monetary policy will be flexibly adjusted in light of changing circumstances to facilitate high-quality development. Targeted support will be especially increased for small and micro businesses, green development and technological innovation. Efforts will be made to improve credit structure while stabilizing the total amount of lending.
The third is appropriate amount and price of lending. Efforts will be made to ensure steady credit growth, and keep growth of broad money supply and aggregate social financing basically in line with nominal economic growth in order to bring down financing costs for businesses.
Specifically, China's monetary policy will be shaped by the following priorities.
First, efforts will be made to ensure steady credit growth. A variety of monetary policy tools will be utilized with proper intensity to inject liquidity into the market. The central bank will act promptly to mitigate short-term liquidity fluctuations. Efforts will be made in cross-cyclical regulations targeting liquidity to keep it reasonably ample and to facilitate steady market-based interest rates. The regulatory mechanism of money supply will be improved. Sustained efforts will be made to ease the three major constraints on bank lending. Credit demand from the real economy will be nurtured, while financial institutions will be encouraged to enhance loan issuances in an effort to facilitate steady credit growth and keep the money supply growth rate and aggregate financing basically in line with nominal GDP growth.
Second, efforts will be made to optimize credit structure. Structural monetary policy tools will be employed to increase lending support for key areas and weak links. Inclusive lending tools for micro and small enterprises will be fully harnessed. The PBOC will provide additional funds to local banks that make special efforts to issue inclusive loans to SMEs and self-employed operators. Re-lending programs for agricultural enterprises and small firms will be implemented.
The 400 billion yuan ($63.13 billion) re-lending quota previously designated for SME inclusive credit loans can be rolled over, and expanded if needed, to encourage more lending to agricultural and small firms. The financial instruments for carbon emission reductions and the targeted re-lending program for clean and efficient use of coal will be used to support the carbon peak and neutrality goals. Comprehensive efforts will be made to guide financial institutions in stepping up lending to places with slower credit growth to realize coordinated development across regions.
Third, substantial efforts will be made to bring down the overall financing costs of enterprises. On Jan 17, the PBOC scaled up liquidity injection and cut interest rates for its medium-term lending facility (MLF) and reverse repos by 10 basis points. Following these moves, on Jan 20, China's one-year loan prime rate (LPR) went down by 10 basis points, while the five-year LPR headed down by 5 basis points. These will help shore up market sentiment, bring down overall financing costs for businesses, stimulate financing demand, ensure stable credit growth, and better support the issuance of both treasury bonds and local government bonds. It is important to improve the formation and transmission mechanisms of market-based interest rates. Sustained efforts will be made to enhance the policy interest rate system, short-term policy interest rates and medium-term lending facility interest rates and cultivate the interbank benchmark interest rate system represented by the repo rate of depository institutions in the interbank market. It is also necessary to smoothen the transmission mechanism of interest rates. The role of LPR reform and interest rate self-disciplined mechanism shall be brought into full play to guide business lending rates.
Fourth, the PBOC will also work to keep the renminbi exchange rate generally stable at an adaptive, equilibrium level. Market supply and demand will play a decisive role in shaping exchange rates. The elasticity of RMB exchange rates is expected to be enhanced so that exchange rates can function as an automatic stabilizer in adjusting the macro-economy and balance of payments.
A variety of factors may have left an impact on the exchange rate, and two-way fluctuations are normal. The exchange rate may deviate from the equilibrium level in the short term, yet in the medium to long term, the market and policies are likely to correct most deviations. Therefore, it is important to intensify the macro and prudent regulation of cross-border capital flows. Enterprises and financial institutions will be encouraged to embrace the idea of "risk neutrality". Financial institutions will be incentivized to provide risk management services regarding exchange rates, and help forex market grow in a steady manner.
The writer is the head of the monetary policy department at the People's Bank of China, the country's central bank.