Companies switch tactics as gains from online ads slip
Share - WeChat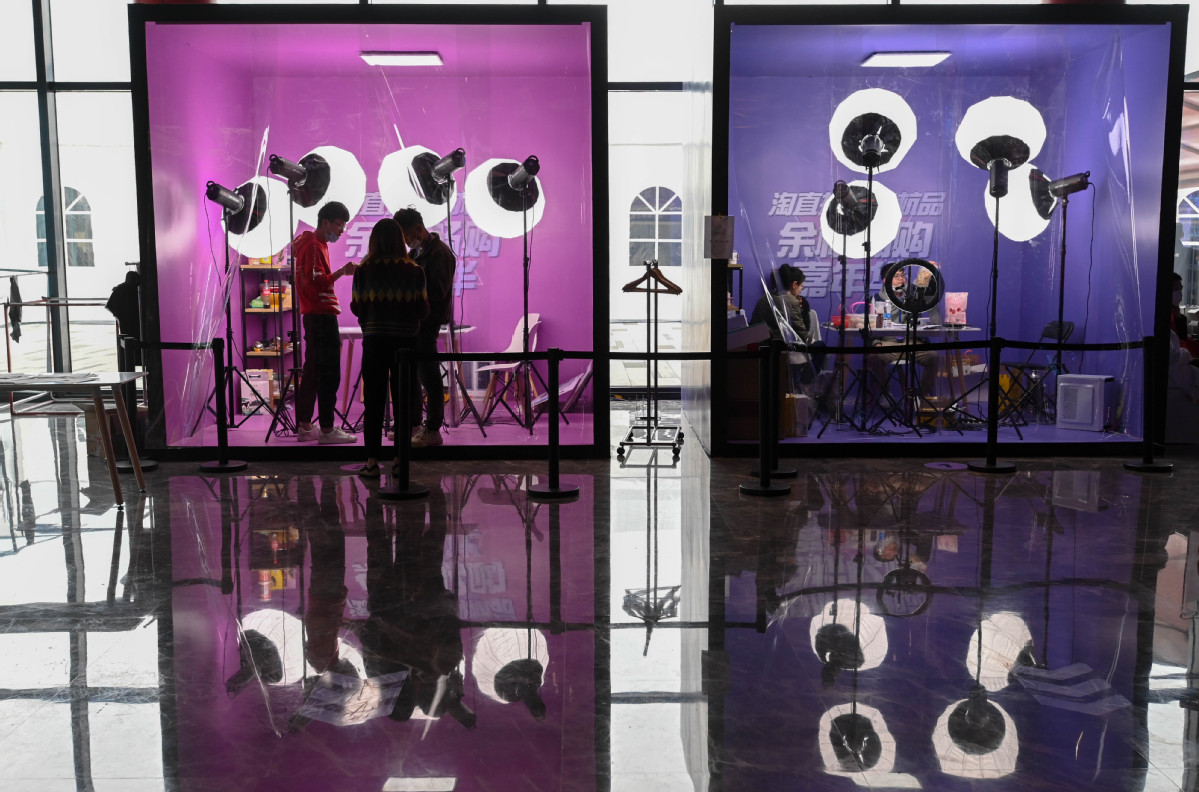 Tech outfits banking on KOLs, better trend-tracking for smarter marketing
After years of hype, China's online spending on advertising has hit a slowdown that is not unexpected.
E-commerce powerhouse Alibaba reported that its customer management segment, which includes advertising, posted a mere 3 percent year-on-year gain in the quarter ended September 2021.
Tencent, which runs an all-in-one app WeChat, fared no better, registering just 5 percent growth year-on-year in terms of online advertising during the same period. That represented a drastic cool-down from 23 percent in the previous quarter.
Rising star Pinduoduo, which connects farmers directly to consumers and is known for offering good values online, posted a 44 percent rise in online marketing services for the third quarter of 2021, compared with the same period in 2020. This was down from the 54 percent jump in the second quarter of 2021, and the 157 percent surge in the first three quarters of the previous year.
ByteDance, which operates viral short video platform Douyin, also saw squeezed online ad margins, according to reports by several Chinese media outlets including 36kr and LatePost, citing company insiders. The company isn't listed and financial earnings aren't available publicly.
Tightened oversight and weaker consumer buying have contributed to the slide, experts said.
Felix Liu, an analyst at UBS Securities, predicted that e-commerce platforms and other online businesses would find it hard to advance substantially in online ad revenue, given that no recovery in customer spending is expected on the immediate horizon.
Slowing spending growth in the final months of the year implied challenges ahead, experts said. December consumption-often perceived as a year-end booster-grew just 1.7 percent year-on-year, down 0.18 percent compared with the previous month.
With tech companies-both the established and high-flying newcomers-reporting waning ad growth, brand executives are trying to allocate their marketing budgets in a smarter way.
One approach is boosting accuracy in picking the right online influencers, better known as key opinion leaders, and having them endorse brands or products.
Over two-thirds of the brands surveyed by the China Advertising Association and data marketing technology firm Miaozhen Systems said they would prioritize KOL promotion in their digital marketing efforts. That would be followed by promotions via short video and a brand's official account, according to the survey report, released last month.
While KOL marketing is not new in China, the fast-changing online environment is pushing brands to increasingly factor in cost-effectiveness.
The survey found that 54 percent of brands are looking for immediate consumer affinity for a product after it's endorsed by a KOL, with 37 percent expecting a direct translation into sales. Primarily building a positive brand image has dipped 4 percentage points from a year earlier to 27 percent in terms of a goal.
But driving sales shouldn't always be prioritized using this technique, experts said. KOLs differ from celebrities largely because of their aura of authenticity, meaning more followers trust their opinions and recommendations, according to Elijah Whaley, chief marketing officer of Parklu, a company that helps businesses find the most relevant opinion leader for their brand and customers.
"Authenticity is important, and the focus is on providing content that's real, interesting and useful. A good KOL will understand how to shape their followers' perception of a brand," he was quoted as saying in an interview with the New Zealand Trade and Enterprise on China's KOL marketing landscape.