Exploring tiger culture in North China's small county
Share - WeChat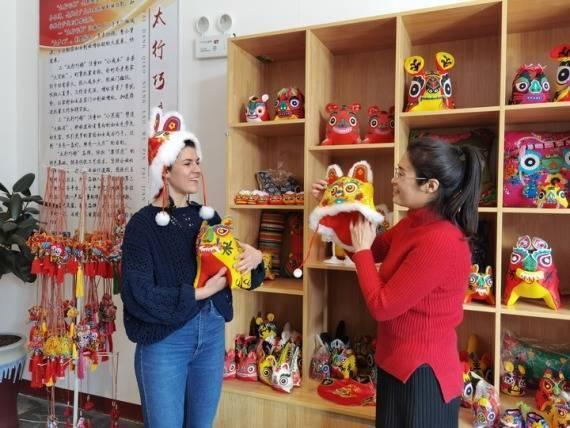 With the coming of the Year of the Tiger, a county in North China's Shanxi province is back in the spotlight for its time-honored tiger culture.
Licheng county in East Shanxi is where the ancient Li Kingdom of the Shang Dynasty (1600-1046 BC) was located. People of the ancient kingdom worshipped tigers. Despite the vicissitudes of the times, the tiger-loving tradition has been kept alive in the county of some 134,000 residents.
Kristina Radchenko, who came from Russia and now works in the nearby Changzhi city, has been curious about the tiger culture in Licheng, which prompted her to embark on a trip to the county just before the Spring Festival.
The Tiger Museum in Licheng was Radchenko's first stop. At its doorstep, she was attracted by a photo of a jade tiger with sharp claws and its mouth wide open as if hunting.
A museum staffer told Radchenko the jade tiger dates back to some 3,000 years ago. Its excavation in 2006 in the nearby area further supported the existence of the Li Kingdom and the residents' totem worship back then.
She was quickly in love with a row of hand-made cloth tigers inside the museum. These are the most famous representation of Licheng's tiger culture, integrating traditional paper-cutting, embroidery, and other art forms.
With big, round eyes, colorful patterns on the head, and a chubby body, the Lihou Tiger blends the big cat's majesty with cuteness, making it widely popular, especially among kids.
The displays in the museum unfold the evolution of Lihou Tiger craftsmanship. Radchenko noticed that their appearance has become simpler and more fashionable in modern times. The filling has also changed from sawdust to cotton.
In 1998, also a Year of the Tiger, the Lihou Tiger dominated the zodiac stamps released by China Post, giving rise to its fame in China and beyond. Ten years later, the Lihou Tiger was listed in China's Intangible Cultural Heritage.
Most Popular