Exploring tiger culture in North China's small county
Share - WeChat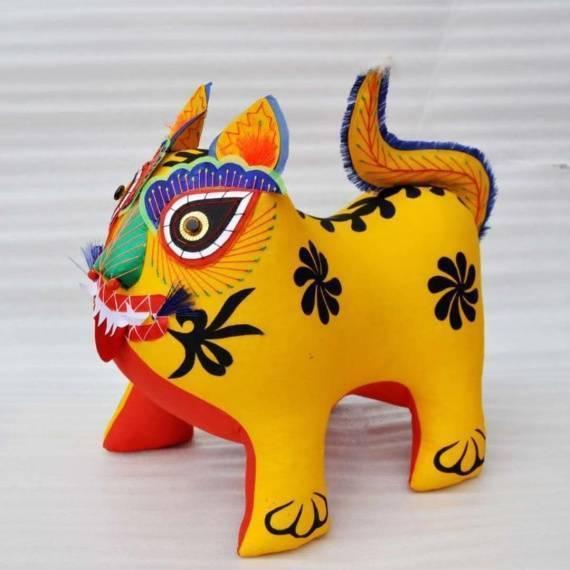 Since then, orders of this toy and related products started to pour into Licheng, prompting more folk artists and workers to join the industry.
Li Xiaomei is an inheritor of the Lihou Tiger craftsmanship. In Li's studio, Radchenko found an array of hats and shoes with tiger head patterns, and they are all made for children.
"Lihou Tigers are our mascots. We hope our children will grow as strong and brave as tigers," said Li, adding that the custom is deeply rooted in Licheng.
She showed her new Russian friend the steps to make a Lihou Tiger, including drawing the pattern, tailoring, seaming, and stuffing it with cotton before adding other parts onto the tiger's face.
Radchenko couldn't wait to make a Licheng Tiger of her own. Under the patient guidance of Li, she successfully stuck a pair of sparkling eyes and sewed eyebrows onto the face of a blue tiger.
Over the past three months, Li has received orders worth over 200,000 yuan (about $31,407). She hired more than 100 workers, mostly women, to speed up production.
"The more famous Lihou Tigers become, the more local women could make a living out of them," Li told Radchenko.
To enhance efficiency and ensure quality, many workers focus on making only one part of a Lihou Tiger, and they are free to work from home.
In Beiguihua village of the county, 51-year-old Li Jingfen was busy making "tiger tails" in her living room. She has been involved in the production for 12 years. Apart from farming, this job gives her an income of more than 1,000 yuan per month, she said.
Guo Lei, head of the culture and tourism department of Licheng county, said more than 500 professionals currently produce Lihou Tigers. It makes it a relatively massive industry in the local rural revitalization drive.
Around 50,000 pieces of cloth tigers are made annually, earning an extra income of over 10,000 yuan per household, Guo added.
Having lived in China for five years, Radchenko has been impressed by the Chinese people's strong sense of pride in their profound culture. "Everyone is taught from childhood about the importance of preserving and respecting the long history," she noted.
A trip to a small county as Licheng further deepened her understanding. In the local kindergarten, children were singing a folk song about the Lihou Tiger, created by their teachers to pass on their unique heritage in a fun and natural way.
"Chinese culture is amazing. Nearly every single city, village, road, and house carry a memorable past of its own," said Radchenko.
Most Popular