An oasis of learning in a virtual world
Share - WeChat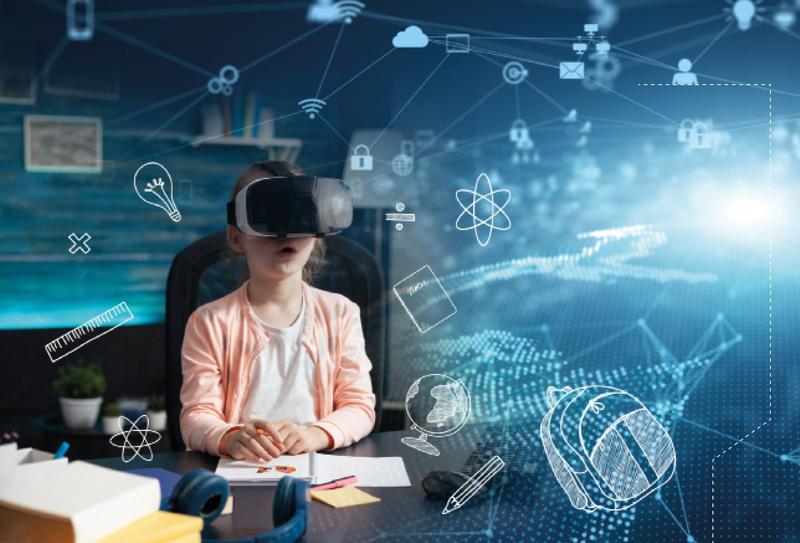 After a few lessons in architectural design, it's time for the main event. An avatar teacher switches on the monitors in the classroom and equips the students with goggles and gloves. Immediately, the entire building model of the design is presented through their goggles.
The students are immersed, trying to build up the setting and examining the practicality of the design in the context of the changing scenarios manipulated by their teacher. They can clearly see the details of all the parts and are able to control them in the simulated surroundings. They can also distort the proportions of the building, and record the most appropriate layout in order to make it an ideal piece of artwork.
It's one of the scenes in education in the metaverse world. Isn't it exciting?
After Facebook CEO Mark Zuckerberg depicted a metaverse world at Connect 2021 - an annual conference hosted by the US online media and social networking giant - believing it will be the prelude to the mobile internet, the concept has gone mainstream and created a metaverse frenzy worldwide.
Although the term "metaverse" is yet to have a clear definition, it hasn't prevented the notion from taking root in sectors like gaming, work, social life and education, especially the last one, whose focus is on developing talent.
The global education sector has been hard hit by COVID-19, like the business, professional and social fields. According to figures released by the United Nations Educational, Scientific and Cultural Organization on International Education Day last month, the pandemic forced about 40 countries and regions to shut down schools and switch to distance learning in 2021. More than a dozen nations are doing likewise and shifting to online teaching this year as the omicron variant ravages the globe. With online teaching platforms, such as Zoom and MOOC, becoming essential for students to keep themselves on track with learning, online education is fast gaining thrust, fueling the advent of the metaverse.
Addressing a recent technical education forum organized by the Hong Kong Productivity Council, George Chen Shu, managing director of public policy for Greater China, Mongolia and Central Asia for Facebook, described the metaverse as a set of virtual spaces where people can create and explore issues with others who aren't in the same spaces.
"Unlike those classes conducted through Zoom, the metaverse can help transform online education from two dimensional to three dimensional, allowing for a more immersive experience of working and learning from home," he said.