'Lively, fun and witty', chubby mascot is star at Beijing 2022
Share - WeChat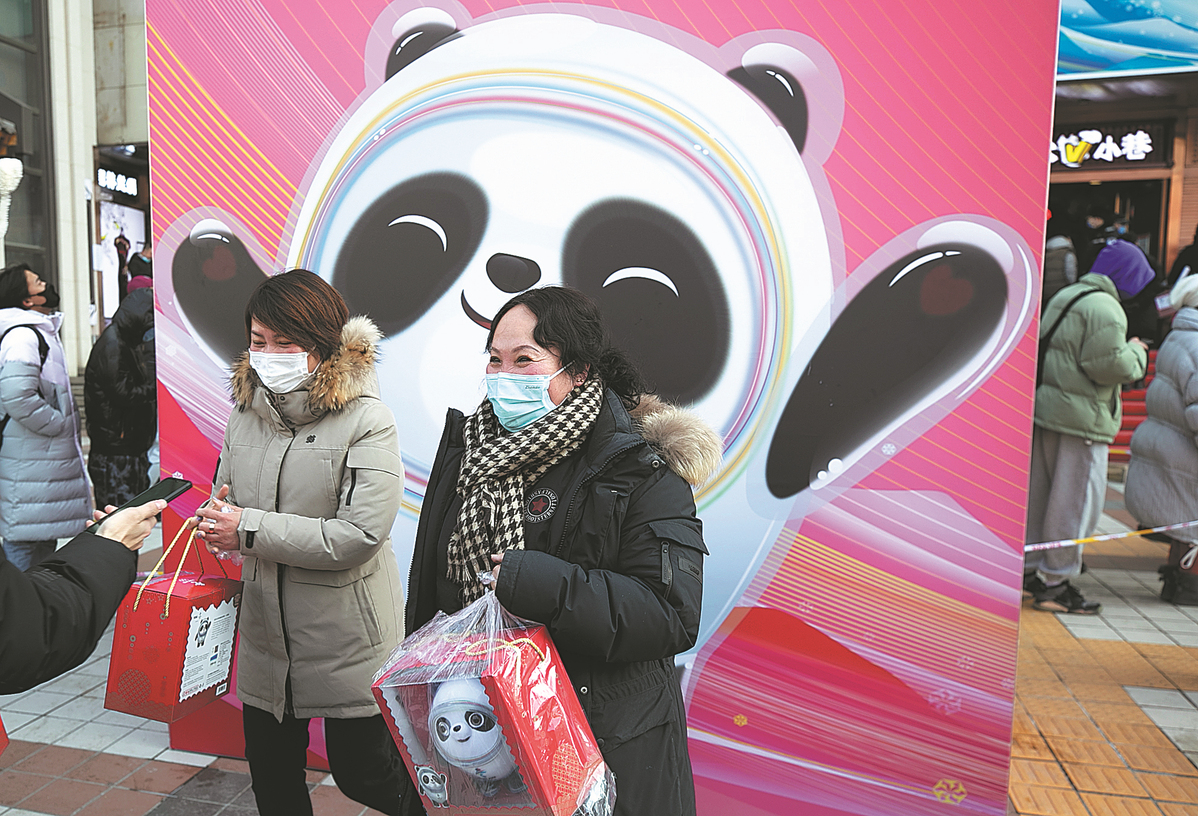 A chubby panda wearing an ice shell, the Beijing 2022 Winter Olympics mascot Bing Dwen Dwen has become the breakout star of the Games, winning the hearts of athletes, politicians, the media and sports fans across the globe.
Bing Dwen Dwen soft toys have become so popular that President Xi Jinping has offered Prince of Monaco Albert II a pair of the mascots as gifts.
On Saturday, the prince received a figurine of Bing Dwen Dwen at the Great Hall of the People in Beijing, and asked if he could have a second one because he has twins, according to a China Central Television report.
Xi said Prince Albert II should not only take a pair of the mascots back to his children, but also the wish they "develop interests in winter sports and become a master of winter sports like you".
In the Olympic Villages, athletes and staff members have scrambled to post pictures and videos with Bing Dwen Dwen and buy soft toys and souvenirs.
"Every time we replenish Bing Dwen Dwen gifts, they sell out in half an hour; demand completely exceeds supply," said Liu Hao, a souvenir shop employee in Zhangjiakou Mountain Media Center, Hebei province, adding that the mascot is very popular with foreign reporters covering the Games.
Huang Jingran, a worker at Genting Snow Park in Zhangjiakou, waited 45 minutes on Saturday for the official Games store at the resort to open to buy the soft toys.
"I thought I could buy them later, but I didn't expect them to be so popular, so I waited in line before the shop opened, hoping to get them as soon as they were restocked," she said.
The cute panda has also won the hearts of Olympic competitors. The Brazilian team posted a picture on Twitter showing two athletes hugging Bing Dwen Dwen pillows in their room. Brazilian freestyle skier Sabrina Cass and Dutch skeleton racer Kimberley Bos both posted photos on social media of themselves with Bing Dwen Dwen dolls in the Games Village.
In a video blog, Czech ice dancer Natalie Taschlerova wishes her followers good night with her Bing Dwen Dwen pillow near her accompanied by the text "first night with my panda".
A Japanese video report showing reporter Gido Tsujioka with six Bing Dwen Dwen badges pinned on his press lanyard has also gone viral, earning him the nickname "Gido Dwen Dwen".
Christophe Dubi, Olympic Games executive director of the International Olympic Committee, said Bing Dwen Dwen is a lively, fun and witty mascot "full of positive energy". "Bing Dwen Dwen has to be part of my collection and for kids all over the globe," he said.
Public popularity
Outside the closed-loop for Olympic athletes and officials, mascot merchandise such as keychains and dolls are out of stock at officially licensed online retailers and bricks-and-mortar shops.
Fu Yuchen, 27, from Chengdu, Sichuan province, said she wanted to buy a Bing Dwen Dwen product from an official online retailer but she was too late. She said a reseller was offering a set of Bing Dwen Dwen blind boxes for over 2,000 yuan ($315), almost three times the official price of around 700 yuan.
People also reportedly waited for lengthy periods in front of the Olympic flagship store in Beijing on Saturday. More than 280 customers were lined up outside the store by 7:50 am even though it opened at 9:30 am, one customer said.
Bing Dwen Dwen has also been top of the trending topics on Sina Weibo. As of Monday, the topic "Bing Dwen Dwen" had garnered more than 2.5 billion views and 700,000 comments. Other topics including "Bing Dwen Dwen emojis", "Winter Olympic top favorite Bing Dwen Dwen", "How cute is Bing Dwen Dwen" and "How to own a Bing Dwen Dwen", have also been popular.
Zhao Weidong, spokesman for the Beijing Winter Olympics organizing committee, said at a news conference on Sunday that the supply shortage of Bing Dwen Dwen was partly due to the Chinese New Year slowing production and the sudden burst in demand.
"We're coordinating with relevant departments to increase the supply of Bing Dwen Dwen," he said, adding that it also reflected the great attention the Beijing Winter Olympics are attracting.
Bing Dwen Dwen was named as the official Games mascot in September 2019, standing out from 6,000 candidates.
Cao Xue, the chief designer, said the inspiration came from a traditional Beijing snack Tanghulu-candied hawthorn fruits. To make the panda look more adorable, the design team used the image of a panda cub.
Li Yi, 28 from Xi'an, Shaanxi province, said Bing Dwen Dwen's design fits perfectly young people's aesthetic preferences. "It looks cute, soft, silky and a bit clumsy. It has the sweetness of Tanghulu and also the cuteness of the roly-poly panda. Who doesn't want to have one?" she said.
Cui Jia in Zhangjiakou contributed to this story.