Skiing medical team gears up for Games
Share - WeChat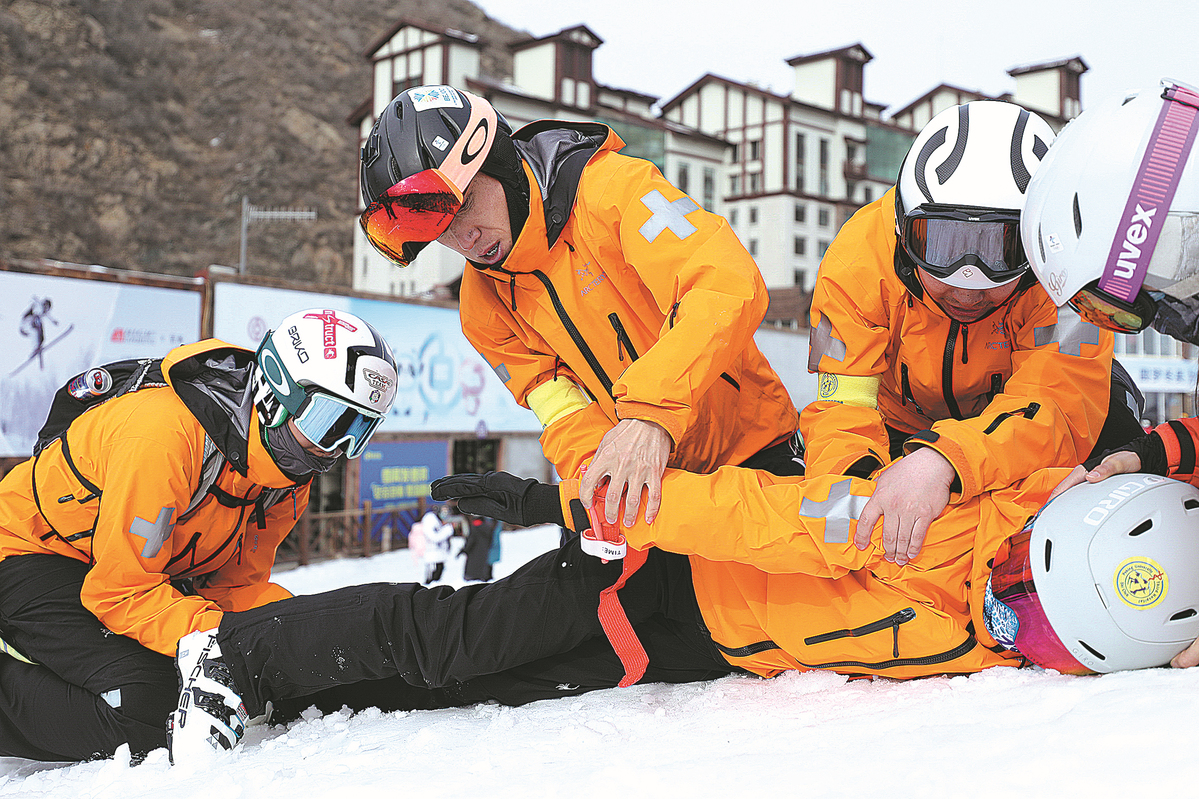 Over the past four winters, more than 70 medical professionals from Beijing and Hebei province have gathered on snow-covered slopes to practice their skiing skills.
They have been training as emergency responders to provide first aid to injured skiers and help transfer them off the ski courses. Dubbed "China's first generation of skiing doctors", the team is set to make its official debut at the 2022 Beijing Winter Olympics, which will open on Feb 4.
"When I went for training, some of my friends thought that I'd left for a nice vacation at a ski resort," said Li Rui, a neurosurgeon at China-Japan Friendship Hospital in Beijing and a member of the medical team.
"But in reality, the drill was highly demanding and we all made great efforts to become qualified," he said.
China began scouting for medical workers with basic skiing skills in 2018. The team, consisting of healthcare workers from more than 10 hospitals in Beijing and Hebei province, was officially assembled in early 2019.
Li has been an avid skier for over a decade, so much so that he practices roller-skating in the warmer months when skiing venues are closed, in order to maintain his physical strength and develop muscle memory.
He and around 40 fellow team members will be stationed at the National Alpine Skiing Center in Beijing's northwestern Yanqing district for the Winter Olympics.
The venue is located about 2,300 meters above sea level, with a vertical drop of nearly 900 meters. It will host some of the most dangerous Winter Olympic events, including downhill skiing.
"Downhill skiers can travel up to 140 kilometers per hour on the fastest sections," Li said.
"Imagine what it feels like when driving at a speed that high in a car on a flat road. For athletes, they will be skiing super fast on a pair of 2.17-meter-long skis."
When an accident happens, skiing doctors are required to attend to the injured athletes within four minutes while carrying a first aid medical kit weighing over 10 kilograms.
"In practice, we only have about one minute to get there because it takes time for other athletes to clear off the course," he said, adding it is important for the medical staff not to severely disturb ski paths, as this could affect the performance of other athletes.
During the coldest training sessions, Li said the temperature on the hilltop dropped to -37 C. With strong wind gusts, it felt like -60 C, he said. "Our fingers would go numb in less than two minutes after taking off our gloves. So we must deliver precise treatment on site as quickly as possible," he said.
As a seasoned neurosurgeon who performs over 200 craniotomy surgeries annually, Li is used to working under pressure.
On the ski slopes, it is even more difficult to make split-second decisions, Li said.
"We have to evaluate an athlete's condition and make a series of decisions within 30 seconds," he said.
"For instance, if the athlete is found to have breathing difficulties, we need to determine whether we have to immediately intubate or perform cardiopulmonary resuscitation. When we need help to transfer the patient, we must decide whether we should call for a helicopter or a snowcat (a fully tracked vehicle designed to move on snow)."
Liang Xueya, a medical officer at the National Alpine Skiing Center, said the team has received first aid training at the Beijing Emergency Medical Center and taken foreign language courses.
"The medical team participated in the National Winter Games held in 2020 and an Alpine skiing invitational tournament in 2021 to upgrade procedures and accumulate experience," he said during an interview with Health News, a newspaper administered by the National Health Commission.
Having accompanied and supervised the team since 2018, Liang said what impressed him most was members' "fiery passion". "We are faced with a heavy task, but after enduring so many tests and numerous drills, we are full of confidence," he said.