Yuan's confidence soars after top-three finish in Bahamas
Share - WeChat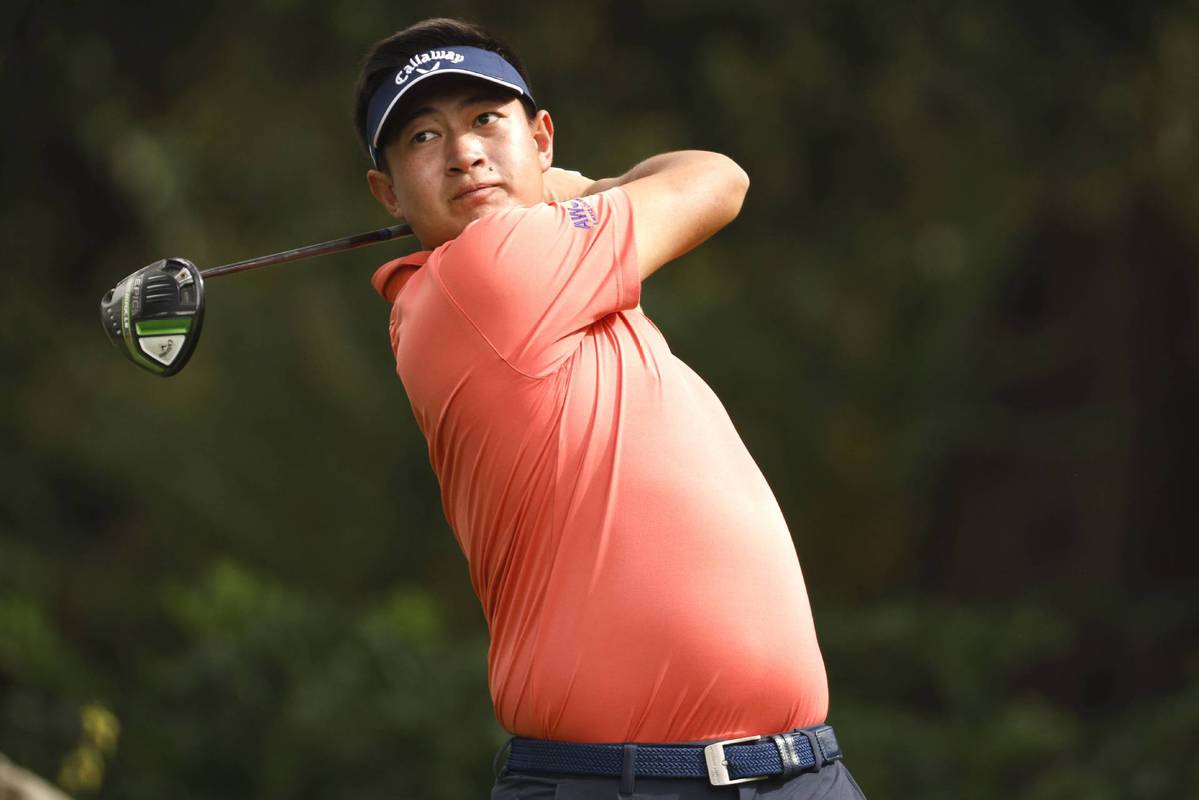 China's Carl Yuan Yechun enjoyed a top-three finish at The Bahamas Great Exuma Classic at Sandals Emerald Bay on Wednesday as he got his Korn Ferry Tour season off to a flying start.
The 24-year-old Olympian started the final round one shot off the lead in the development circuit's first tournament of 2022, and signed for a 1-under 71 to finish four shots behind winner Akshay Bhatia in a share of third place.
Indian-American Bhatia enjoyed a two-shot victory for his maiden Korn Ferry Tour title following a blistering 65 as he became the third-youngest winner on the Korn Ferry Tour, 12 days shy of his 20th birthday.
China's Marty Dou Zecheng fired his lowest round of the week with a 66 to finish tied 28th while compatriot Zhang Xinjun settled for a share of 51st place.
Yuan, who totaled 10-under 278 for the week, started strongly with three birdies in his opening five holes to remain in contention, but bogeys on 11 and 13 snuffed out hopes of a maiden Korn Ferry Tour victory. He was delighted with his strong start to the new season as he chases a PGA Tour card.
"My goal this week was a top-five finish as I haven't been in competitive rounds for many weeks," said Yuan, who represented China at the Tokyo Olympics last summer.
"I hope to find good momentum from here on for the following tournaments. I also know which parts to fix in my game. I used to hit draws, but now I have changed to hitting a fade for better stability and a higher percentage of hitting fairways. The result this week shows I'm on the right track," said Yuan, a graduate of the University of Washington.
Dou, a two-time winner on the Korn Ferry Tour, sank seven birdies against a lone bogey to post his week's low card. With the circuit remaining in the Caribbean this week for The Bahamas Great Abaco Classic at Winding Bay, he hopes to make further improvements and challenge for an early-season victory.
"I played good, and it's given me confidence for the next tournament," said Dou.
"The first three rounds made me feel like the beginning of the new season was hard but after this final round, I can see myself easing my way back into competition.
"My driver and putter worked nicely although I did miss a few short birdies. I was solid unlike the three other rounds. Hit some fabulous shots."
Four years ago, a 19-year-old sensation by the name of Im Sung-jae became one of the youngest winners in Korn Ferry Tour history at The Bahamas Great Exuma Classic, with the victory propelling the South Korean to multiple wins on the PGA Tour and a top-25 world ranking.
On Wednesday, Bhatia came close to repeating Im's 2018 feat.
In the middle of the par-5 18th fairway with pitching wedge in hand, Bhatia knocked his approach inside of a foot of the pin and sealed the first PGA Tour-sanctioned victory of his career.
"I reflected back on (2021) US Open (qualifying)," Bhatia said.
"I hit a pitching wedge to like 3 feet, 4 feet, so I was just trying to do the same thing. For it to hit the flag and have a tap-in was awesome. Golf is crazy."
The only players who were younger to win a Korn Ferry Tour event? Jason Day, who won the 2007 Legend Financial Group Classic at 19 years, 7 months, and 26 days old, and Im, who was 19 years, 9 months, and 17 days old when he won his Korn Ferry Tour debut at the same event.
The 2022 Korn Ferry Tour season continues on Sunday, with the opening round of The Bahamas Great Abaco Classic at The Abaco Club.