China, Mexico celebrate ties with ice replica of Mayan pyramid in Harbin
Share - WeChat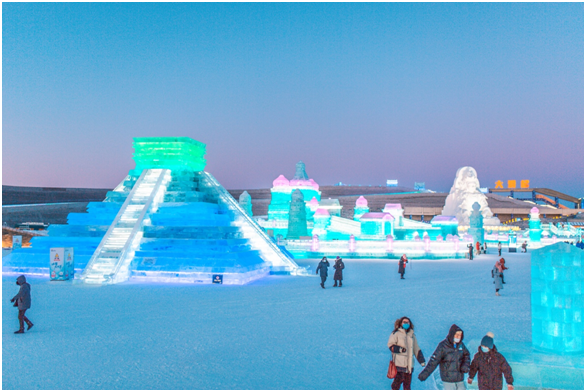 An online activity marking the 50th anniversary of the establishment of China's diplomatic relations with Mexico was held in Harbin, capital city of Northeast China's Heilongjiang province, on Wednesday.
The Chinese Foreign Ministry, Harbin Municipal Government and Mexican Embassy in China co-hosted the event.
QiuXiaoqi, special representative of the Chinese government for Latin American affairs, along with Jesús Seade, Mexican ambassador to China, and Cheng Xiaoming, vice mayor of Harbin, attended the event and delivered speeches for an online audience.
Online attendees also witnessed the completion of an ice sculpture named "the eternal return of the Sun", located in the 23rd Harbin Ice and Snow World.
The ice sculpture restores the appearance and architectural features of the Pyramid of Kukulkan. Located in the north of the Yucatan Peninsula in Mexico, the pyramid is a famousrelic of ancient Mayan civilization.