China's Yuan charges into contention
Share - WeChat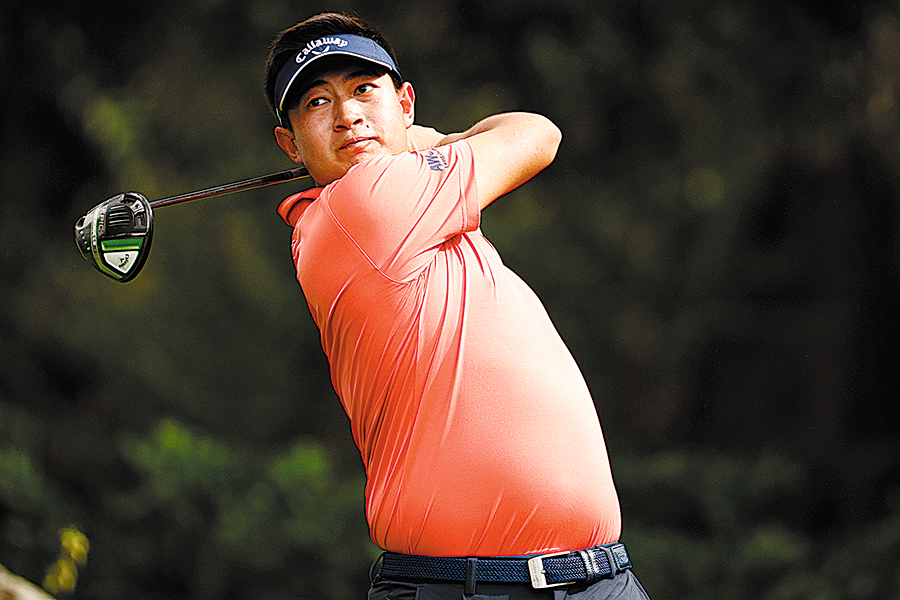 China's Carl Yuan Yechun put himself in position to challenge for a maiden Korn Ferry Tour win after a third-round 66 on Tuesday moved him into joint second place at the season-opening Bahamas Great Exuma Classic at Sandals Emerald Bay.
The 24-year-old from Dalian, Liaoning province, made three birdies in his opening four holes and then sank four consecutive birdies from holes 14 to 17 to conclude the penultimate round just one stroke back of leader Corey Shaun, who charged to the top of the leaderboard with a superb 64.
Yuan's rock-steady play in the first event of the new year will give him a chance to make up for his interrupted campaign last year when he put nation above self. He cut short his Korn Ferry Tour stint last June to return home for centralized training to represent China at the Tokyo 2020 Olympic Games, which he knew would dent his hopes of earning a PGA Tour card.
He was ranked 27th on the points list then, with the top 25 earning PGA Tour cards at the end of the regular season.
A win on Wednesday will also make him the second Chinese golfer to win in the Bahamas following compatriot Marty Dou Zecheng's triumph in 2019.
"I am satisfied with my score. My tee shots and approach shots improved after I spent time at the practice range following yesterday's round," said Yuan, who has been a runner-up three times on the Korn Ferry Tour.
"In the first two rounds, my driver and irons were always going to the left. My putting is also pretty good and I managed to make several birdies. I still missed a few chances but I guess that happens."
Yuan, who finished tied-38th at the Olympics, has stuck to his game plan all week, picking the holes where he can attack freely. Lying one back of Shaun, he knows that keeping to his own tempo will be key if he is to secure a first victory on the tour.
"I feel that I am in good form. I had confidence and a good strategy going. I tried to focus and only think about my chosen target and I did well. I played more aggressive today," said Yuan, who was on a 9-under total of 207.
China's Zhang Xinjun, who started the round in a share of third place, slipped out of contention following a disappointing 77 as he fell back to 1-under on 215, while Dou carded a 75 to drop back to 3-over.
Shaun, 25, missed the course record by one stroke after capping a 5-under 31 on the front nine with birdies on each of the last three holes, and then birdied the par-4 12th and 14th, and par-5 18th on the back side.
His appearance this week was in doubt due to injury which saw him pull out halfway through the Korn Ferry Tour qualifying school last year.
"I had to take about five weeks off, and I was still so sore leading up to this tournament that the day before the official practice round, I couldn't even go out on the golf course," Shaun said.
"I just hit some balls and practiced a little bit. I was like, if I play nine holes, my back is going to give out. I don't know what's going on right now, but the Aleve (medication) or the adrenaline is helping out."