Raising a glass to Chinese vintners
Share - WeChat Back in December 2020, when I last managed to get out of Beijing, I spent Christmas Day in Cizhong, a village on the Lancang River (the upper reaches of the Mekong) in a deep valley in Yunnan province. I was in search of a taste of the past; wine made from a grape varietal extinct in its native France. I not only enjoyed a bottle of the Hongxiao family's "rose honey" wine, which is produced from those rare grapes, I also sampled more sophisticated blends produced at the modern winery nearby.
I was reminded of Cizhong at a recent wine tasting in Beijing-a world away from Yunnan, but in late December, almost as chilly-where one of the bottles was a merlot from Shangri-La-the winery better known for its (very) pricey cabernet, Ao Yun. Tannic and high in alcohol, it reminded me of a Lebanese Red, probably because both are made from high-altitude grapes.
Hosted by Fongyee Walker, one of China's few registered Masters of Wine and director of Dragon Phoenix Wine Consultants, the evening was an eight-bottle exploration of Chinese wine, "but not cabernet sauvignon", she laughed, a teasing reference to the 2000s infatuation with planting the varietal that almost derailed China's wine diversity.
We began with history. Grapes have been here for 7,000 years, but it wasn't until Emperor Wu of the Western Han Dynasty (206 BC-AD 24) that vitis vinifera-the varietal used for winemaking-arrived, likely from the Caucasus, and while there are references to grape wine dating back to the Tang Dynasty (618-907), notably Wang Han's poem, the Song of Liangzhou, commercial wineries only really began during the Qing Dynasty (1644-1911).
In 1892, Zhang Bishi's Changyu wine company opened in Yantai, Shandong province. By 1910, Beijing had Shangyi, which grew out in the western suburbs. Others followed, including Shanxi province's Yihua wine company in 1921. The real expansion began much later in the 1980s, when foreign companies were encouraged to explore the possibilities that this vast new terroir presented.
Since then, China's wine industry has grown, often with government funding and in areas where little else can thrive. Though foreign collaborations remain-Shandong province's Long Dai springs to mind-winemaking is increasingly in Chinese hands.
In theory, the potential is endless. China has 800,000 hectares of grapes, only slightly less than Spain, the world's largest producer. However, table grapes are 90 percent of production. Vitis vinifera is not well-suited to China's climates. The monsoonal weather in the south and east brings heavy rainfall just when the grapes need dry heat, while western regions can be too arid and bitter winters set in before most varieties mature, a key contributor to the uneven quality of wines past.
There are eight main regions: the Ningxia Hui autonomous region, the Xinjiang Uygur autonomous region and Shandong, Hebei, Shanxi, Gansu, Yunnan, and Liaoning provinces. Others are being explored, notably the Tibet autonomous region, but finding suitable terroir is not easy, even in the world's third-largest country.
Consequently, Walker believes China won't become a mass producer like South Africa or Australia, but its future lies in producing distinctive wines.
As our taste buds travel, courtesy of vintages from Chateau Mihope, Longting Vineyard, Jihai, Xige Estate and Qilian Legend, we experience both distinction and quality. These wines would grace tables anywhere. But it is our final bottle, which our host presents as a challenge that proves the most exciting.
It's an experiment by Ningxia's Kiss Wine, made with ice wine stalwart, Italian riesling. Rich and sweet, it finishes with the surprising but refreshing aftertaste of green tea. It isn't wine, it isn't a liqueur, but it is very distinctive and, it seems to me, it's also a nod toward the kind of new territory that domestic winemakers might one day explore.
Contact the writer at warren@chinadaily.com.cn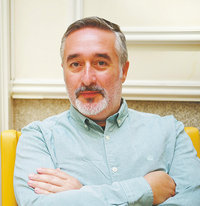 Most Popular