A classical soul
Share - WeChat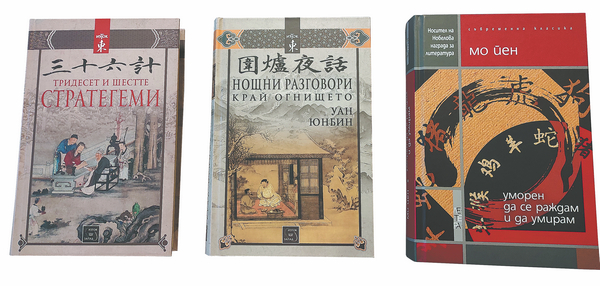 Bulgarian Sinologist Petko Todorov Hinov, 49, translator of ancient Chinese classics and contemporary literature works by important authors, including Nobel laureate Mo Yan, died of COVID-19 on Jan 3, leaving behind his Chinese wife and four children, the youngest of which was born in June.
Hinov's most devoted translation work, the four-volume A Dream of Red Mansions, is the first Bulgarian version of the masterpiece directly translated from Chinese. He originally planned to include an extra volume of interpretation and discussions about the novel.
The first volume, published in April 2015, won the translator that year's Hristo G. Danov Award. Presented by the Bulgarian Ministry of Culture, it is an annual national honor for the most influential contributors to literature.
In 2017, Hinov was also given the youth achievement award of the Special Book Award of China, the nation's highest accolade for foreigners in publishing.
Decades of preparation
A Dream of Red Mansions, written by Qing Dynasty (1644-1911) author Cao Xueqin in the 18th century, is a full-length novel recounting the ups and downs of four noble families which are highly interdependent upon each other. The work especially pays attention to the destinies of the large number of female characters-rich and poor, noble and humble-in a feudal society.
For many Chinese readers, the masterpiece enjoys a similar, or even higher, prestige in the literary realm as Latin American writer Gabriel Garcia Marquez's One Hundred Years of Solitude-they share a spiritual core.
Hinov wrote in the preface: "If there was such a book in medieval Bulgaria, we would have a comprehensive knowledge about people's lifestyle, culture and art, and language habits of the Second Bulgarian Empire (1185-1396), and it would have become a simple but rich encyclopedia of life at that time."
Hinov was born in Plovdiv in 1972.Like many, he encountered Chinese culture-the language, music, martial arts and beautiful women-from kung fu movies. In his case, the 1982 movie, The Shaolin Temple, gave him a first impression of the sounds and tones of Chinese language in the late 1980s.
Before long, he had grown keen on transcribing characters from a Chinese-Russian dictionary, initially one of the few materials he could get to teach himself Chinese.
Chinese characters are pictographic and ideographic. They usually consist of an indexing component indicating the meaning and a phonetic component prompting the pronunciation.
A young Hinov would copy all the characters with those indexing components he liked the most, for example, the ones related to water, bamboo, heart and mind, and the sun. He also liked to search for rarely used or archaic characters.
Hinov once said in an interview that his passion for Chinese largely grew from the desire to decode information embedded in characters and the cultural stories behind them, which imply how the ancient creators of the characters viewed the world.
He also managed to borrow an anthology of poems by Tang Dynasty (618-907) writers and transcribed these poems one by one as duplicating was expensive then.
In 1992, during his first year at Sofia University in the nation's capital, as one of the first students majoring in Chinese, he had expressed an ambition to translate A Dream of Red Mansions into Bulgarian.
It took 20 years of learning and preparation before he finally undertook the project in 2011.Instead of going to work, he stayed in a monastery for 15 years after graduation, where he kept reading and writing.
There he had learned ancient Bulgarian languages, sometimes translating ancient Chinese into ancient Bulgarian. Compared to its modern counterpart, ancient Chinese is terse and condensed, but more rhythmic.
In 2010, he went to Foshan, South China's Guangdong province, and worked as an English teacher in a junior high school for around three years.
Some of his former students were surprised to learn about his death on the internet and were astonished to discover his achievements.
He was kind and got on well with his students. He impressed them with his oral Chinese and neat handwriting, and even learned the Cantonese dialect.
He was gifted enough to master at least eight languages, such as Chinese, English, Russian, several Eastern European languages and Old Church Slavonic, an ancient religious written language.