Carbon neutrality a key investment theme
Share - WeChat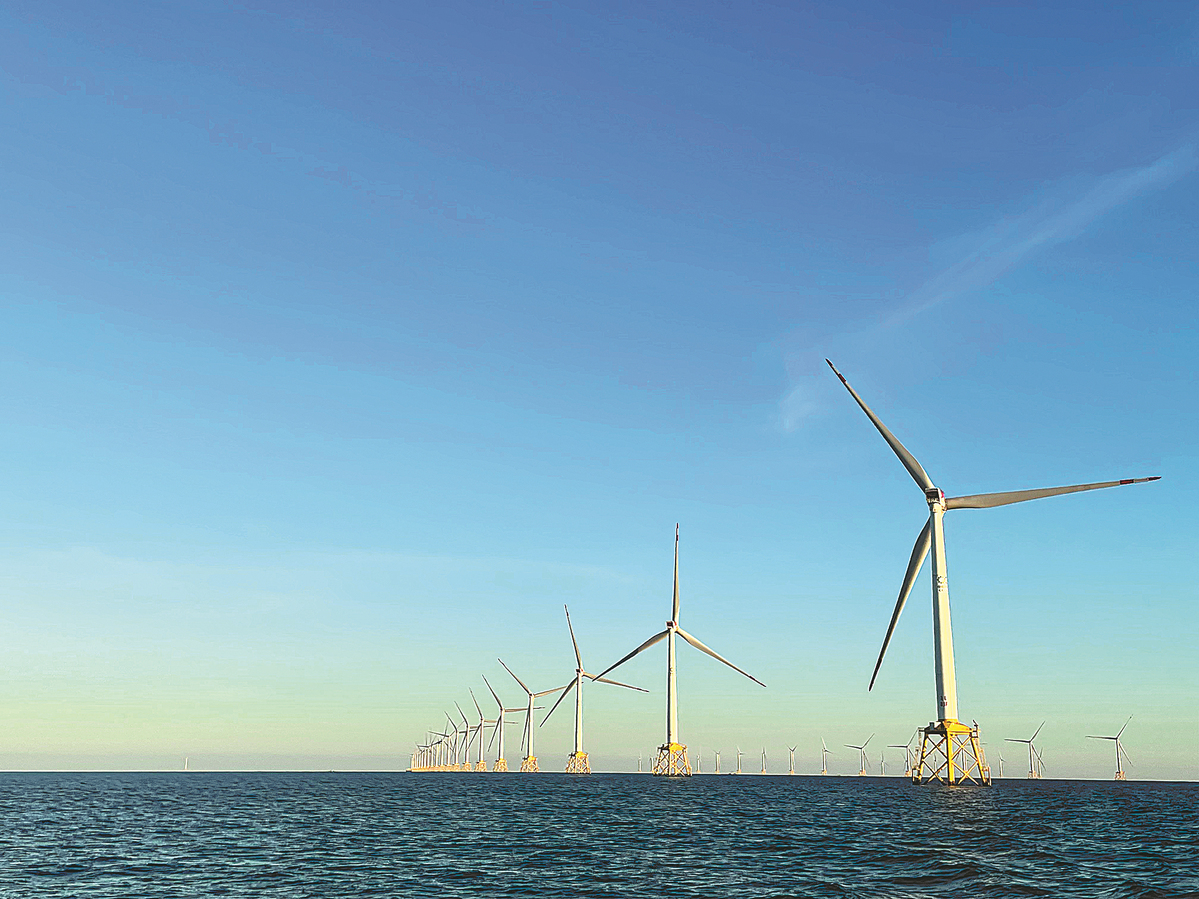 While the A-share new energy sector soared in 2021 as China vowed to achieve carbon neutrality by 2060, new energy and sustainable investment will remain a major theme in the next 12 months based on the promising outlook of related industries, analysts said.
As calculated by Beijing-based Securities Daily, 64 percent of the 39 securities firms releasing 2022 investment strategies by the end of 2021 have rated carbon neutrality a key investment theme in 2022.
Buoyant sentiment can be found at the online social and trading platform Snowball Finance, also known as Xueqiu. Data collected at the end of 2021 showed new energy is among the most hotly discussed topics on Xueqiu and photovoltaics is one of the topics gaining increased attention, said Jiang Kan, general manager of Xueqiu's public companies services unit.
Similar to micro and small enterprises gaining loans to weather the COVID-19 pandemic, companies with expertise in energy storage, photovoltaics and new energy benefit the most from the structurally relaxed credit policies of China's central bank, said Li Xunlei, chief economist at Zhongtai Securities.
In light of China's clear goal of high-quality development, the central bank may accelerate in rolling out a number of structural monetary tools such as the green relending facility and the green medium-term lending facility in 2022, Li said.
"Combined with the certainty of prosperity for companies undergoing green revolution, carbon neutrality will become one of the major investment themes in the A-share market in 2022," he said.
Although the A-share new energy sector has swung higher in the past 12 months, it will continue to be in the spotlight in 2022 as clean energy will thrive given the country's carbon neutrality goal, said Yang Delong, chief economist at Shenzhen, Guangdong province-based First Seafront Fund, who added that photovoltaics, new energy vehicles, wind power and hydrogen power should garner more attention.
As raw material prices are expected to fall in the first half, the pressure that wind power parts makers felt in 2021 is likely to be relieved, experts from Ping An Securities said.
As more wind power infrastructure projects are scheduled to be rolled out in the desert areas of the country and coastal provinces will accelerate the development of more offshore wind power projects, there is a lot of room for growth by wind power parts makers, the analysts said.
Guo Xiaolin, new energy fund manager of Bosera Asset Management Co, said among all segments of the new energy sector, he is most optimistic about this year's performance of photovoltaic companies listed on the A-share market.
Most Chinese photovoltaic companies have come up with new technologies in 2021 to increase power generation efficiency. Due to slower technological development, wind farms are unable to cut costs at the same speed as photovoltaic power plants, while photovoltaics will become the cheapest source of energy in the world, Guo said.
Although prices for silicon, a key upstream raw material for photovoltaic companies, surged in 2021 and affected profits in the industrial chain, the situation will be significantly improved in 2022. Overall costs of the photovoltaic industry will be reduced, which will help boost demand, he said.
The National Development and Reform Commission and the National Energy Administration said in a jointly released guideline in July that China's total installed capacity of new types of energy storage facilities will exceed 30 million kilowatts in 2025, about 10 times its current size.
Based on this factor, the energy storage industry's market positioning can be confirmed and business models and policies related to the industry can expect further optimization, analysts with Huaxi Securities said.
The development of distributed power stations, electric vehicle charging stations and the microgrid will help create new energy storage demand from power plants, power grid platforms and users.
Companies specializing in lithium batteries, integrated energy storage systems and power inverters are worth a closer look in 2022, analysts at Huaxi Securities said.
Wang Yiming, chairman of Ningbo, Zhejiang province-based Ginlong (Solis) Technologies, which makes inverters for the photovoltaic industry, saw the price of the Shenzhen-listed firm rise by more than 36 percent over a one-year period, while the benchmark Shenzhen Component Index remained almost flat for 2021.
As a result, Wang has made it into the Hurun Under 40s China Rich List 2021 released on Dec 24. Wang, 40, entered the list for the first time with a personal wealth totaling 27.5 billion yuan ($4.32 billion).
Foreign institutions have a similar understanding on carbon neutrality-related investment.
Philip Li, investment director of global fund manager Wellington Management, said China's goal of reaching carbon neutrality by 2060 has ushered in investment opportunities associated with environmental, social and governance criteria. Renewable energy and natural gas providers will benefit the most under such circumstances, Li said.
The A-share new energy vehicle sector may also become an attractive investment target for 2022.Anthony Wong, senior portfolio manager at Allianz Global Investors, said the sector's high market capitalization is propped up by growth and a positive outlook for the industry.
Instead of looking for opportunities from carmakers which already face intense competition, investors should look at midstream to upstream manufacturers, especially leading battery providers which boast high market penetration rates and strong bargaining power.