China win women's doubles on last day of Huelva World Badminton Championships
Share - WeChat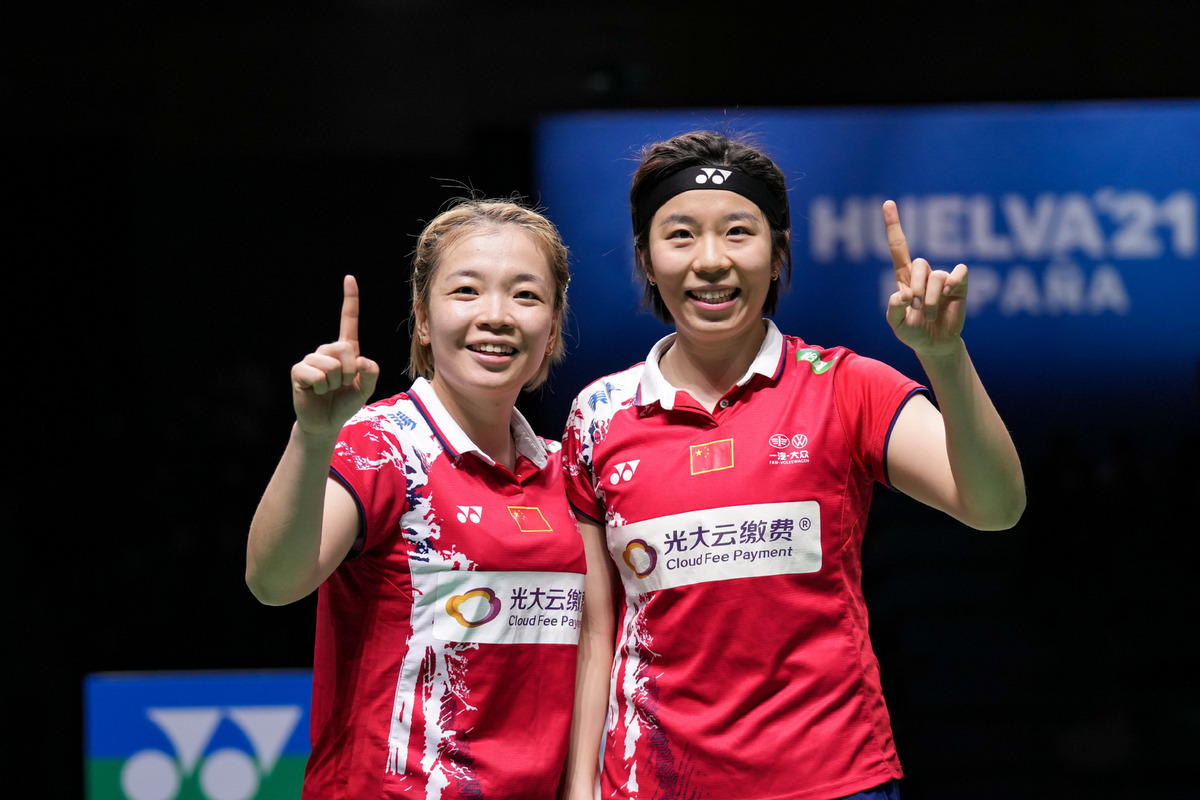 MADRID -- There was a gold medal for China in the final of the women's doubles at the TotalEnergies BWF World Badminton Championships played in Huelva on Sunday.
Tournament favorites and top seeds, Chen Qingchen and Jia Yifan beat South Korean number two seeds Lee So-hee and Shin Seung-chan 21-17, 21-17 in a match that lasted for over an hour and was dominated by long rallies, which tested the nerves and stamina of both pairs.
"We wanted to do well here as we were well prepared and we had set high goals for ourselves. We learned a lot from our losses at our previous World Championships; this is the result from all the learnings in matches that we lost," said Jia Yifan.
In Men's doubles, He Jiting and Tan Qiang were unable to follow their female counterparts and had to settle for silver after losing to Japan's Takuro Hoki and Yugo Kobayashi who claimed Japan's first World Championship gold in men's doubles.
"We are thrilled with our victory," said Hoki. "We just had to keep a high pace, and the key was in dominating the serve-return situations."
Perhaps the inexperience of the Chinese duo took its toll as they lost the first set 21-12, although they picked up before conceding the second 21-18. Nevertheless, the duo can be pleased with a tournament that saw them way outperform expectations as they were only seeded 16th, while the eventual winners were seeded nine places above them.
In mixed doubles, Thailand's Dechapol Puavaranukroh and Sapsiree Taerattanachai defeated Japan's Yuta Watanabe and Arisa Higashino 21-13, 21-14 to become the first Thais to win a World Championship doubles event.
"We have played so many events; the key was to recover quickly after every match and get sufficient rest. Today we were able to keep up the attack throughout the match," commented Taerattanachai afterwards.
Akane Yamaguchi of Japan produced a slight surprise in the women's singles final when she defeated top seed Tai Tzu Ying of Chinese Taipei 21-14, 21-11 in a game that lasted for just 39 minutes.
The tournament ended with Loh Kean Yew from Singapore claiming the men's title with a 21-15, 21-20 win over India's Kidambi Srikanth.