Community threads together
Share - WeChat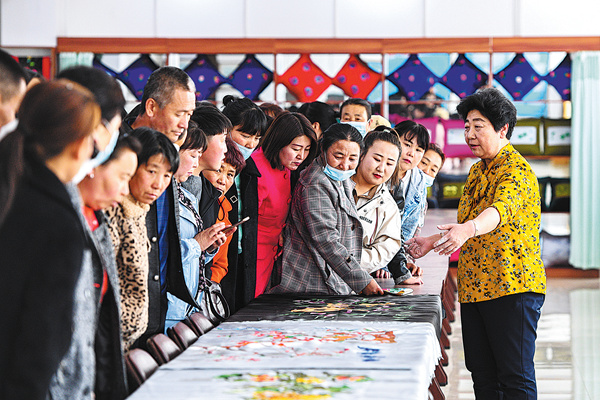 Mastering and passing on the skills of embroidery gives women in Inner Mongolia a steady income and pride in their work, Wang Ru reports.
During this year's conference to mark the nation's poverty alleviation accomplishments and honor model poverty fighters at the Great Hall of the People in Beijing, Bai Jingying wore the traditional clothing of the Mongolian ethnic group and received an award from President Xi Jinping. Her presence also showed intricate Mongolian embroidery to the public.
"Half a month before I came to Beijing, I made a blue-and-white Mongolian robe, on which I embroidered a peony. The colors represent the blue sky and white clouds, which are often seen and regarded as a feature of the Inner Mongolia autonomous region. The peony symbolizes the splendor of a modern China. I want to show the beauty of Mongolian embroidery and our happy life," says Bai during One on One, an interview program on China Central Television's Channel 13 in February.
As the head of legislature of the Horqin Right Wing Middle Banner in Hinggan League, Inner Mongolia, Bai has combined the traditional craft with poverty alleviation, and changed many people's lives.
The banner used to be very poor due to desertification and frequent sandstorms. In 2016, the local government decided to carry out a number of projects to alleviate poverty, and Bai, who worked as chair of the banner's committee of the Chinese People's Political Consultative Conference, decided to develop the Mongolian embroidery industry.
"We carried out a number of projects in farming, animal husbandry and tourism, but later we found some old and disabled people couldn't participate. It occurred to me that embroidery can be done at home, so it may be an ideal option for them," says Bai.
Born into a Mongolian family in 1963, Bai learned embroidery as a child, taught by her mother. She explains that Mongolian embroidery was passed down from the imperial court, with a history stretching back more than 300 years. Although she has come to work as a government official, she has not forgotten the craft.
"If I imparted the craft I learned from childhood to local people who lived a poor life, I would help them earn more money, as well as pass on the tradition," says Bai.
With the support of local government, Bai became leader of a group to promote the development of the embroidery industry, and started to train people. Her first group of students then became teachers to, in turn, train more people. They then developed more than 500 tourist souvenirs and household products using the embroidery.
A poverty alleviation association was also established to build sales channels. Members of the association take part in numerous trade fairs to promote their products. It receives orders, and then organizes local people to make the products according to the orders.
Most Popular