Young guns cap dominant season with Singapore sweep
Share - WeChat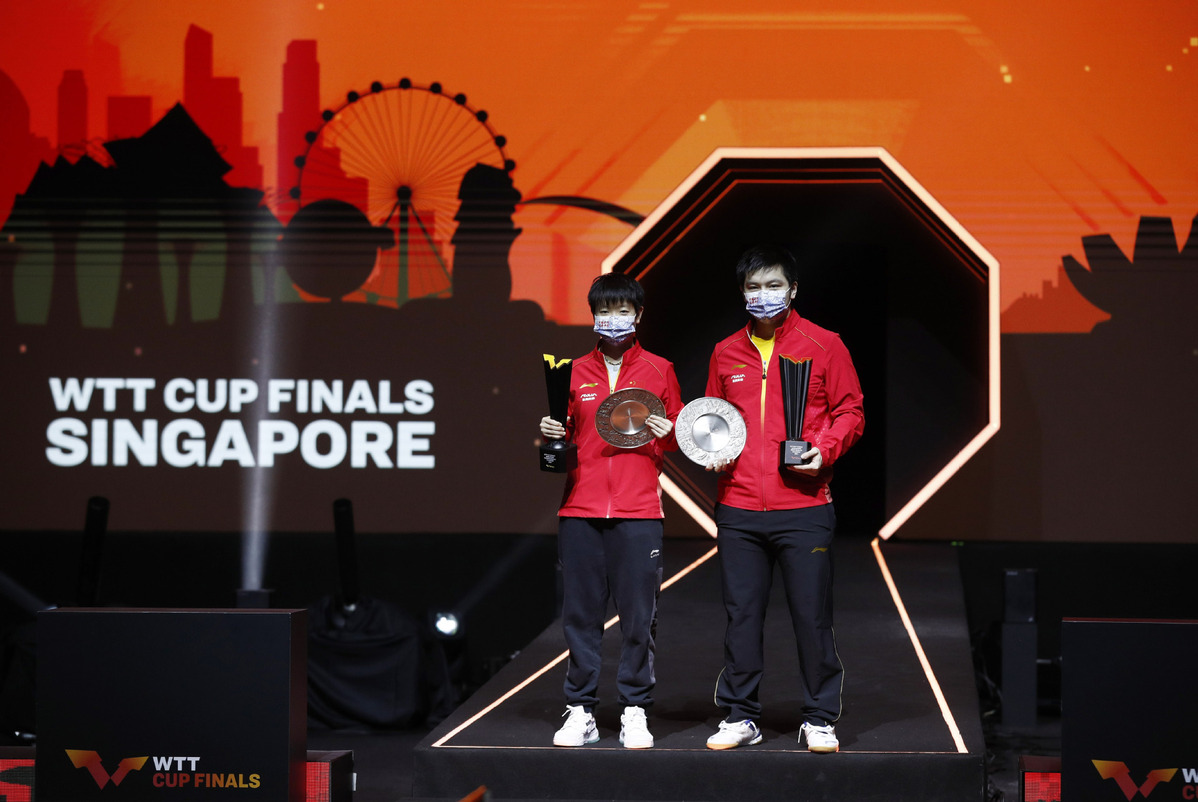 China's new generation of paddlers capped their season of dominance by bagging both gold medals at the World Table Tennis (WTT) Cup Finals in Singapore this week-but not before fighting off some gutsy displays from a number of fast-rising foreign talents.
Fan Zhendong and Sun Yingsha ultimately outclassed the opposition at the inaugural season-ending event on Tuesday at the OCBC Arena, where the world's top 16 men's and women's players battled for a share of a $600,000 prize fund.
Crowned champion a little over a week ago at the World Table Tennis Championships Finals in Houston, Texas, Fan secured the perfect end to his unforgettable year.
"I'm really happy with two titles in such a short time. I won the two titles for the first time. So it's a great experience for me to transform my expectations into great results," said Fan. "But what I value more is what I have learned from the two tournaments, which will benefit me in the future.
"I'm pleased that I managed to win the WTT Cup Finals as the field here was very strong. I did my best, and I'm happy to see so many fans coming out here to support us. It has been an amazing week for me, especially on my first trip to Singapore."
Japanese sensation Tomokazu Harimoto stood in Fan's way of glory in the final, and after a fiercely contested opening three games, China's world No 1 prevailed 4-1 (11-8, 9-11,11-9, 11-7, 11-5)-a scoreline Fan thought flattered him somewhat.
"The battle against Harimoto, especially in the first three games, was very intense. I was not very comfortable during the final. I also hesitated," said Fan.
"I haven't played Harimoto for over two years. The last time that I played him was in 2019. He lost some matches recently, but there's no doubt he always maintains the highest fighting spirit.
"So for me, I always prepare for matches against him as hard as I can because I know it will be a huge challenge. And it's clear for the fans who watched the match that it was not an easy win."
Fan and Harimoto are two of the sport's most aggressive attacking players, with their final showdown gripping fans back home to become trending news on Chinese social media. The hashtag "Fan Zhendong vs Harimoto" had been viewed over 550 million times by Wednesday morning.
In the women's competition, Chinese players secured three of the four semifinal spots. Sun overcame Japan's Hina Hayata in their last-four clash before beating teammate Wang Yidi to claim the title.
"It was a very intense match. I played against Wang last week in Houston, where I beat her. But each match is going to be different, and I made sure to fully prepare and do all my analysis before tonight's game. I'm very grateful to all my supporters for cheering me on tonight, and I'm looking forward to a good rest now," said Sun.
The 21-year-old became a household name in China after winning a team gold and singles silver at the Tokyo Olympics this summer. She maintained that momentum at the World Table Tennis Championships Finals in Houston, bagging golds in mixed doubles and women's doubles, as well as a silver in the singles.
"It's been a busy schedule and I have participated in many high-level international tournaments. I'm more comfortable with my style and pace during matches now. I used to make many mistakes during competitions, but now I have better control over myself," Sun said.
"We really cherish the opportunity to compete. I want to thank the organizers for hosting such high-level competitions under such circumstances (the pandemic). I felt the passion and enthusiasm of the spectators. The atmosphere spurred me on and encouraged me."
Liu Guoliang, president of the Chinese Table Tennis Association (CTTA), recently said that the emergence of young foreign talents poses a threat to China's dominance on the table, but one that he believes is healthy for both the players and the state of the sport globally.
"No matter how strong Team China has been, looking back over our history there were ups and downs. We could have six to eight years of dominance, and then there would be some downturns. This is normal," said Liu.
"With more pressure from the foreign players, there will be more and more promising talents across the globe. There could be another downturn for us and we are ready to face it.
"More important is how to face such a challenge. That requires us to strengthen our youth training and our talent production system."