Mainland Olympians share stories of grit, triumph
Share - WeChat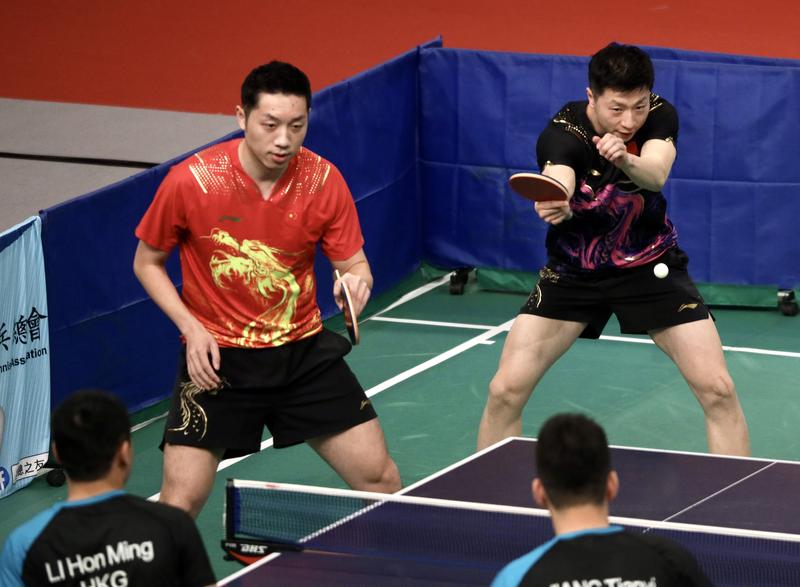 You are stronger than you think.
Table tennis star Ma Long gave this message to Hong Kong athletes on Saturday as he joined other mainland Olympians in sharing their inspiring stories of hard work and eventual triumph with members of the public.
Speaking on stage at the Queen Elizabeth Stadium in Wan Chai, Ma encouraged young local athletes, emphasizing the importance of self-discipline for them to reach the pinnacle of their sports.
Alongside Ma was his teammate Xu Xin, who recalled that Hong Kong was "the first city in which his dream set sail". Xu won his first adult championship at Queen Elizabeth Stadium during the 2009 East Asian Games.
Ma and Xu are part of a 29-member delegation of mainland Olympians on a goodwill visit to Hong Kong from Friday to Sunday to meet with fans and bond with local athletes. They also displayed their skills before thousands of residents in several public events.
At Queen Elizabeth Stadium, the audience and athletes stood as one in singing the national anthem, with some of them holding and waving the national flag along with the flag of the Hong Kong Special Administrative Region.
Xu, who won the men's team gold and mixed doubles silver medals in table tennis at the 2020 Tokyo Olympics, said he was very happy to be back in Hong Kong. He said he was hoping all local athletes would get a good break in the city to start their journey for their dreams, just like what he had in 2009.
Ma, the world's first table tennis player to claim men's singles titles at two consecutive Olympic Games, shared his "secrets" to keep in his best condition.
"Self-discipline is the most important thing if an athlete wants to maintain the best condition for a long time," said Ma. He added that athletes also need to make adequate psychological adjustments, including good communication with teammates and family members, and maintain a positive attitude.
Ma said he believes that the outstanding performance of the Hong Kong women's table tennis team, which won the bronze at the Tokyo Games, will entice many young people to join the sport.
Other Olympians also showcased their fencing, gymnastics and badminton skills at the stadium, while their colleagues at Victoria Park swimming pool in Causeway Bay displayed their diving and swimming prowess.
At the city's Fire and Ambulance Services Academy, Gong Lijiao, the gold medalist in women's shot put at the Tokyo Olympics, shared her story as a "caddie-turned-world champion".
Gong recalled that she used to be the caddie who picked up the heavy balls for her friends until, one day, she threw a ball out of curiosity. Her friend's coach saw her potential and asked her to join their training.
Gong said being an Olympic champion has always been her dream, noting that she has been working on it since 2008. Gong came in the fourth during the Rio Olympics in 2016, a huge setback for her as she anticipated landing in the top three in the worst case scenario. But she was not was not discouraged and she finally made it in Tokyo.
"Finally, I won the championship in 2021. I think I am the best!" Gong said.
The delegation will leave the city on Sunday afternoon and visit Macao from Dec 19 to 21.
Speaking at a variety show in the afternoon, Hong Kong Chief Executive Carrie Lam Cheng Yuet-ngor noted that mainland Olympians coming over for a visit has been a long tradition since Hong Kong's return to the motherland in 1997, allowing local residents to share in the joy of their success.
Lam said this year's visit was a challenge, with COVID-19 prevention measures still in place in both the mainland and the SAR. She thanked all delegation members for making the effort to visit.
"I hope we can all be inspired by their spirits during the show," said Lam.