Cooperation with IMF to be deepened
Share - WeChat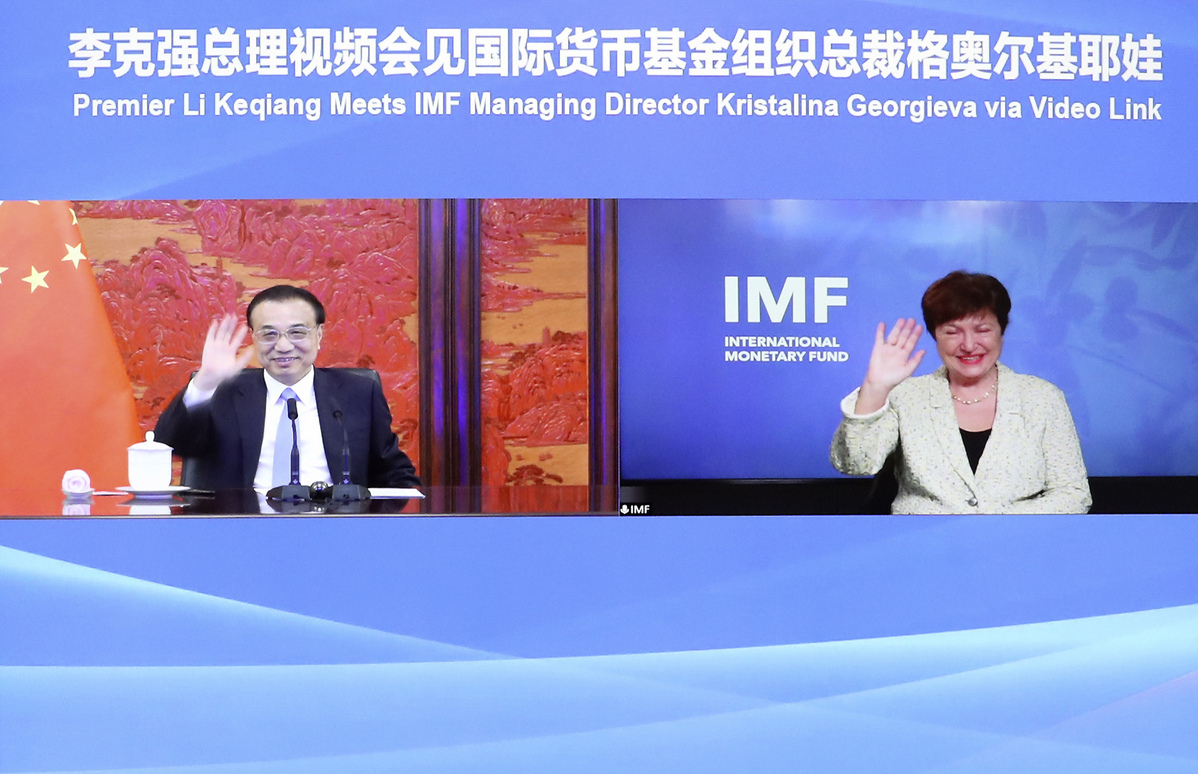 China wishes to work with global body on issues such as debt, climate change
China attaches great importance to its ties with the International Monetary Fund, and hopes to further deepen bilateral cooperation over issues including debt and climate change, Premier Li Keqiang said when meeting with IMF head Kristalina Georgieva via video link in Beijing on Friday.
China also hopes the IMF will continue to promote its quota and governance reforms and play a bigger role in helping developing countries tackle COVID-19 and in facilitating the global economic recovery, Li said.
China, in the face of a complicated environment and new downward pressure, will continue to coordinate the prevention and control of COVID-19 with economic and social development, the premier said.
China also stands ready to take on its due responsibility to maintain strong, sustainable, balanced and inclusive growth of the world economy, Li pointed out.
The country will continue carrying out stable macro policies and sound monetary policies, cut the reserve requirement ratio at an appropriate time and enhance its support for the real economy, especially micro-, small and medium-sized enterprises, he said.
Georgieva praised China for its measures to promote economic recovery and its leading role in helping developing countries. Pointing out the challenges to the world economy posed by the pandemic, inflation and debt issues, she said the IMF hopes to enhance exchanges and cooperation with China.
Li also met with Ngozi Okonjo-Iweala, head of the World Trade Organization, via video link in Beijing on Friday.
Congratulating Okonjo-Iweala on becoming the first female and first African director-general of the WTO, Li said China, a WTO member for two decades, has not only fulfilled its WTO accession commitments, but has always supported through concrete actions the rule-based multilateral trade system with the WTO at the center.
China supports the WTO in carrying out necessary reforms, Li said, adding that the country stands for the principle of consultation and consensus, the fundamental principles and core values of the WTO, as well as the authority and validity of the WTO's rules.
China also calls for protecting the development rights of the WTO's developing members and narrowing the North-South gap so that the organization's reforms will head in the right direction, Li said.
China, still the largest developing country in the world, will stick to the principle of a balance of rights and obligations, take on responsibilities commensurate with the level of its economic development and abilities, and take part actively in the WTO's negotiations, Li said.
Okonjo-Iweala expressed her appreciation for China's constructive role in the WTO and its support for African countries in tackling the pandemic and developing their economies, and said the WTO hopes to strengthen communication and coordination with China.