Full steam ahead for rail marvel
Share - WeChat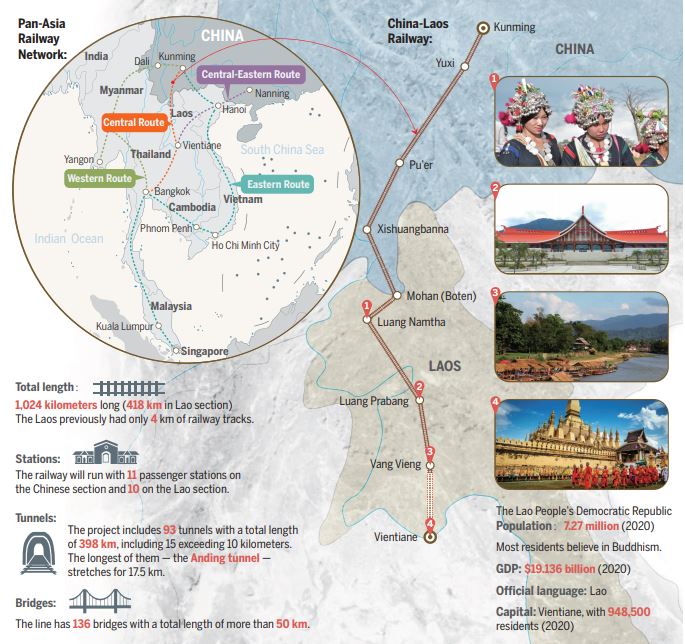 An engineering triumph, China-Laos link poised to deepen bonds between nations
Editor's Note: The China-Laos Railway, due to open this week, is a docking project between the China-proposed Belt and Road Initiative and Laos' strategy to convert itself from a landlocked country to a land-linked hub. It will bring new opportunities and provide huge momentum in strengthening Laos' economy. The train route will connect the Chinese city of Kunming to the Lao capital Vientiane, with grand plans for high-speed rail to ultimately snake down through Thailand and Malaysia to Singapore.
A cross-border tunnel is at the heart of an engineering marvel that is bringing two neighbors even closer together. Aptly named the Friendship Tunnel, it is a key piece of infrastructure in the China-Laos Railway opening this week.
The tunnel stretches for 9.59 kilometers, with 7.17 km on the Chinese side in Xishuangbanna, Yunnan province, and 2.42 km on the Lao side, according to the China Railway No 2 Engineering Group, the project contractor.
Completed in September 2020, the construction work on the tunnel was no easy task.
The tunnel section is full of salt rock, a special surrounding rock with complex characteristics for the engineers to deal with. Being unstable and dissolving easily in water, the rock type created huge difficulties during the construction work and for safety controls.
"Tunneling through weak and fractured rock mass is a challenging task for designers and engineers," said Huang Ningshu, manager of the railway project at the China Railway No 2 Engineering Group. "The risk of collapse and deformation during construction is high."
To overcome the challenges, the contractor consulted Chinese geologists and specialists in tunneling works, and set up a task force drawing on experts from Chinese universities and research institutions to guide the construction, said Huang, adding that the tunnel's completion marked a significant step forward in the construction of the rail project.
The Friendship Tunnel, the only cross-border bridge on the railway, not only links the two countries physically but also is a symbol of the cherished friendship between the two neighbors, Huang said.
A major project under the Belt and Road Initiative, with construction beginning in 2016, the China-Laos Railway is scheduled to open this week. It dovetails with the Lao government's plan to transform the landlocked country into a land-linked hub.
The line stretches more than 1,000 km from Kunming in China's Yunnan province to Vientiane, the Lao capital, and is expected to slash the travel time between the two cities to half a day.
The Lao section, which links the Boten border gate in northern Laos with Vientiane, covers more than 400 km, with trains expected to travel at up to 160 km per hour.