China's short-track speedsters picking up medal pace
Share - WeChat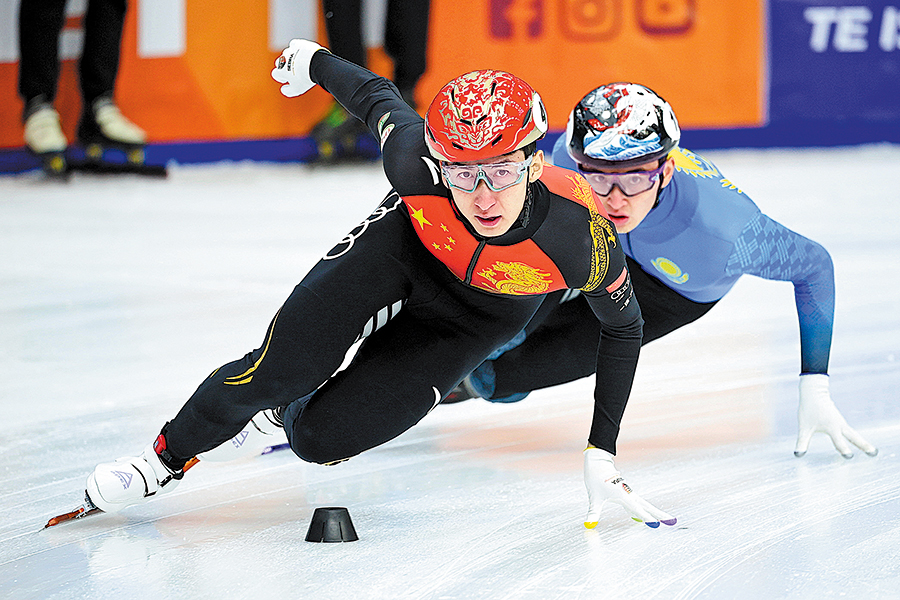 With new contenders emerging and veterans shaking off the rust, China's short-track speed skating team enjoyed a fruitful World Cup season ahead of the home Olympics.
After a long hiatus from international events due to the pandemic, Team China's 16-medal haul, including seven gold, from the four World Cup meets bodes well for the nation's chances on home ice at next year's Winter Games.
Based on the results of the Cup series, Chinese skaters have ranked high enough in all individual disciplines-men's and women's 500m, 1,000m and 1,500m-to secure the host up to three qualification spots in each of the six events and one berth in each of the three relays at Beijing 2022.
The much-improved form of leading Chinese skaters, including reigning Olympic men's 500m champion Wu Dajing, served up another timely boost for the host's medal hopes next year.
Wu, China's only Olympic champion from the 2018 Pyeongchang Games, showed he's still the man to beat over 500m by storming to gold at the final Cup leg in Dutch city Dordrecht on Saturday.
The victory followed a series of disappointments at the previous three Cup stops, where a false-start penalty, an early elimination and a crushing final defeat respectively thwarted Wu.
"Rising from obscurity to the top Olympic podium over the past decade, I've been conditioned to deal with ups and downs throughout my career," Wu, a 27-year-old native of Heilongjiang province, said in a Weibo post before the Dutch leg.
"I might not be in my best form at the moment but I won't give up hope or spare any effort to come back strong facing whatever challenges," added Wu, who is the current world-record holder over 500m (39.505 seconds).
"My goal has always been the same, and that is to bring out the best of myself at the Olympics. I will make every day count in the final preparations toward that target."
Wu's younger teammate Ren Ziwei has emerged as an even more promising medal contender, bagging three individual golds-1,000m, and back-to-back 1,500m titles-to top the men's overall World Cup standings.
Stronger over long distances, Ren was a formidable member of China's 2,000m mixed relay team, which sped to victories in Beijing and Debrecen, Hungary during the Cup series.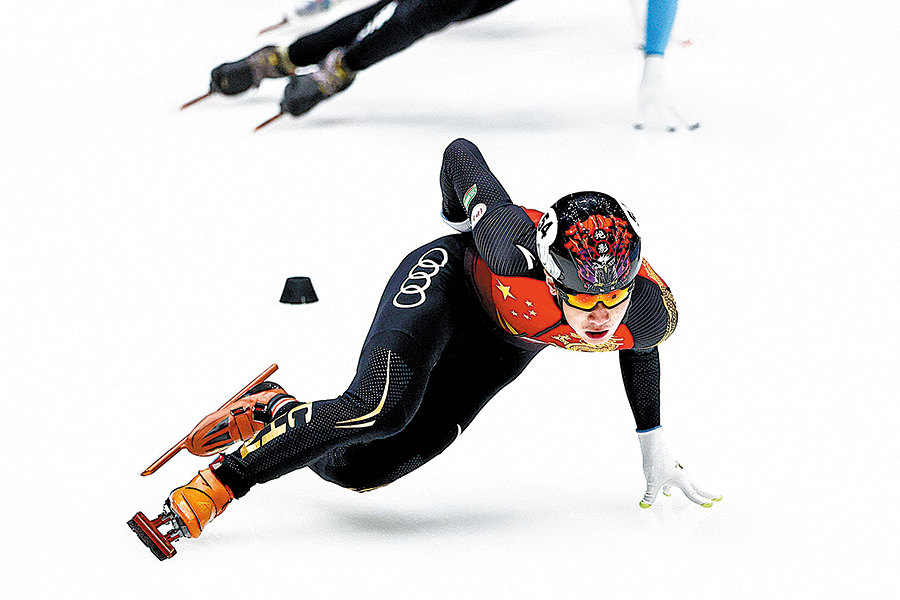 Skating with Wu on China's silver-winning men's 5,000m relay team at Pyeongchang 2018, Ren looks on course to win his first individual Olympic medal next year.
"I want to maintain this momentum for the rest of the season with Beijing 2022 coming up," said Ren, 24, said after winning the 1,000m final in Nagoya, Japan on Oct 31.
"I'm very happy to have the opportunity to compete in my home country, but I'm also feeling the pressure."
As one of the world's short-track powerhouses, China has amassed 10 Olympic gold medals out of the country's total of 13 across all sports since the nation's Winter Games debut in 1980 at Lake Placid, New York.
However, stagnant talent development following the retirement of a group of leading veterans took a toll on performances in the buildup to the 2018 Winter Games in South Korea, especially on the once-dominant women's side.
With no individual gold medals to show from their Cup series, the Chinese women are counting on the quartet of Fan Kexin, Guo Yihan, Qu Chunyu and Zhang Yuting to challenge for gold in the 3,000m relay at Beijing 2022.
Team China has hired South Korean coaches Kim Sun-tae and Viktor Ahn Hyun-soo to beef up its preparations for the home Olympics.
It is hoped the combination of Kim and Ahn-the most decorated Olympic short-track skater with six golds-can give China an edge over its rivals, especially in regard to tactics and fitness.
South Korea, the sport's dominant force with 24 Olympic golds since short-track became a medal event in 1992, will again be the team to beat next year at Beijing's Capital Indoor Stadium. The Netherlands, Canada, Hungary and the United States are also expected to be among the medal contenders.
Dutch speedster Suzanne Schulting and Italy's Arianna Fontana stamped their authority on the Cup series to bolster their gold-medal credentials for Beijing 2022.
Schulting topped the overall standings and swept all three individual titles at the series' penultimate meet in Debrecen. The 24-year-old will bid to become the Netherlands' most successful Olympian in Beijing.
Meanwhile, Hungarian brothers Liu Shaolin Sandor and Liu Shaoang, whose father is Chinese, also look like ones to watch next year after impressing throughout the Cup series.