Bringing the world to the table
Share - WeChat Bagging four out of the five gold medals on offer at the World Table Tennis Championships Finals in Houston, Texas, over the past week, Team China again reaffirmed its dominance of the sport at elite level.
However, rather than focusing on the national team's feats, Liu Guoliang, president of the Chinese Table Tennis Association (CTTA), is more encouraged by the bigger picture-the sport's global development and growth.
"Table tennis does not just belong to China, it belongs to the whole world. Chinese table tennis can only grow if table tennis develops globally," said Liu, who was last week elected executive vice-president of the International Table Tennis Federation (ITTF).
"In recent years, table tennis communities across the globe have more and more communication and cooperation. I also have developed a new understanding of the sport's global reach.
"I used to just think about how to build a top international governing body and how to create the world's top team. But when I started to work at the ITTF, I realized it's more than just one team. Instead, it's about the development of the 227 member associations."
Liu, who was named the World Table Tennis (WTT) Council Chair in June 2020, pledged that the ITTF and WTT will work toward their goal of promoting table tennis across the globe.
"I want to make table tennis one of the world's top sports. And Chinese table tennis, which is at the pinnacle of world table tennis, will have much larger room for growth," Liu added.
As part of efforts to boost the global appeal of table tennis, top paddlers from China and the US paired up to compete in the mixed doubles at the world championships. China's Lin Gaoyuan teamed up with Lily Zhang of the United States to win bronze.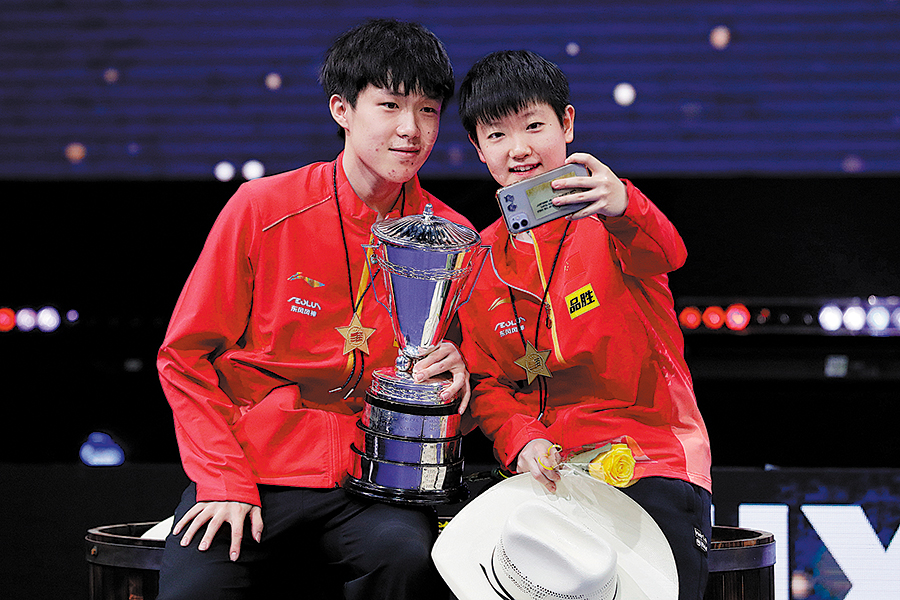 "This is the first time we've linked up and we barely had any preparation. So a bronze medal is really not easy for us. Lily is a very strong teammate and she produced great performances," said Lin.
"She plays boldly when dealing with key points. She also majors in psychology, so I asked her a lot of questions about that. At crucial moments, she pulled off great shots. She's the kind of player who is more decisive at critical times. I should learn from her."
The mixed doubles initiative marked the 50th anniversary of Ping-Pong Diplomacy between the two nations. In April 1971, members of a US table tennis delegation visited China to play exhibition matches. The trip paved the way for the reestablishment of Sino-US relations, which had been suspended for 22 years. Touted as one of the greatest diplomatic breakthroughs of that era, the event became known as Ping-Pong Diplomacy.
Emerging rivals
Although China's four gold medals in Houston reasserted its status as the sport's No 1 powerhouse, the performances of a number of fast-emerging foreign talents sounded a warning to the nation's all-conquering paddlers.
Chinese pairs failed to reach the men's doubles final, where Mattias Falck and Kristian Karlsson on Monday landed Sweden's first world title in the discipline since 1991.
And there was more joy for the Swedes in the men's singles, with world No 77 Truls Moregard producing a stunning run to the final, where he was defeated by China's Fan Zhendong.
Japan's stars, including teenage sensation Tomokazu Harimoto, also caused Team China plenty of problems in the singles and doubles events.
"It's disappointing to lose but I'm happy to have reached the final. But Fan's the world's No 1 for a reason and it was a tough match," said Moregard.
"I'm just looking forward to going home and celebrating my silver medal with my friends and family. I don't think I lost the gold medal, rather I won the silver."
CTTA president Liu applauded the strong showing by the foreign opponents as healthy competition for Team China.
"No matter how strong Team China has been, looking back over our history there were ups and downs. We could have six to eight years of dominance, and then there would be some downturns. This is normal," said Liu.
"From 2005 until now, the Chinese men's team has been the dominant force. But with more pressure from the foreign players, there will be more and more promising talents across the globe. There could be another downturn for us and we are ready to face it.
"More important is how to face such a challenge. That requires us to strengthen our youth training and our talent production system. Team China has many outstanding players, including those who rose to prominence very quickly and those who worked and fought hard for their breakthroughs. They are all great examples for the next generation of Chinese players."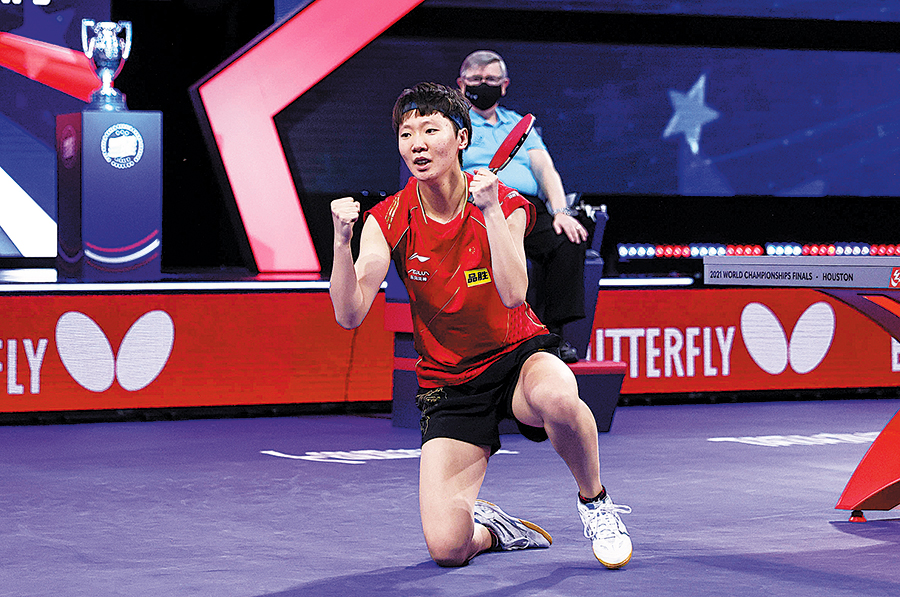 In the women's singles, Chinese paddlers occupied all four semifinal spots, before Wang Manyu outclassed compatriot Sun Yingsha to win gold on Monday. As one of China's brightest young stars, 21-year-old Sun won women's doubles gold with Wang Manyu and mixed doubles gold with Wang Chuqin.
Team China also pocketed four of the five golds up for grabs at this summer's Tokyo Olympics.
"With Tokyo 2020 behind us, our sights are now set on the Paris Games, and all our preparations are for the next Olympics. Of course we want to have the best possible result at the world championships, but more importantly, we want our players to learn and grow from the experience here," Liu said.
"From the Tokyo Olympics, we can see the growth of our young women's players. This is a great sign that younger players are ready to take over the national duties from the veterans. And in the men's team, veteran Ma Long is still very competitive.
"So at these world championships, we have formed a brand-new team to take on the challenge from the rest of the world's top players. This is still a very young team, but we will keep building it and providing them with more platforms to shine and grow."