Consumers continue to support health, wellbeing products
Share - WeChat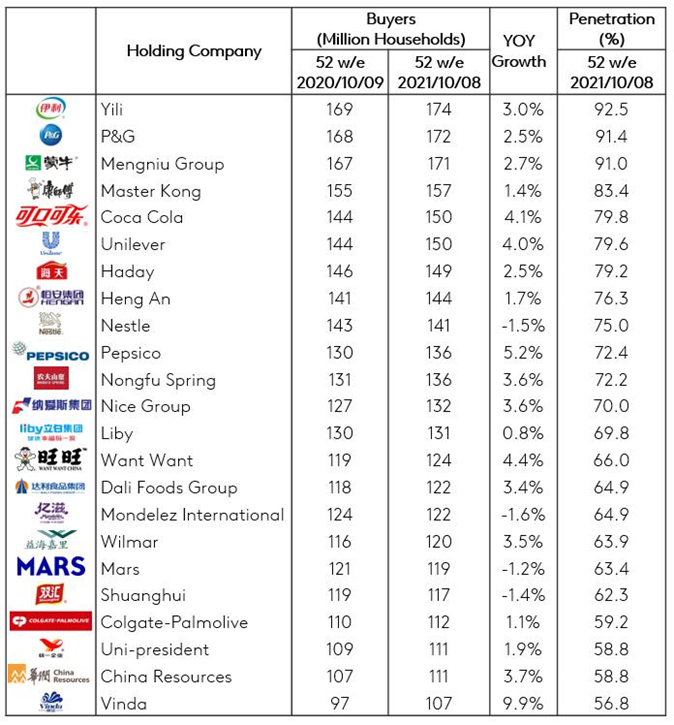 As consumers in China adapt to the new reality of COVID-19 in 2021, they continued to reach for brands they trust, with health and wellbeing products taking the lead in attracting consumers, and digital channels remained a key driver for the sector's rise, according to an industry report.
The latest study from Kantar Worldpanel indicates that 23 Fast Moving Consumer Goods (FMCG) companies attracted over 100 million urban Chinese households each during the past year ending Oct 8.
These 23 companies added 74 million more households to their shopper base from the previous year.
Yili, P&G and Mengniu each attracted more than 170 million families in 2021. In terms of growth rate, Vinda, a hygiene product provider, is the top riser, with a 9.9 percent growth in their number of consumers year-on-year.
This is also the first time Vinda joined the rankings.
Aside from Vinda, PepsiCo, Want Want, Coca Cola and Unilever are also top performers, reporting significant growth in their consumer base.
"The biggest players in FMCG continue to win the hearts and minds of Chinese consumers as they entered a new stage of development. We saw most companies cemented their position on the back of continuous innovation and broader brand portfolios," said Jason Yu, managing director of Kantar Worldpanel Greater China.
COVID-19 has profoundly enhanced consumers' awareness toward health and wellbeing.
Dairy players, such as Yili and Mengniu, continued to hold on to their leading positions, while beverage and food producer Want Want managed to grow their consumers by 4.4 percent thanks to its dairy product line, adding 9.2 million new families to its franchise.
However, consumers are still looking for indulgence during a period of stress and anxiety. So companies offering fizzy drinks and ice cream brands, such as PepsiCo, Coca Cola and Unilever, added new consumers by attracting those looking for comfort and joy while spending more time at home.
On the non-food side, though the pandemic is under better control, demand for a more hygienic environment remained high. Consumers continued to stock personal and household hygiene products that are effective in protecting their families, and this helped boost the buyer base for P&G, Unilever and Vinda, among others.
Digital channels remained a crucial driver of FMCG growth in China. In the last 12 months to October 2021, 93 percent Chinese families bought FMCG through digital channels. While e-commerce continued to grow steadily, fueled by new formats such as social commerce, live-streaming and short-video based commerce, the new O2O model (order online and receive delivery offline) is rapidly transforming the shopping experience by connecting the vast user base of internet platforms and physical retail stores across the country.
Leading national and regional retailers are able to achieve incremental growth through more efficient user recruitment and order fulfillment.
About 57 percent of Chinese families ordered FMCG products over the past three quarters in 2021 through either major delivery platforms, retailers' own apps or group-buying apps.
For major FMCG companies, O2O helped attract new shoppers and tap into new consumption modes as foot traffic in physical stores continued to decline. Vinda, Haday, Nice, Unilever, and Dali are the top players to seize growth opportunities from digital channels, either by providing consumers with delivery options to satisfy their needs for convenience or providing on-demand services to fulfill immediate needs.
Lower-tier cities remain the growth engine for most FMCG players. With the development of short video and mobile commerce, lower-tier city consumers displayed a higher aspiration to adopt new lifestyles similar to their higher-tier counterparts. Tier 3-5 cities saw a faster growth of 3.2 percent year-on-year, in comparison to the smaller growth of 2.5 percent of tier 1 to 2 cities based on data to 52 weeks ending Oct 8.