Thousands rally against curbs in Europe
Share - WeChat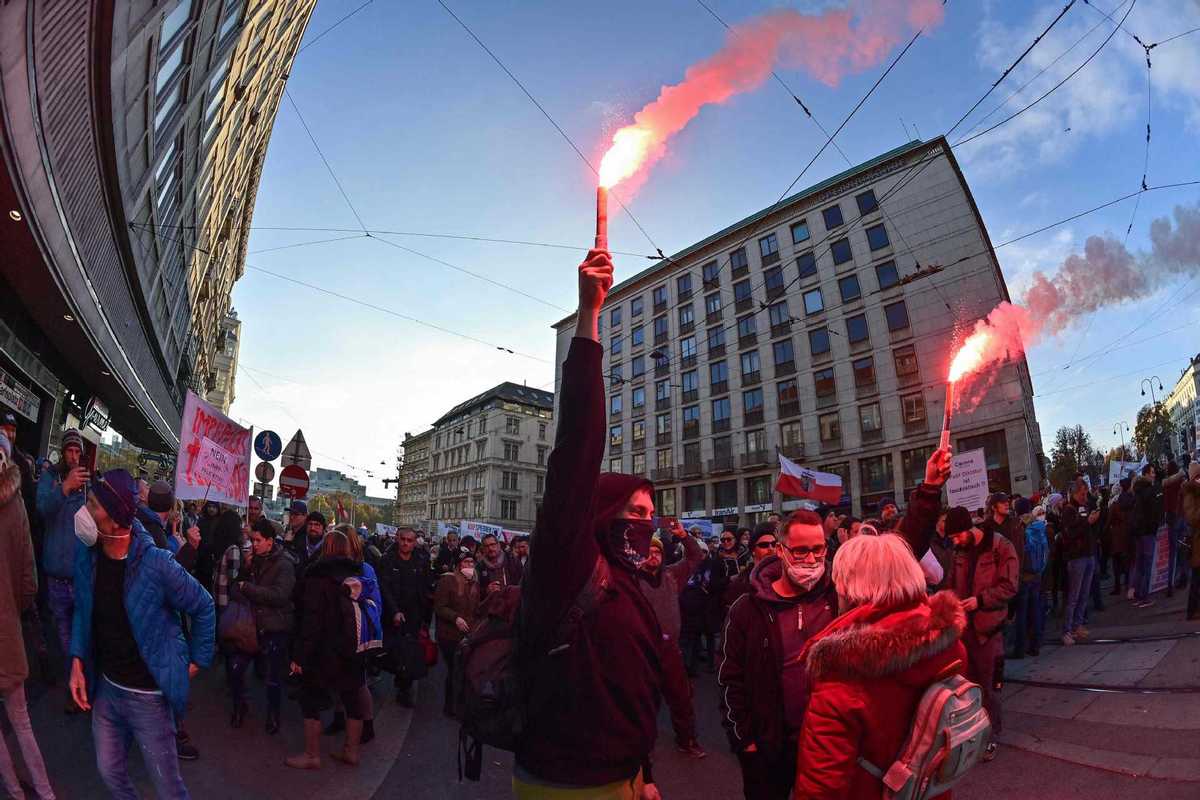 Protests erupted in several European Union countries over the weekend against new government COVID-19 restrictions following the recent rise in new cases in the continent.
About 35,000 people, many representing far-right groups, took to the streets in the Austrian capital, Vienna, on Saturday after Chancellor Alexander Schallenberg on Friday announced that vaccination against COVID-19 would be compulsory nationwide from Feb 1. He also imposed an initial 20-day national lockdown starting on Monday that would be evaluated after 10 days.
Under the measures, most stores will be closed and people will not be allowed to leave home except to go to work, to buy essentials and to do physical exercise.
"We have to look reality in the face," Schallenberg said after talks with regional governors.
New COVID-19 cases have risen in Austria in recent weeks. Daily case numbers have trebled this month to more than 15,000 on Friday in a population of less than 9 million, and hospitals have been overwhelmed with new patients.
About 64 percent of the population is fully vaccinated, the European Center for Disease Prevention and Control said, compared with the 65.5 percent average for EU but well below the average for Western Europe.
In the Netherlands, protests turned violent for the second day on Saturday after the government announced heightened restrictions to control the spread of COVID-19. Protesters threw stones and fireworks at police and set fire to bicycles in The Hague on Saturday, and police officers in riot gear charged at the demonstrators. In a protest in the port city of Rotterdam on Friday police fired shots, injuring three. Fifty-one arrests were made.
'Criminal behavior'
The Justice Minister, Ferd Grapperhaus, said: "The riots and extreme violence against police officers, riot police and firefighters last night in Rotterdam are disgusting to see. Protesting is a great right in our society, but what we saw last night is simply criminal behavior. It has nothing to do with demonstrating."
The Netherlands has imposed some lockdown measures for an initial three weeks, but daily infections have remained at the highest levels since the start of the pandemic. The government says anyone who is unvaccinated will be blocked from entering some venues.
In Italy about 3,000 people turned out in Rome on Saturday to protest against entry certificates required in workplaces, restaurants, theaters, cinemas, sports venues and for long-distance train, bus and ferry trips.
In the Croatian capital, Zagreb, thousands of demonstrators gathered to protest against what they say are restrictions on people's freedoms.
France's Interior Minister, Gerald Darmanin, condemned a protest in the Caribbean island of Guadeloupe, one of the country's overseas territories, on Thursday. Protesters blocked roads, set fire to cars and looted stores in a protest against a COVID-19 health pass required for restaurants, cafes, culture and sports venues and long-distance travel.
Countries in the region were stepping up measures as the World Health Organization described the area as an epicenter of a new wave of COVID-19 cases.
Agencies contributed to this story.
chenweihua@chinadaily.com.cn