Ambassador Zheng underlines significance of sixth plenum
Share - WeChat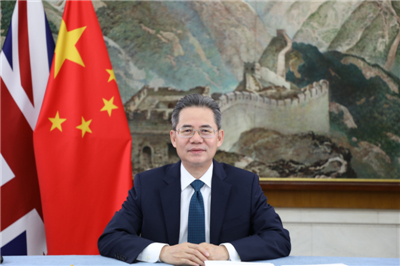 China's ambassador to the United Kingdom, Zheng Zeguang, said on Wednesday that the just-concluded sixth plenary session of the 19th Communist Party of China Central Committee has a far-reaching significance.
The plenum, held last week, "achieved important outcomes" by summing up the major achievements and historical experience of the Party over the past century, he told an online roundtable hosted by Asia House.
"It is of decisive significance for advancing the cause of the Party and the country in the new era and for driving forward the historic process of national rejuvenation."
China is expected to continue to maintain rapid economic growth and sustained social stability, and "the great rejuvenation of the Chinese nation has become an irreversible historical process", he said.
Zheng also provided some perspectives for people outside China to better understand its development.
China puts the people front and center and pursues high-quality development, he said. "In the CPC's philosophy for development, people are always at the center." In the face of the recurring outbreaks of COVID-19, for example, China has always regarded the safety of lives as the top priority of its virus-combating efforts, he added.
Through strict lockdown, timely and accessible vaccination, effective medical treatment, and other supportive measures, China has managed to see a very small number of deaths after the early months of virus eruption.
China is sharing its opportunities and promoting open development, Zheng said. Its economy has already been highly integrated with the world, contributing to about one third of annual global economic growth. It has also pursued an opening-up policy and increased imports to allow other countries to tap its vast domestic consumer market.
China upholds fairness, justice and common prosperity, Zheng said.
During the 40 plus years of reform and opening up, for example, China has lifted 770 million rural residents out of poverty under the current standard, accounting for over 70 percent of the world's total poverty reduction and has led to the emergence of a 400 million strong middle-income group.
China will remain committed to ecological conservation and promote green development, Zheng added.
As a developing country, China is firmly committed to achieving carbon peak before 2030 and carbon neutrality before 2060. "We have unveiled the guideline and top-level design and we are accelerating the formulation of a series of action plans in the key areas and sectors. We are ready to make strenuous efforts to attain the goals on time."
China also upholds the ideal of a community with a shared future for mankind and promotes peaceful development, the ambassador said.
The ambassador also exchanged views with participants on issues relating to China-UK relations, economic cooperation and trade ties, and climate actions.
Zheng said that China and the UK should "maintain sound communication, step up dialogue and cooperation, and contribute to an early victory against the virus, better global governance, and greater development and prosperity in the world".
He said that the two nations should work closely together and take actions to bring the Sino-British relationship to the "right track of healthy and steady development".
He also called for increased contact and communication and understanding of "each other's development".
"The UK needs to view China from an objective perspective, rectify misperceptions and appreciate the fact that China's development will only bring opportunities for cooperation with all countries," Zheng said.
Zheng urged the two sides to "adhere to the principle of mutual respect, handle properly the issues in our bilateral relations, focus on cooperation, manage our differences, expand consensus and build up mutual trust".
China and Britain can both tackle global challenges such as climate change and COVID-19, he said.
He concluded: "We should leverage our respective strengths to help developing countries better meet the challenges of COVID-19, poverty and environmental deterioration. China and the UK should make greater contribution to world peace and common development through our cooperation."