Nike's community projects leaving charitable footprint
Share - WeChat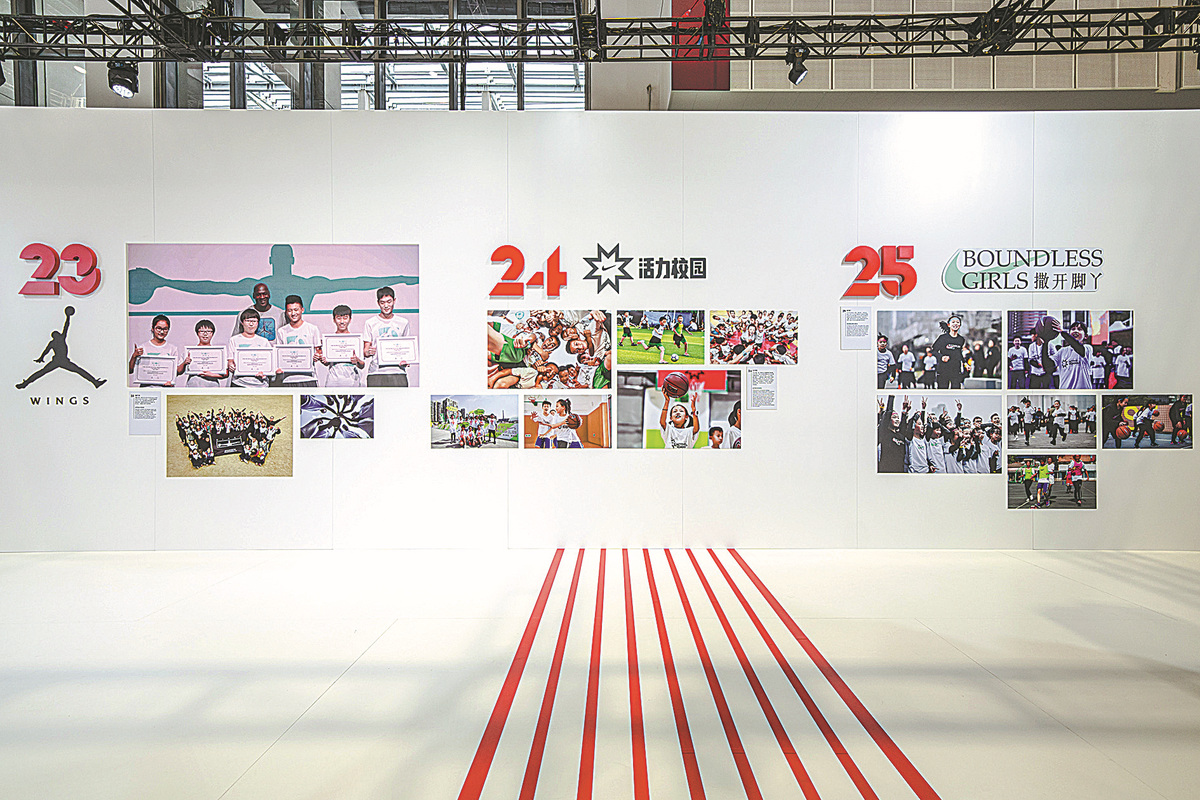 With China committed to turning the country into a sports powerhouse, industry giant Nike is proud of its contribution to the process.
During the 4th China International Import Expo, which concluded on Wednesday, the sportswear giant staged an exhibition showcasing 40 memorable moments from its four decades in the world's most populous nation.
Themed '40 For 40', the exhibition featured archive materials, graphics and video footage of famous athletes, industry partners, and large-scale events to demonstrate Nike's involvement in the Chinese market and its rapid growth alongside China's sports industry.
One section of the exhibition was dedicated to Nike's public welfare projects.
"These long-term key programs, such as Jordan Wings, Active Campus, and Boundless Girls, reflect our commitment to inspiring the young generation to create a better future through the power of sports," said Xu Lin, head of Community Impact, Nike Greater China.
Xu was keen to stress the success of Jordan Wings, a youth-focused charitable program launched in 2015 by legendary basketball player Michael Jordan.
"The fund helped 2,120 high-school students from underdeveloped regions in 16 provinces in China, and more than 2,000 students from 19 provinces have benefited from mentors, comprising 456 Nike employees," Xu said.
In September, Jordan Wings launched its new three-year plan which will provide high-quality internship and part-time opportunities for the program's graduates.
Nike's Boundless Girls program, launched in 2019, is committed to removing obstacles that hinder girls' participation in sports.
"Data shows that girls face more challenges in participating in sports. Globally, girls are twice as likely to quit sports as boys in their adolescence and this is no exception in China," Xu said.
"In just over two years, we have helped more than 30,000 girls from 323 schools to exercise better and more scientifically through the project," she added.
Nike has also cooperated with China's Ministry of Education in the Dynamic Campus project, which is devoted to cultivating sports culture and carrying out physical education innovation in schools.
"The project has promoted school sports through training teachers and developing textbooks since 2013, and launched an innovation award in 2017 to encourage schools," Xu said.
"So far, more than 10,000 PE teachers have been trained across the country, benefiting more than 3.9 million children in 30 provinces," Xu added.
Sustainability is also a key consideration in all of Nike's public welfare projects.
The company has built 10 environmentally friendly sports venues-branded as Nike Grind-in China, using rubber materials from recycled sneakers. For instance, a 600-square-meter playground in Beijing recycled about 45,000 pairs of discarded sports shoes.
"The past 40 years have witnessed the rapid development of Chinese society and the vigorous revitalization of Chinese sports. Nike is honored to be a witness and participant in this period of history in traveling this meaningful journey together," said Dong Wei, vice-president of Nike Inc. and general manager of Nike Greater China.
"Moving forward, we are committed to the long-term development and continuous investment in China, deepening the emotional connection with Chinese consumers and working together to support the development and progress of China's sports industry."