Nation acts as the chill winds of winter blow
Share - WeChat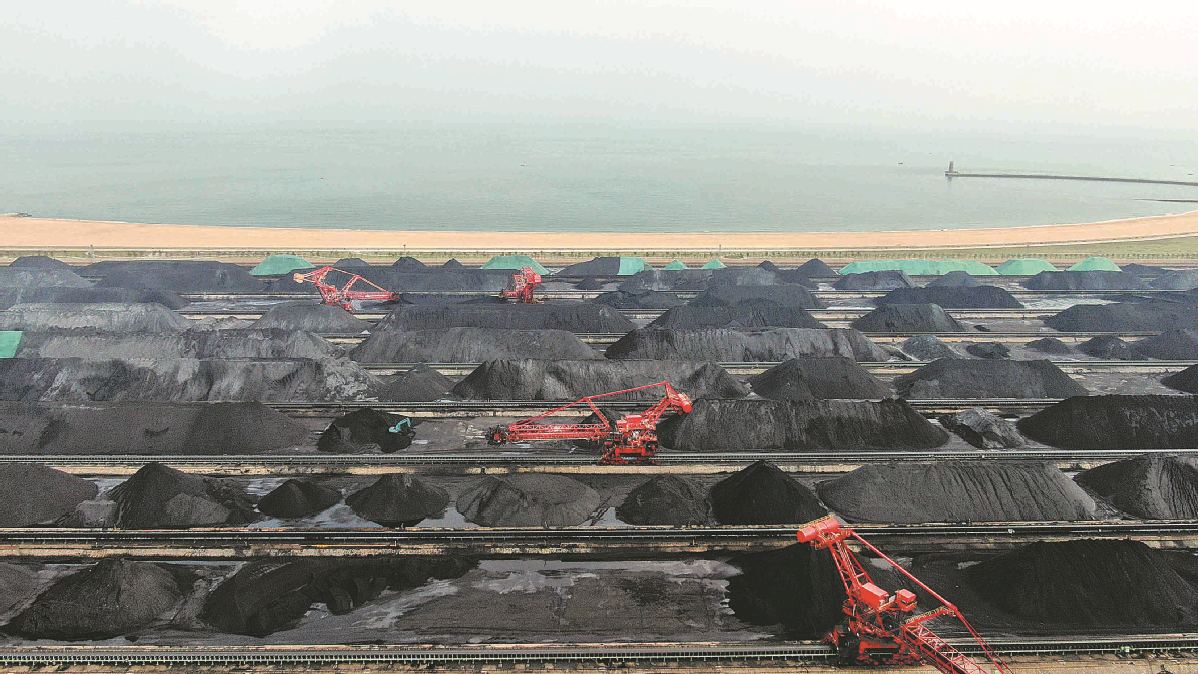 Supplies recover
With the government's efforts taking effect, coal supplies have begun to pick up.
From Nov 1 to 5, daily coal production nationwide peaked at 11.93 million tons, and daily production averaged 11.66 million tons, up by about 1.2 million tons from the end of September. Accumulated coal stocks at power generation plants surpassed 117 million tons on Saturday, up by about 40 million tons from the end of September, according to the NDRC.
With action taken to ease electricity shortages and ensure energy supplies for the winter, the issue for the industry now is striking a balance between coal demand and the nation's long-term green commitment.
Last month, the State Council, China's Cabinet, unveiled an action plan for carbon dioxide emissions to peak before 2030. Measures will also be taken to gradually curb coal consumption in the next decade.
According to the action plan, the country will accelerate the reduction of coal consumption, strictly and rationally limit increases in such consumption during the 14th Five-Year Plan period (2021-25), and reduce consumption in phases during the 15th Five-Year Plan (2026-30).
In addition to carbon dioxide emissions peaking by 2030, the goal is also to reduce such emissions per unit of GDP by 65 percent compared with the level in 2005.
Lin said: "Coal-fired power generation comprises about 65 percent of the power generated nationwide. Reducing the proportion of coal in China's energy mix, while ensuring power supplies for livelihoods and industries, needs long-term efforts.
"During the process of reducing overall coal consumption, it is important to manage the use of power in energy-intensive industries such as steel and aluminum production, and step up development of the tertiary sector, such as the service industry," he added.
Wu said promoting the green transformation of industry is another area of focus. "To reduce carbon emissions, coal companies are taking measures such as phasing out outdated capacity and technology-led production procedures, with the goal of switching to a greener path of development," she added.
The development of new forms of energy is also an integral part of the nation's efforts to cut reliance on coal.
The State Council action plan vows to increase the proportion of non-fossil fuels in the country's energy consumption to around 25 percent. China also plans for more than 30 million kW of new power storage capacity to be installed by 2025, and for about 120 million kW of installed capacity for pumped hydroelectric energy storage stations.
Boyle, from S&P Global Platts, said: "China is probably the global leader in adding renewable generating capacity. In 2020, it added 30 gigawatts of new solar power plant capacity and 70 GW of wind. The addition of renewable generation, as well as nuclear and hydro capacity, has helped China diversify its electricity generating sources and capability."
However, renewable generation still relies heavily on the weather. Without battery storage technology being in place, renewable generation such as wind and solar will continue to fluctuate according to meteorological conditions, he added.