State-owned firms spend big at CIIE
Share - WeChat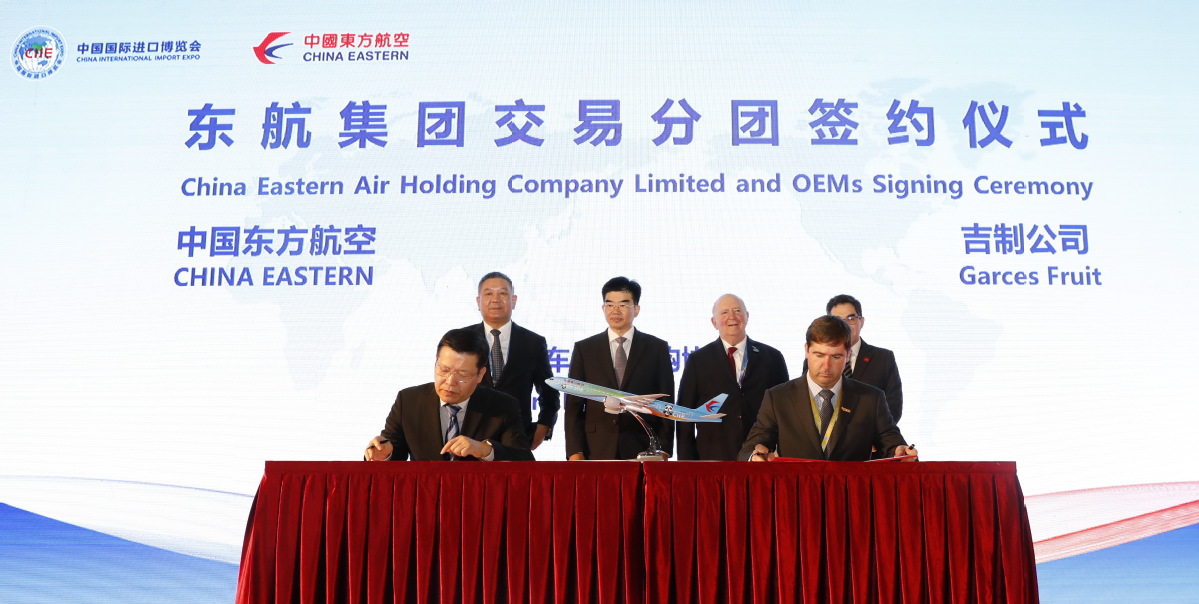 Shanghai gala seen as key platform by senior executives to boost trade
The China International Import Expo has not only become a major platform for foreign corporations to access the China market, but also a stage for domestic enterprises to promote free trade and economic globalization, according to senior executives of Chinese State-owned enterprises.
A procurement transactions group comprising 98 SOEs has been actively seeking cooperation with foreign suppliers at this year's import expo, and significant growth has been seen in terms of total procurement scale.
According to Ren Hongbin, vice-chairman of the State-owned Assets Supervision and Administration Commission of the State Council, the value of intended deals for traditional energy products like oil, gas and coal signed by SOEs at this year's CIIE has soared 22 percent compared to last year.
The value of intended deals for new energy products such as liquefied natural gas also doubled year-on-year.
For example, China Energy Investment Corp (China Energy) on Friday signed more than $1.8 billion worth of procurement deals with 38 enterprises from 13 nations and regions including Indonesia, Mongolia, Germany and Switzerland.
The value of deals reached this year by China Energy and its partners is a 49.6 percent increase from a year ago. Medium and long-term strategic cooperative agreements and procurement contracts were signed for coal supplies, new energy technologies, high-end equipment, commodities and raw materials.
Beijing-based oil and gas company Sinopec has been just as prolific at the expo. The company on Nov 5 inked $41.5 billion worth of procurement deals with 34 overseas suppliers for 42 types of products such as crude oil, natural gas, chemicals and equipment.
Sinopec had signed procurement contracts worth a combined $124.3 billion at the previous three editions of the expo.
Another company from the same sector that has enjoyed a fruitful outing at this year's CIIE is China Energy Engineering Corp Ltd (Energy China)-it signed $639 million worth of deals covering the fields of gas turbines, generators, wind power generators and transport services.
"This is the biggest outlay by our company in all editions of the CIIEs. It is a significant increase from the $67 million we spent in the first edition of the expo in 2018," said Song Hailiang, chairman of Energy China.
Energy China had signed $829 million worth of deals in the previous three events.
"The event is an opportunity for us to better understand that the nation is welcoming a higher standard of opening-up, a higher-level cooperation, and more extensive innovation. Hence, Energy China is more confident and resolute in its participation in global energy construction," said Song.
Major companies from other industries have followed suit and shown their intention to splurge on the acquisition of imported products and services.
COFCO Corp, China's largest food and agricultural company, procured more than $10 billion worth of high-quality agricultural products-nearly double the amount a year ago-from more than 20 nations and regions at this year's CIIE.
China Eastern Air Holding Co Ltd has also inked its fair share of agreements-it secured more than $1.1 billion worth of deals with six nations including Chile, Singapore, Switzerland, Germany, the United States and the United Kingdom.
The Shanghai-based aviation company said it is eager to welcome state-of-the-art products, services and technologies from around the world to improve the travel experience of their customers. The carrier has an extensive buying list that includes products like South American cherries, vehicles from Europe and aircraft equipment maintenance services.
The rise in procurement value in automated vehicles, technological equipment and services is expected to enhance the industrial and supply chains of SOEs, said Ren.
One of the biggest spenders in this category is China State Shipbuilding Corp, the world's largest shipbuilder, which on Nov 5 inked deals for 31 projects with a combined value of 1.4 billion yuan ($219 million), a sharp 92.1 percent rise from last year.
The group said that it has constantly secured important deals at the expo since it signed a contract to build 135,500-gross-ton Vista-class cruise ships at the first edition of the CIIE in 2018. It added that its outlay at this year's expo reiterates its determination to promote the healthy development of the global industrial and supply chains.
One of the SOEs making its CIIE debut this year is Sinochem Holdings Corp Ltd, which was formed following the restructuring of Sinochem Group Co Ltd and China National Chemical Corp Ltd earlier in May.
The newly established corporation has signed collaborative agreements with 29 cooperation partners from 16 nations and regions at this year's CIIE.
"Thanks to China's resilient and strong economy, Sinochem Holdings Corp Ltd is extending its cooperation with overseas partners by seizing opportunities emerging in the green and low carbon fields, as well as from industrial and consumption upgrades," said Ning Gaoning, chairman of Sinochem Holdings.
"By taking part in the CIIE, Sinochem Holdings has grown into a technology-driven innovator and a world-class chemical company. In the meantime, Sinochem Holdings' overseas partners are benefiting from the event as they get to share in the opportunities from China's development."