China Institute salutes 10 'Women Who Dared'
Share - WeChat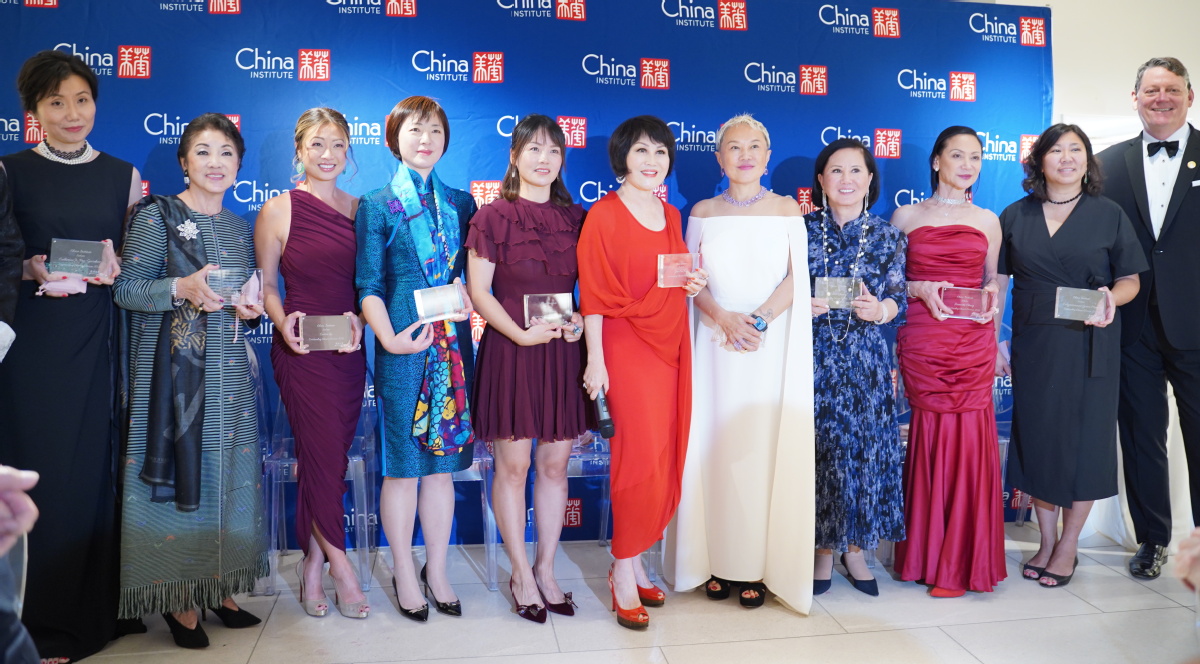 A gala celebration of outstanding Chinese women in business, media, the arts and science was held in New York City on Wednesday night.
Ten women, including co-chair of the China Institute Yue-Sai Kan; US Congresswoman Grace Meng; International Editions Publisher of CR Fashion Book Jeannette Chang; Corcoran Group Senior Global Real Estate Advisor Carrie Chiang; designer and artist Han Feng; founder of Pine Street Alternative Asset Management Carrie Lee; partner at Dorsey & Whitney Catherine X. Pan-Giordano; philanthropist Shining Sung; mountaineer Jing Wang; and board Chair and CEO of ICBC (USA) NA Jianyu Zhang were awarded as "Women Who Dared" at the event.
"Tonight we are here to celebrate the talents of women in every field of human endeavor, every area of society around the world," said Kan, who is also an Emmy Award-winning television host and producer; her Yue-Sai cosmetics brand was once China's leading cosmetics company.
"We thought it would be a wonderful occasion to celebrate the talents of our Chinese sisters here in the United States and around the world and all of their accomplishments," Alex Charlton, master of ceremonies at the event and CEO of Carlyle Global Partners Foundation told China Daily.
The celebration consisted of a Women Who Dared art collection, which was assembled by philanthropists Sandi and Bill Nicholson over the past 30 years. The art collection is the largest privately owned collection of art exclusively by women artists and includes important works by Chinese artists. The collection includes more than 400 works spanning 2,500 years from all seven continents.
"The arts can inspire; the arts can heal," said Charlton. "We are here to really show … women of the world that we applaud and appreciate their contributions to society."
Jing Wang, CEO of outdoor-products company Toread Holdings Group, was one of the women to receive a "dared" award.
Wang has recorded the fastest time by any woman in competing the Explorers Grand Slam and was the fastest woman to climb Seven Summits. The Explorers Grand Slam includes reaching the highest peak on every continent plus skiing at a minimum the last degree (111 kilometers; 69 miles) to the North and South poles.
"Many people think that mountaineers are men, but now there are more and more women participating in this type of extreme sports," Wang told China Daily. "Extreme sports are very creative, and you can do it according to your own understandings. As long as you have a clear goal, nothing is impossible. Looking back, I was also very surprised by what I have achieved."
Wang believes that she could keep the world records for some time because she's doing what she likes, from the bottom of her heart.
"We have to learn different things at different stages so that we can make progress and keep pace with the times," she said, adding that her dream is to live an energetic life like an 18-year-old when she turns 80.
Wednesday's event was hosted by Women Who Dared, Northwell Health, and Nurse Heroes to benefit China Institute, the oldest bicultural, nonprofit organization in the US. It was founded in 1926 by Chinese reformers Hu Shi and Kuo Pingwen. The institute aims to advance a deeper understanding of China through programs in education, culture, art and business.
"We are a wonderful organization to bring the Americans and Chinese together," Sophia Sheng, one of the board members of at the China Institute told China Daily.
"Tonight, we have 10 Chinese women on the list who are very well accomplished. We are very proud to showcase all those Chinese woman achievers."