University makes the grade with athletic innovation
Share - WeChat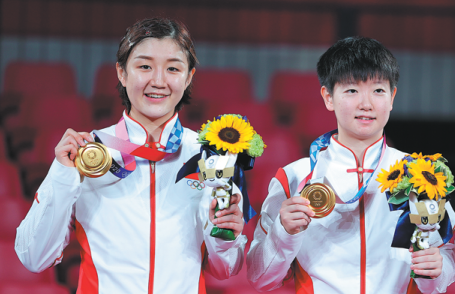 University makes the grade with athletic innovation At this summer's Tokyo Olympics, athletes from Shenzhen University clinched three golds and one silver medal for Team China. Now the university is continuing to explore ways of cultivating more athletic talent through the integration of physical education with general academic studies-a strategy it has adopted since 1988.
The old adage of 'healthy body, healthy mind' applies.
"Students can learn how to adapt to the rules of competition in sports, which is beneficial to the socialization process", said Zhao Gang, director of the sports training department at the university's School of Sport.
"Moreover, physical activity provides a relatively free space for personal growth. It promotes the development of personality while simultaneously providing discipline and eliminating improper behavior through rules."
Shenzhen University puts a lot of effort into improving physical education. Here, students can choose the sports they are interested in, choose the teacher they like, and class time which best suits their schedule. They can interact with the teacher both in class and online. In addition, a variety of sports clubs funded by the university are available on campus.
Tang Yucheng, assistant dean of the School of Sport, said: "Campus sports culture is an important part of campus culture, which exerts a subtle but important influence on the physical and mental development of students."
To create a vibrant sports culture on campus, the university employs a multitude of innovative measures-organizing sports festivals and related events, staging sports forums, inviting sports stars to participate in campus activities, developing high-level sports teams, and taking part in competitions at home and abroad.
The university's most talented student athletes can take advantage of high-quality training systems, with college sports teams collaborating with professional clubs and enterprises, and establishing joint training programs in sports such as swimming and gymnastics.
The university's table tennis club, founded in 2016, won last year's Chinese Table Tennis Super League. The club's members include Chen Meng and Sun Yingsha, who won women's singles gold and silver respectively at the Tokyo 2020 Olympic Games.
Aiming to expand the career development path of athletes, Shenzhen University optimizes the curriculum and improves teaching methods so that students can not only master sports skills but also acquire knowledge in management, exercise rehabilitation and nutrition to gain an edge in their careers and long-term development.
Considering the conflicts between academic study and athletic training, the university adopts flexible teaching methods, with learning organized online and offline, and on and off campus.
Tian Ye, former director of the China Institute of Sports Science, has served as the dean of the university's School of Sport since 2019, and places a strong emphasis on sports science research.
The university boasts a comprehensive digital laboratory to provide high-level training for athletes.
"This kind of laboratory enables us to evaluate athletes' cardiopulmonary function, muscle metabolism, and nerve regulation through advanced experimental equipment, facilitating a more accurate and personalized guidance for athletes," Tian said.
Chen Zihao, a senior student majoring in sports training, says the school's curriculum and resources have helped him develop as a golfer.
"For example, we use software called Trackman and FlightScope to track club-head speed, spin angle, ball speed, spin rate, and other data. A system called SAM PutLab is used to test the putter, including the club-face angle, trajectory, rhythm, speed and more. We also have an indoor simulator."
Chen says the faculty's work with him on developing training plans is crucial to his ambitions of one day turning professional.
While not all students will enter the professional arena, many graduates pursue careers with sports agencies, become physical education teachers, or successfully transitioning into other industries-providing more evidence of the benefits of PE's integration in the general curriculum at Shenzhen University.