Beijing hits road to becoming international consumption hub
Share - WeChat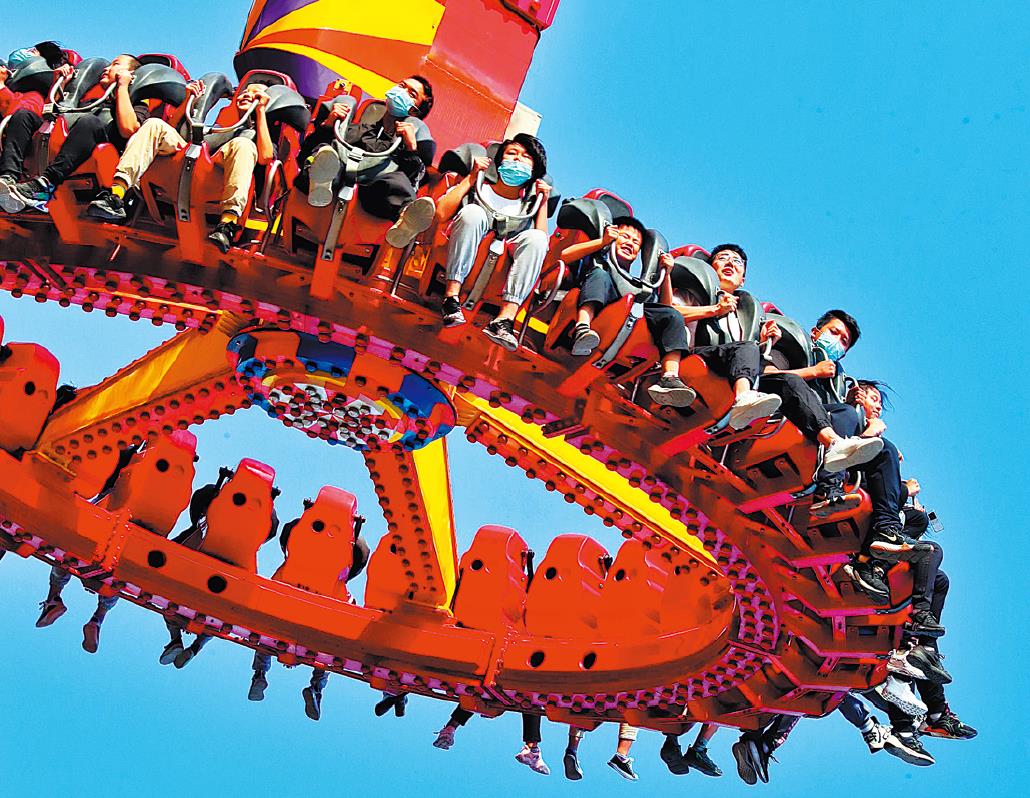 City draws up detailed five-year plans for new future
Beijing, which boasts a history of more than 3,000 years, is working hard at self-promotion in its quest to become an international consumption hub.
The city, with a population of more than 21 million, already boasts a mix of the ancient and modern, the traditional and the trendy.
With its residents now having more disposable income, and as investors' confidence increases, the Chinese capital aims to transform itself into an influential and competitive global consumption center in the next five years.
The vision for such ambition is not lacking in detail, with the municipal government carrying out a series of measures to make this dream come true.
Yan Ligang, head of the Beijing Commerce Bureau, said at a recent forum that the city would strive to set up "world-level business circles", increase inbound tourists and raise consumption power to realize its goal.
Young people-whether in Shanghai, Tokyo, New York or Paris-drink at outlets such as Starbucks, wear Uniqlo attire and buy furniture from Ikea. However, such major brands worldwide are becoming increasingly similar due to globalization.
Brands located in shopping malls in Chinese cities are no exception to this trend.
Against this backdrop, Beijing is striving to offer more choices and encourage local innovation by providing incentives to introduce "first stores" to the city.
Italian designer Gianvito Rossi, who in April chose Beijing to launch his brand's first store in China, said, "China has always been an important market for us, as Chinese consumers shop at our boutiques worldwide."
Founder and creative director of Gianvito Rossi, a brand focusing on women's fashion, he said Beijing is a major destination for luxury shopping.
"We've identified the city as the right starting point for our brand expansion in the Chinese market," he added.
Kevin Liu, general manager in charge of Chinese mainland and Hong Kong for fashion and fragrance business Puig, said choosing Beijing as the location for its first store stocking French brand Christian Louboutin cosmetics in China was a significant decision that would help the brand's long-term development.
"The group held several rounds of assessments and discussions before deciding to set up this store in Beijing when we entered the Chinese mainland market," Liu said.
"As the capital of China, Beijing has unique advantages in internationalization. It is also the center of the nation's politics, economy and culture."
Liu said revenue at the store in the first month after it opened in July surpassed expectations.
Both Gianvito Rossi and Christian Louboutin set up their first outlets in China at the SKP Beijing department store, the nation's biggest and most productive retailer, which achieved 17.7 billion yuan ($2.75 billion) in sales last year, outpacing renowned United Kingdom store Harrods' pre-pandemic performance.
Xie Dan, deputy general manager of SKP Beijing, said Chinese consumers contribute 35 percent to global fashion consumption, while only a small proportion of this total used to occur in China, meaning that the nation offers huge potential.
"SKP has continued innovating to provide a better consumption experience for customers," she said.
When customers shop at SKP in the Sanlitun area of Beijing or in Guomao, the city's central business district, they notice that both areas have become more fashionable and stylish by holding lively events and attracting a range of global brands.
SKP-S store, a new outlet one street away from SKP Beijing, opened in December 2019, targeting younger customers. It has attracted many well-known global brands, including Prada, to launch stores or hold events.
The Prada SKP-S store has staged a series of thematic pop-up projects with distinct installations and interactions inspired by a variety of themes.
Armando Tolomelli, CEO of Prada Asia Pacific, said the futuristic concept of SKP-S inspired the company's strategy of investing in such space and attracting new and younger customers.
"We took advantage of SKP's vision to open this first creative space in Beijing, as the city is obviously one of the most important markets for us in China," he said.
Tolomelli said the Prada SKP-S store's sales performance is ahead of initial expectations.