Contest grows with the times
Share - WeChat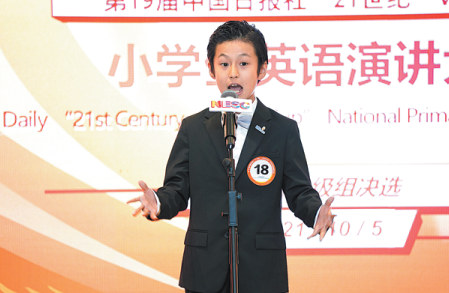 The Third Belt and Road Youth English Speaking Competition and the China Daily "21st Century Cup" National English Speaking Competition were held at the Business &Innovation Center for China-Europe Cooperation in Chengdu, Sichuan province from Oct 3 to 6.
Wang Licheng, from Shanghai Foreign Language School Affiliated to SISU, gained a huge popularity online even before he championed the Senior High School category on Oct 6. In an impromptu speech on Oct 4, he quoted Chinese scholar Gu Hongming from the TV drama The Age of Awakening, defining "the spirit of the Chinese people" as "inexpressibly gentle, with the combination of intelligence and sympathy". The Age of Awakening tells the story of the founding of the Communist Party of China in 1921 and has become a big hit among young people in China.
In his inspiring speech, Wang further talked about his understanding of "once-in-a-century change", which is not COVID-19, economic crisis or environmental crises. "We are the change. China is the change," he said.
Most Popular