Ex-Alstom executive: Why Meng's release was a big win for China
Share - WeChat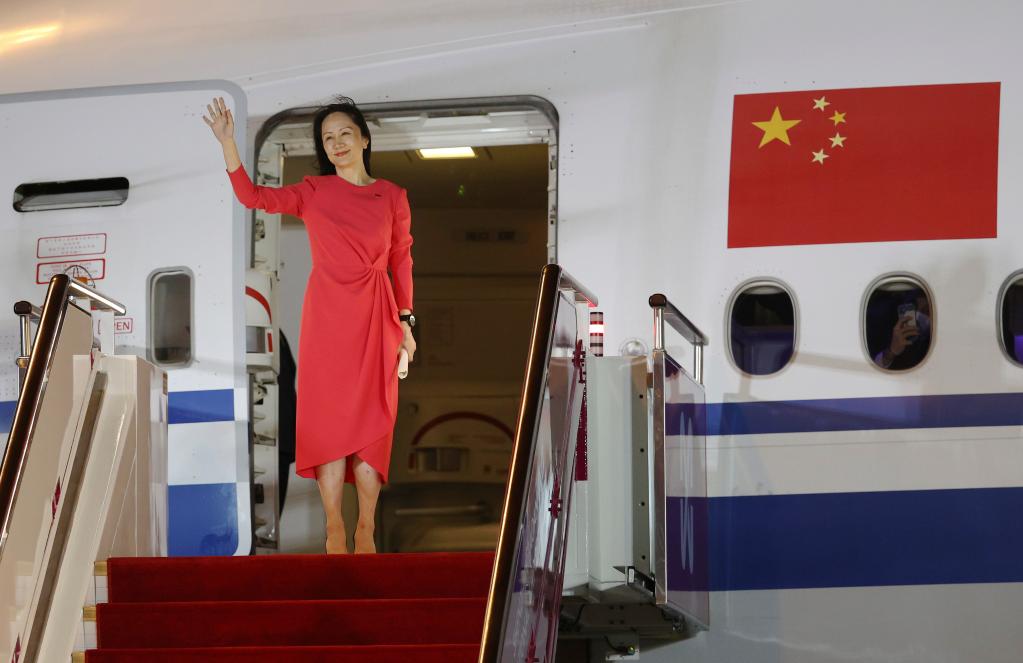 The release of Huawei Technologies CFO Meng Wanzhou is a great victory for China "because it's really the first time (a) country stands up to the long-arm jurisdiction of the United States in such a way", said a French former business leader.
Frédéric Pierucci, a former executive for Alstom, an energy and transport group, had his own experience of being accused by the US. He was arrested by US authorities at New York's Kennedy Airport during a routine business trip in 2013.
Pierucci was detained on foreign bribery charges for five years, saying he was held as an "economic hostage". Alstom eventually paid a massive fine and was forced to sell its core business to US rival General Electric.
The high-profile arrest of Meng has stirred a debate over America's punitive measures against foreign businesses and individuals.
"In fact, in all Foreign Corrupt Practices Act cases, I have never seen such a thing," Pierucci said at an interview with the China Global Television Network (CGTN).
"It shows that (the) negotiation has been very, very tough, and that the Department of Justice has really bent a lot to accommodate this kind of an agreement," he said.
Through the unremitting efforts of the Chinese government, Meng finally returned to her home country safely by pleading not guilty, after almost three years under house arrest in Vancouver. Meng, 49, was welcomed by more than 400 million people via livestreaming when she stepped off a plane in Shenzhen Airport on Saturday night. She expressed gratitude to the Chinese government for securing her safe return.
Meng was arrested by Canadian authorities at the request of the US at the Vancouver International Airport on Dec 1, 2018. She was accused of misrepresenting the Chinese telecom company's relationship with Skycom in a PowerPoint presentation to HSBC in 2013 and putting the bank at risk of violating US sanctions against Iran. Meng and Huawei always denied the accusations.
Pierucci said he was not as lucky as Meng.
"I didn't have the chance to (have) my company support (me) like she had. … I realized that I was really alone, and that if I wanted to avoid spending the last 15 years in prisons in the US, I had to [make] the choices that I made. So this is a huge difference," Pierucci told the media.
Pierucci's ordeal is a cautionary tale for globe-trotting executives. He set up a consultancy to help companies stay on the right side of anti-bribery prosecutors after he returned to Paris. In 2016, France belatedly passed tough anti-corruption legislation to protect French companies.
Pierucci said the US Justice Department reaching an agreement to release Meng is hopefully going to be a "turning point" in US-China relations.
"At the end of the day, no European country will say this, but everybody deep down should feel grateful to what is happening here, because it's really one of the first times that a country is really standing up to the United States to stop this craziness of long-arm jurisdiction. So in fact, this will benefit a lot of other countries, provide them courage to stand up and fight back."
Chinese Foreign Ministry spokesperson Hua Chunying said that Meng's release shows China's strength, and Canada should "draw lessons".
"Since Meng was groundlessly detained in December 2018, our Party and the Chinese government have attached high importance [on her release], and President Xi Jinping gave personal attention to this," Hua said Monday.
"The Foreign Ministry, together with the Chinese embassies in the US and Canada and the Chinese Consulate General in Vancouver, has worked at various levels and on multiple occasions, provided consular protection and assistance to Ms. Meng Wanzhou, and lodged solemn representations with the US and Canada, asking them to drop the erroneous charges against Meng and ensure her safe return to China as early as possible."
Jiang Wenran, an advisory board member of the Toronto-based Institute for Peace & Diplomacy, told China Daily that Meng's release indicated that the Biden administration has checked off an item on Beijing's pre-conditions list for improving bilateral ties and potentially paving the way for more high-level dialogue.
"As I wrote immediately after Meng's arrest, it was shocking and unprecedented for the US to deploy criminal procedure targeting a senior Chinese corporate executive personally instead of going after the company through civil litigation, as it previously practiced under the Department of Commerce," Jiang said.
"Former president Donald Trump openly politicized the case by declaring Meng a trade bargaining chip with China," said Jiang, a retired political science professor and founding director of the China Institute at the University of Alberta.
Jiang also told Canadian media that the outcome of Meng's case returns the US to its traditional behavior of going after the corporate entity for any violation of relevant US laws rather than targeting individuals.
It is "extremely unusual" for a top executive instead of a corporation to be targeted in such a case, Time reported.
Deutsche Bank was fined $258 million for violating sanctions related to Iran and Syria in 2015, but no executives were detained. Nor were any executives prosecuted when Airbus agreed to pay a record $4 billion in penalties in a massive bribery case last year, according to Time.