Tashikurgan tourism boom creates new entrepreneurs
Share - WeChat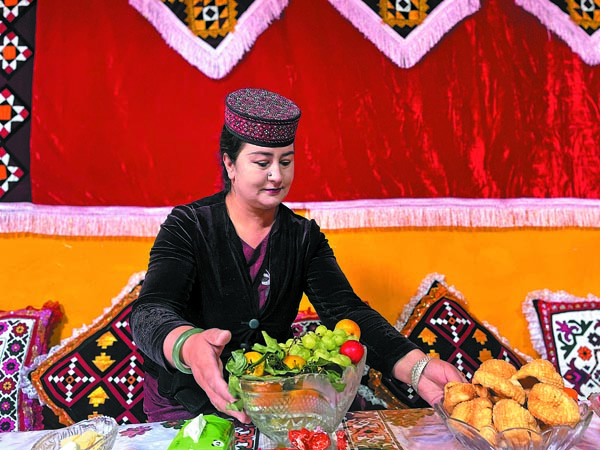 A local businesswoman made and sold ethnic clothing, earning 400,000 yuan for 8 months
Tashikurgan, a county in the far west of Northwest China's Xinjiang Uygur autonomous region, is still not accessible by plane or train. Visitors have to fly to the Kashgar airport and from there drive more than five hours to reach its territory.
Even so, the county has been attracting an increasing number of tourists who enjoy a scenic road trip. Along the way are natural wonders that can surprise and appeal to visitors.
For instance, passing through the beautiful Baisha Lake in Kizilsu Kirghiz autonomous prefecture on a sunny day, one can view the crystal-clear waters hemmed in by rolling sand dunes and snow-clad mountains whose jagged peaks seem to spears the clouds. When we visited, the sun seemed to peep over the mountains and the mirror-like surface of the Baisha Lake gleamed over the horizon. One had to shield the eyes to appreciate the dazzling, breathtaking beauty.
The Pamir tourist area, a national 5A scenic spot, attracted nearly 1.12 million visitors in 2019. They immersed themselves in the culture of the Tajik ethnic group and appreciated the plateau sceneries. Although the number of visitors dropped around 40 percent in 2020 because of the COVID-19 pandemic, tourism is on the upturn this year, according to the local culture and tourism bureau.
The burgeoning tourism has inspired the Tajik people who have been living there for generations to start businesses or seek for jobs in the sector.
Dilyar Hayrullah, who rents a house covering around 300 square meters in the Pamir tourist area, has started to run a homestay in 2017.
The local government organized training sessions where Dilyar could learn more about the business of homestay management, improve his cooking skills, and visit some highly-regarded hostels in Urumqi and Kashgar.
"Many other homestay owners in Urumqi and Kashgar have decorated the rooms with traditional Uygur-style ornaments and furnishings. That encouraged me to highlight ethnic elements of our culture in my homestay," he recalled.
He used rugs, tapestries, pillows, vases and some other handmade ornaments featuring the traditional Tajik-style patterns to decorate the rooms. And in one room the traditional quilts, hats, scarves and accessories are displayed for visitors to purchase.
He used to be a herdsman whose annual income could barely reach 10,000 yuan ($1,550). However, after he opened his homestay business, the family's annual income has surpassed 200,000 yuan.
During the peak tourism season from May to August, he and his wife would hire several part-timers to help with cleaning the rooms, cooking, washing dishes and some other chores.
They also have to take care of more than 40 sheep and four cows as well as cultivate highland fields, planted to barley and pea, usually a 10-minute walk from the homestay. "We cook roasted lambs and mutton skewers for our customers using the fresh meat of the animals we raise," said Dilyar.
The couple's kindness and sincerity have earned a good reputation for their homestay hotel. Some tourists who have experienced their hospitality would recommend Dilyar's hotel to their friends.
The couple is planning to open a new homestay in their own house and gather their fellow villagers to set up a cooperative that can offer better service to tourists.
To give tourists an immersive experience, the Pamir tourist area offers performances of traditional Tajik weddings, folk songs, as well as dances where performers imitate a hawk that is a heroic symbol of Tajik culture.
Anayim Niyaz, 23, is a member of an art troupe that gives singing and dancing performances to tourists regularly. She loved dancing even when she was a child. After her graduation from college in Urumqi, she went back to Tashikurgan and received dance training. She passed an examination and became a member of the art troupe in 2019.
"I can earn 6,000 yuan a month from the job. For me, it is a decent and stable job," she said.