Careful planning helps ensure safe, successful 14th National Games
Share - WeChat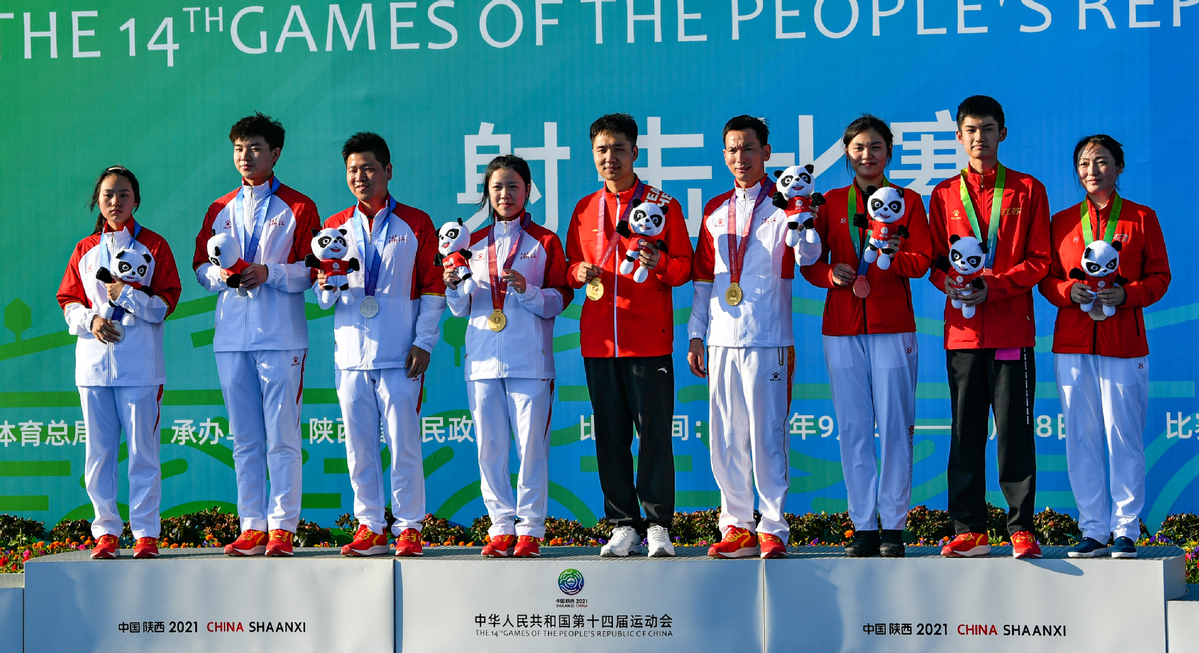 It's daunting work to welcome over 12,000 athletes, 4,200 technical officials and 1,500 media members to China's 14th National Games, which kicked off on Wednesday in Xi'an, Shaanxi province, but the event's organizer has offered superb services to guarantee a safe and smooth series of competitions.
This year's event provides athletes and media with a newly built National Games Village that has 56 buildings, 2,975 rooms and 12,176 beds. Over 7,000 volunteers, medical workers, and security staff from the organizing committee help ensure smooth daily operations in the village.
All the athletes, coaches, referees and media members live in a biosecure bubble at the village, with no physical contact with the outside world allowed. But the residents can enjoy high-quality accommodation. Retail outlets, hair salons, canteens, gyms, running tracks and other facilities are all available.
"The media village has comprehensive facilities, and our goal is to provide all participants convenient living conditions," said Fang Guanghua, vice-governor of Shaanxi. "Apart from the media village, we also have 83 designated hotels, 95 designated hospitals and 1,350 medical workers at the National Games.
"During the National Games, there are a total of 2,881 shuttle buses and other transportation vehicles, so we can meet the travel demands of athletes, coaches, technical officials and media between venues and the athlete and media villages. Moreover, we also have comprehensive preparations in terms of security, telecommunications, power and other supporting services."
The high-quality services, venues and living condition at the National Games have impressed the athletes and media across the nation.
Life at the athletes village in Xi'an impressed sports climber Au Chi-Fung, the flag-bearer of the Hong Kong delegation at the opening ceremony. Au is a veteran who participated in the 13th China's National Games in Tianjin in 2017 and the 2018 Asian Games in Jakarta.
"Here I can always find what I want to eat. Also the athletes village is very safe. We have enough rooms and space for everyone. And the transportation is very convenient." Au told China Daily.
"There are shops in the village, so we can buy what we need. And there's a gaming hall for athletes to relax. Although I haven't tried it yet due to my training schedule, but for sure I will go there."
With the COVID-19 pandemic still a major consideration, the National Games' organizing committee, learning from the experience of the Tokyo Olympics, has devised and implemented comprehensive pandemic-prevention regulations, with the goal of "zero infections".
To enable everyone to complete all the protocols more seamlessly, the organizer also developed a smartphone app that provides details on participants health status, such as COVID-19 test results, within 48 hours as well as vaccination proof, daily body temperature and recent travel history.
"It's a huge test for us to organize such a big sporting event with the challenge from the pandemic. We have received help from the National Health Commission, the General Administration of Sport of China and many medical experts," Fang said.
"We have specific contagion-prevention regulations for each event, each venue and each group of participants. All these measures are designed to ensure zero infections during the National Games. We have to guarantee the safety and health of everyone."
Most Popular
Highlights
What's Hot