Peninsula sees dueling missile tests
Share - WeChat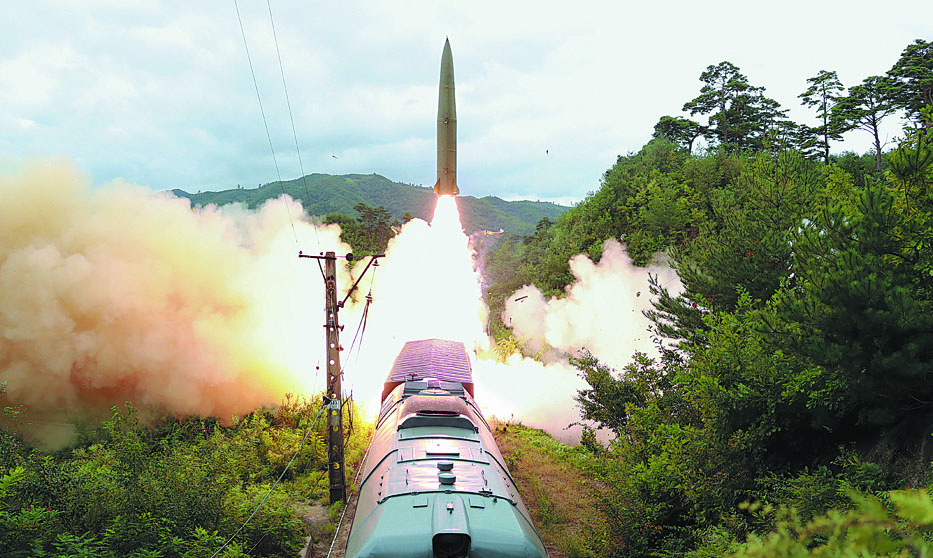 The Democratic People's Republic of Korea said on Thursday it had successfully launched ballistic missiles from a train for the first time and was continuing to bolster its defenses, after the two neighbors on the Korean Peninsula test-fired missiles hours apart in dueling displays of military might.
Pyongyang's official Korean Central News Agency, or KCNA, said the missiles were launched during a drill of a "railway-borne missile regiment" that transported the weapons system along tracks in the country's mountainous central region and accurately struck a sea target 800 kilometers away.
Pak Jong-chon, a member of the Presidium of the Political Bureau and secretary of the Central Committee of the ruling Workers' Party of Korea, guided the test-firing drill of the missile regiment, the KCNA report said.
Pak said the railway-borne missile system serves as an efficient means of counter-strike capable of dealing what the official called a harsh multi-concurrent blow to the threat-posing forces through performances of firepower duty in different parts of the country.
Wednesday's launch came days after the DPRK successfully tested a new type of long-range cruise missile. Pak was also there for that event, the DPRK said.
The DPRK's state media on Thursday showed what appeared to be two different missiles streaking up from railcar launchers engulfed in orange flames along tracks surrounded by dense forest.
Kim Jong-un, the DPRK's top leader, vowed at a party congress in January to bolster his country's nuclear deterrent in the face of United States-led sanctions and pressure and issued a long wish list of sophisticated weaponry, including longer-range intercontinental ballistic missiles, nuclear-powered submarines, spy satellites and tactical nuclear arms, The Associated Press reported.
'Extraordinary timing'
On Wednesday, the Republic of Korea reported its first test of a submarine-launched ballistic missile. As President Moon Jae-in and other top officials watched, the missile flew from a submarine and hit a designated target, Moon's office said.
The test is a strategic advance for Seoul. It has been strengthening its military capabilities, Agence France-Presse said.
"It's extraordinary timing that you have not one but two Koreas testing ballistic missiles on the same day," Yonsei University professor John Delury told AFP."It does speak to the fact that there's an arms race in this region that everyone needs to pay attention to."
With the successful tests, Seoul now has "sufficient deterrence to respond to Pyongyang's provocations at any time", Moon said, adding that his country should continue increasing its weapons programs to "overwhelm Pyongyang's asymmetric power".
Within hours, he was rebuked by Kim Yo-jong, vice-department director of the DPRK's Central Committee of the Workers' Party of Korea. She lambasted Moon for making a "thoughtless utterance" and incorrectly accusing Pyongyang of "provocation".
Seoul has an "illogical and stupid habit of describing its act as a just one supporting peace and describing our act of similar nature as the one threatening peace", she said in a statement carried by the KCNA.
She warned of a "complete destruction" of bilateral relations if Moon continues with what she described as slander of Pyongyang.
Experts say the DPRK is building up its weapons systems to apply pressure on the US in the hopes of winning relief from economic sanctions aimed at forcing the DPRK to abandon its nuclear arsenal. US-led talks on the issue have been stalled for more than two years, AP reported.
Pyongyang has so far rejected Washington's overtures for dialogue, demanding that Washington abandon "hostile" policies first-a reference to the sanctions.
Xinhua and agencies contributed to this story.