Cooperation needed for achieving stability in Afghanistan
Share - WeChat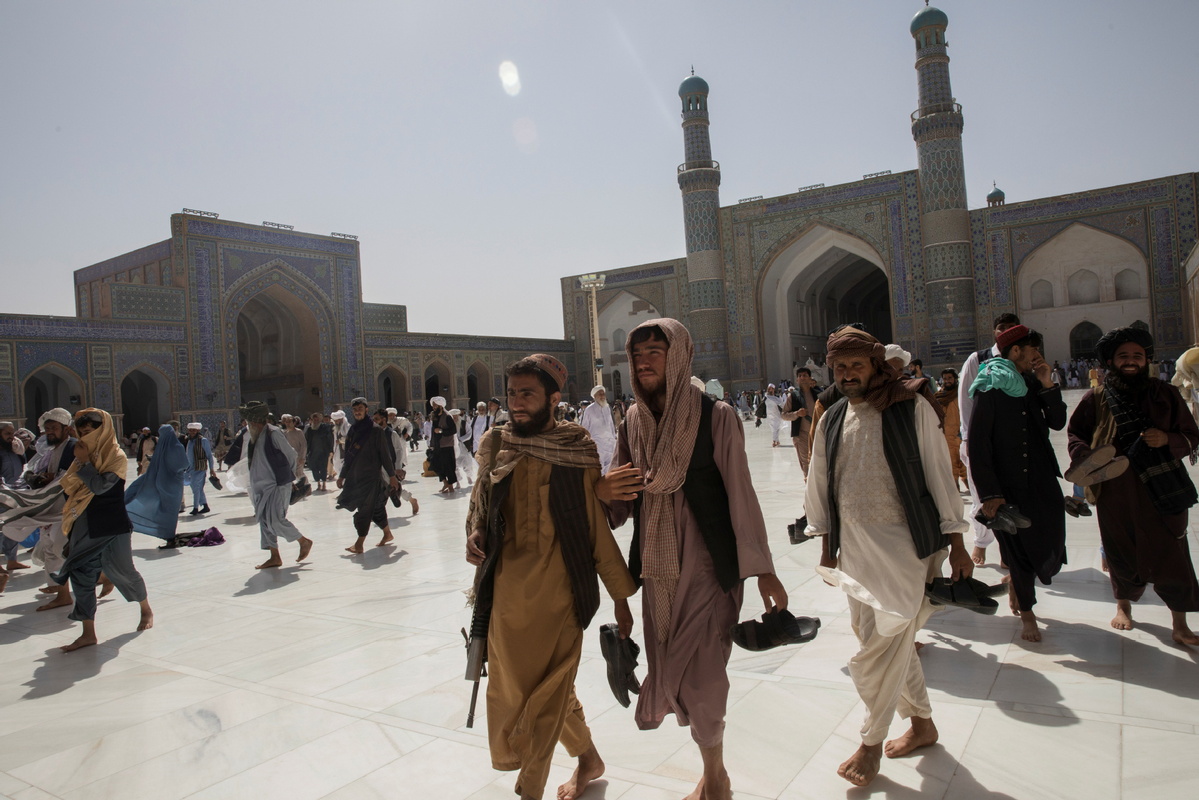 Any big power that is guided by geopolitical hubris and perpetually wages wars in countries near and far weakens itself and may even dig its own grave. Human history is replete with examples to validate.
The United States, which has been at war in some country or another continuously since the end of World War II, cannot be an exception to this rule. Learning no lessons from its fiasco in Vietnam, it attacked Afghanistan and Iraq.
However, forced by the inescapable costs of a senseless misadventure, it ended its 20-yearlong war in Afghanistan last month.
Two facts boggle one's mind. First, in its "war on terror", the US caused the deaths of tens of thousands of Afghans, besides losing its own and allies' troops and civilians by the thousands. Second, it spent over $2 trillion on this campaign at a time when millions of ordinary Americans have become victims of rising inequality and deprivation.
The global reputation of the US has taken a big hit after the victory of the Taliban. Therefore, anyone in Asia and the world who still thinks Washington can be a reliable security partner suffers from self-delusion.
The basic problem with US foreign policy is that it seems to embrace the notion that all nations are sovereign, but some are less sovereign than others, and hence we have the self-given right to interfere in their internal affairs.
When will US leaders learn that this policy is counterproductive and can no longer work in an era that is demanding radical democratization of the world order?
Now that Afghanistan has regained its sovereignty, its greatest and most urgent need is peace, stability and national reconciliation, followed without delay by reconstruction of its war-torn national economy. This is the common responsibility of not only the Taliban and other sociopolitical forces in Afghanistan, but also of the international community, especially regional states. It will require India, China, Pakistan, Russia, Iran and neighboring countries in Central and West Asia to have close consultations, coordinate their approaches and evolve a common strategy that addresses the legitimate concerns of all.
It augurs well that such efforts are being facilitated by bilateral exchanges as well as multilateral forums like the Shanghai Cooperation Organization and BRICS, the bloc of emerging nations that comprises Brazil, Russia, India, China and South Africa.
The principal and common concern of all the regional states-also of the rest of the international community, including the US and European nations-is that Afghanistan must not become a sanctuary for organizations that foment terrorism, extremism or separatism in other countries. Senior Taliban functionaries have given assurances in this regard. They have also said they want friendly relations with all countries. This is a welcome indication of their realization that mistakes committed in the past, when the Taliban were in power in Kabul (1996-2001), cannot be repeated.
The Taliban's highest priority now is to show, both to the Afghan people and the world, that they are capable of governing their country well, rebuilding the economy and providing for lost livelihoods.
The global community has a moral responsibility to help Afghanistan in this hour of need with humanitarian aid, investments, trade promotion, modernization of infrastructure, and connectivity projects both internally and with links to countries in the region and beyond. This is what China's Belt and Road Initiative seeks to do. Not surprisingly, the Taliban have called China a friend and stated Afghanistan's willingness to join the BRI.
True, there are still some questionable aspects of the Taliban's socio-religious thinking and conduct, especially with regard to women's rights. At the same time, Western countries should desist from the temptation to impose their own standards of "modernity" on a tradition-bound Afghan society. Social reform is a long process and should be essentially indigenous in nature.
Even though a broad consensus is emerging among regional states, there are still two troubling features.
First, there is insufficient bilateral communication, coordination and cooperation between India and China on the developments in Afghanistan. This is due to diffidence on India's part.
Indian Prime Minister Narendra Modi's government committed the mistake of putting all its diplomatic eggs in the United States' basket and, as a consequence, is facing relative isolation in Kabul. New Delhi should correct this mistake. Specifically, it should make common cause with Beijing in helping Afghanistan emerge as a peaceful, stable and resurgent nation, since there can be no divergence in our concerns and interests on this score.
Second, there is a total absence of dialogue between India and Pakistan, which have so far worked at cross-purposes, rather than as partners, on Afghanistan. Each has its own complaints against the other.
As a result of this, the South Asian Association for Regional Cooperation, of which Afghanistan is also a member, has become almost dysfunctional. It is high time that both India and Pakistan realize that a hopeful new era has begun in Afghanistan. This has created an opportunity, and a responsibility, for India and Pakistan to put their acrimonious past behind and work for a new chapter of peace and common prosperity in South Asia to benefit its 1.7 billion people.
The author, who served as a close aide to India's late Prime Minister Atal Bihari Vajpayee, is the founder of Forum for a New South Asia-Powered by India-China-Pakistan Cooperation.