Young stars still shining bright
Share - WeChat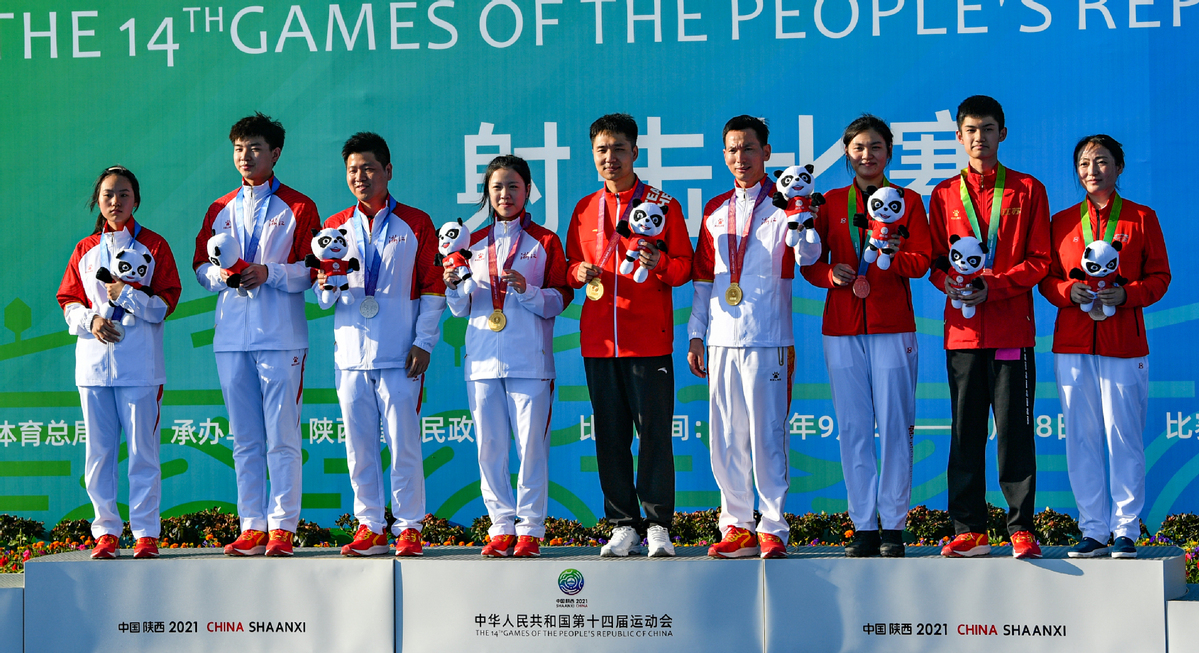 Fresh from their Tokyo 2020 heroics, China's new breed maintaining high standards at National Games
The young Chinese stars who shone so brightly at the Tokyo Olympics have showed no sign of dimming at the National Games in Shaanxi province.
From the shooting range to the diving pool, Team China's new breed won the nation's heart this summer in Japan-thanks as much to their relatable personas as to their incredible athletic feats.
Now the young guns are maintaining that feel-good factor at the 14th edition of the National Games, which officially opened in Xi'an on Wednesday.
Student-athlete Yang Qian, who shot to fame by winning the first gold medal of Tokyo 2020, was back on the highest podium again on Monday by winning the 10m air rifle mixed team gold with shooting partner Yang Haoran.
The pair won the same title in Tokyo, with Yang Qian also claiming the women's 10m air rifle individual gold.
Yang Qian, a 21-year-old Tsinghua University student, revealed she has yet had time to properly relax and savor her glorious Olympic debut.
"I haven't been able to return home to taste my mom's food! I came to the National Games right after I finished the medical quarantine upon returning from Tokyo. I heard the mutton soup of Xi'an is great, but I haven't tasted it due to the matches we have to play," she said.
"My teammate is still Yang Haoran, my gold-medal partner. Compared with the Olympics, we are still partners, so for us this is just another competition in another location."
Yang Haoran is also endeavoring to keep his focus on shooting.
With Yang Qian becoming something of a social media celebrity since the Olympics, the 25-year-old Yang Haoran has purposely reduced his time in the media spotlight. He joked with his shooting partner in front of the TV cameras: "You are a big star now, I need to keep my distance from you. You should stop talking to me, because I don't want to stand between you and your fans, who want to have photos with you."
Yang Qian hails from Zhejiang province, and Yang Haoran is from Hebei, but the two formed a united team in Xi'an to win gold at the National Games.
Silver went to Zhejiang youngsters Wang Zhilin and Wang Yuefeng, who were making their National Games debuts.
Zhejiang team coach Ge Hongzhuan declared himself pleased with the performance of his squad and spoke of his pride in Yang Qian's achievements.
"The selection of the shooters for the mixed team competition was the decision of our team after many discussions. The performance of the Zhejiang team's shooters has generally been great. They have displayed their potential and carried out the team's tactics," said Ge.
"As for Yang Qian, she has continued to produce the outstanding performance levels that she managed in Tokyo."
China's Olympic diving champions have also been maintaining their high standards in Xi'an.
The three-way tussle in the women's 10m platform event was dubbed "Battle of the diving queens" on Chinese social media, with the competition between Quan Hongchan, Zhang Jiaqi and Chen Yuxi even more intense than in Tokyo.
"I was still very nervous, and I was afraid I would make mistakes," said 14-year-old Quan after again emerging the victor.
"The National Games is so intense. I was trailing them initially but I just told myself to win back the points.
"So before the last jump, I stood on the platform telling myself to show my average level and not make a mistake. The moment I touched the water surface, I knew the dive was good enough."
Quan admitted that her sudden rise to fame after the Olympics has been difficult to process.
"I actually don't want this much attention from the public," said the teenager. "I'm a little perturbed by it all. I always feel if I don't perform so well, then they won't like me anymore. I feel it's a must that I have perfect performances."
The 15-year-old Chen was the leader before the last two jumps, and admitted the pressure got to her.
"My recent training in certain moves was not that ideal. My body is growing, but my overall competitiveness in the sport is reducing. I was too nervous before my last jump. It's a real pity," said Chen.