Exhibition celebrates two decades of SCO's 'shared dream'
Share - WeChat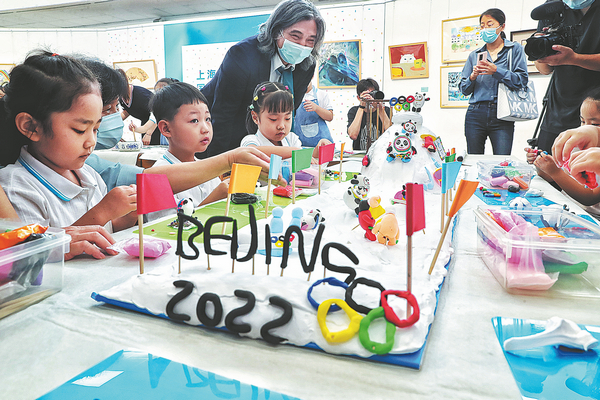 Veteran Russian oil painter Valentine Sidorov, aged 93, has, for several decades, been depicting the idyllic and serene landscapes that mark his extensive homeland.
Sidorov's style of celebrating the simple beauty of daily life has influenced Chinese artists for generations. Meanwhile, he says the humanistic touch of his canvases was developed from his studies of Tang Dynasty (618-907) poetry, and that he is a fan of some of the dynasty's greatest poets, including Li Bai, Du Fu and Bai Juyi.
Recent years have seen Sidorov's works being exhibited in China, where he has gained popularity among ordinary people who are often deeply moved by his passion for nature and the concept of "hometown".
"Hometown is nature and four seasons. It is in the fields. It is people," Sidorov says. "Only one who loves nature and life is a true man."
Sidorov's two landscapes are now on show at For a Shared Dream, an exhibition running at the National Art Museum of China through Tuesday. More than 50 works are displayed on-site and nearly 90 works appear in rotation on screens, all by artists from the 18 member and observer states and dialogue partners of the Shanghai Cooperation Organization.
The SCO is a permanent intergovernmental international organization, established in Shanghai in 2001, which is dedicated to promoting mutual trust and cooperation between its members in social, economic, political and cultural fields.
The exhibition is a celebration of the SCO's 20th anniversary. Artworks on show are broken down into four sections, "homeland", "exchanges", "infusion" and "coexistence", reflecting the diversity and dynamics of the cultural landscapes of SCO member states, as well as a shared wish for mutual respect and support, a deepening of exchanges and a peaceful future.
Some of the works were shown at the eighth Beijing International Art Biennale, held at the NAMOC in 2019, at which a special section displayed art from SCO members.
NAMOC director Wu Weishan says the works at the current exhibition are not only aesthetic but also project a feeling of warmth, because some were donated by the artists themselves to the museum.