Shanxi to ramp up innovation for high-quality development
Share - WeChat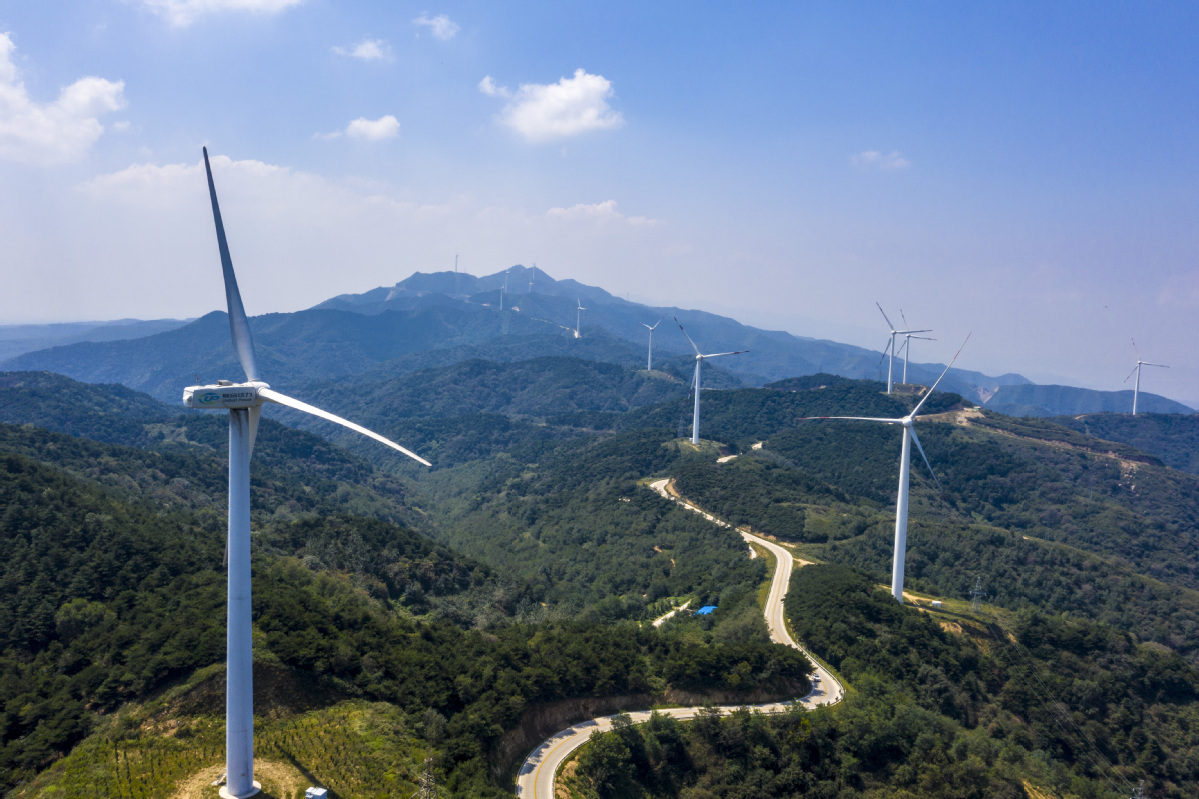 Coal-rich province charts more plans to further optimize economic structure
Shanxi province-a top source of coal in China-will step up innovation to pursue high-quality development featuring coordinated and green growth, common prosperity and further open up, while transforming and optimizing its economic structure to rely less on natural resources-based growth, its senior officials said.
They made the remarks as China recently issued a guideline to promote high-quality development in some inland provinces, where North China's Shanxi is also located in.
Other provinces include Anhui, Jiangxi, Henan, Hubei and Hunan.
Putting forward measures to promote the area's economic growth, scientific and technological innovation, urbanization, green development, opening-up and people's wellbeing, the document calls for efforts to facilitate the major technological transformation and upgrading of the manufacturing sector, fostering the intelligent, green, service-oriented development of traditional sectors such as coal, construction and steel.
It also urges Shanxi to accelerate construction of the national pilot zone for overall reform for the transformation of the resource-based economy in Shanxi and comprehensive pilot reform for the energy revolution.
"Completely, accurately and comprehensively implementing the new development philosophy and President Xi Jinping's important instructions during his inspections to Shanxi will pivot the province's efforts to promote high-quality development and shore up that of the central region now and in the future," said Lin Wu, Party secretary of the province.
The province has made a master plan to implement the requirements of the document, detailing 22 major tasks to advance its high-quality development, Lin said.
"We will regard innovation as the top development driver to build a modern industrial system pillared by advanced manufacturing," he told Xinhua News Agency.
The province will also give priority to balanced development between urban and rural areas, he said, adding it will accelerate the development of a cluster of cities in the middle part of the province, while comprehensively implementing the rural revitalization strategy.
It will be committed to green development, steadily progressing carbon peaking and carbon neutrality efforts and joining hands with other provinces to advance the environmental protection and high-quality development of the Yellow River region, while also making itself an inland high-level opening-up example, according to Lin.
Moreover, the province will bear in mind the importance of sharing high-quality development results with the public. It will advance the construction of province-wide tourism destination demonstrations, strengthen the full-aspect public services system for labor forces, and improve capabilities in basic public services, regional medical services and social governance, he said.
Liu Feng, director of the provincial development and reform commission of the province, said to promote the development of advanced manufacturing industry, Shanxi will conduct major technological transformation and upgrades in manufacturing. The province will encourage enterprises to increase investments in technological upgrades to scale up production and enhance profitability.
It will also encourage the research and development expansion of industrial enterprises above a designated size to promote the construction of high-end innovation platforms such as enterprise technology centers, manufacturing innovation centers and new types of R&D institutions, Liu said.
The province will step up industrial digitalization, build more digital workshops and smart factories, and accelerate the development of intelligent mining and robot applications in coal mines, he added.
To enhance the development foundation of the industrial sector, the province will establish and complete a list for key basic industrial technologies and products, and will support enterprises to realize the industrial production of the first set of key technical equipment and the first application sphere of new materials, he said.
The province will also promote development of emerging industries and green production. It will increase efforts in energy-saving and ultra-low carbon emissions transformation, as well as strengthen technological transformation focusing on the comprehensive utilization of waste resources to promote related projects and facilitate high-quality development of the industry, Liu said.
The province aims to make major breakthroughs in some key green and low-carbon technologies and achieve major goals for implementation of a series of reforms by 2023, to gradually establish the institutional mechanism for promoting clean and low-carbon energy, and form a clean, low-carbon, efficient, safe and modern energy system to provide support for Shanxi to pioneer high-quality development of China's central region, he added.