Disabled swimmer revels in golden Games
Share - WeChat 'Change Me'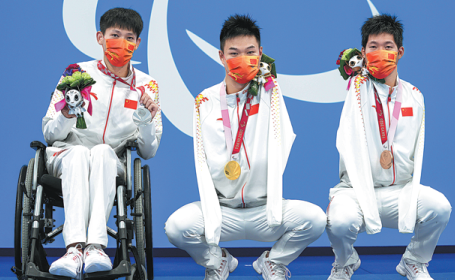 Zheng said his favorite tune is Wang Leehom's 2007 song Change Me, which features the lyrics, "I can change the world, change me."
Born in an impoverished village in Yunnan, Zheng lost both arms at the age of 6 after he touched a bare electric cable while playing.
In 2004, Zhang Honghu, a swimming coach with the Yunnan Disabled Persons' Federation, visited Zheng's village to select "seed athletes".
He thought that Zheng's physique would be suitable for competitive swimming, but the boy's family was opposed to the idea, fearing that the sport would be hard work.
Zheng said he wanted to try because he didn't want to be a "useless" person. The word "useless" is shorthand for the entrenched discrimination aimed at disabled people-often deemed a burden on the family-in China's formally impoverished rural regions.
However, through twists and turns, he was recruited to the provincial team and started serious swimming at age 14. He was later selected for the national team.
Coach Zhang was well aware of the secret of Zheng's success. "He has a gift for swimming, but more importantly, he is willing to work hard," Zhang said.
He recalled that while other child swimmers spent five hours in the pool per day, Zheng practiced eight to nine hours every day.
The young athlete sustained a back injury and lumbar muscle strain at the Rio Paralympics, but after undergoing a series of rehabilitation therapies and training, he quickly returned to the pool.
In the run-up to this year's Tokyo Games, Zheng swam more than 10 kilometers every day.
Xiong Xiaoming, Zheng's coach on the national team, advised the athlete not to dash his head against the wall of the pool during training sessions, but Zheng insisted on doing so, treating each training session as if it were a Paralympic event. He said it was the only way to maximize the accuracy of the training data.
Zheng was one of 251 athletes-including 132 women-China sent to the Tokyo Games, where about 4,400 athletes from 162 countries and regions competed in 22 sports.
Authorities said 40 percent of the Chinese athletes were first-time Paralympians, but Team China still won 207 medals, including 96 golds, and topped the table for the fifth consecutive time. However, there were no spectators because of concerns about the COVID-19 pandemic.
Jiang Yuyan, a 16-year-old swimmer, was the youngest athlete on the Chinese squad. She won two golds, a silver and a bronze, and set two world records.
Most Popular
Highlights
What's Hot