Biomedical companies seek intl growth
Share - WeChat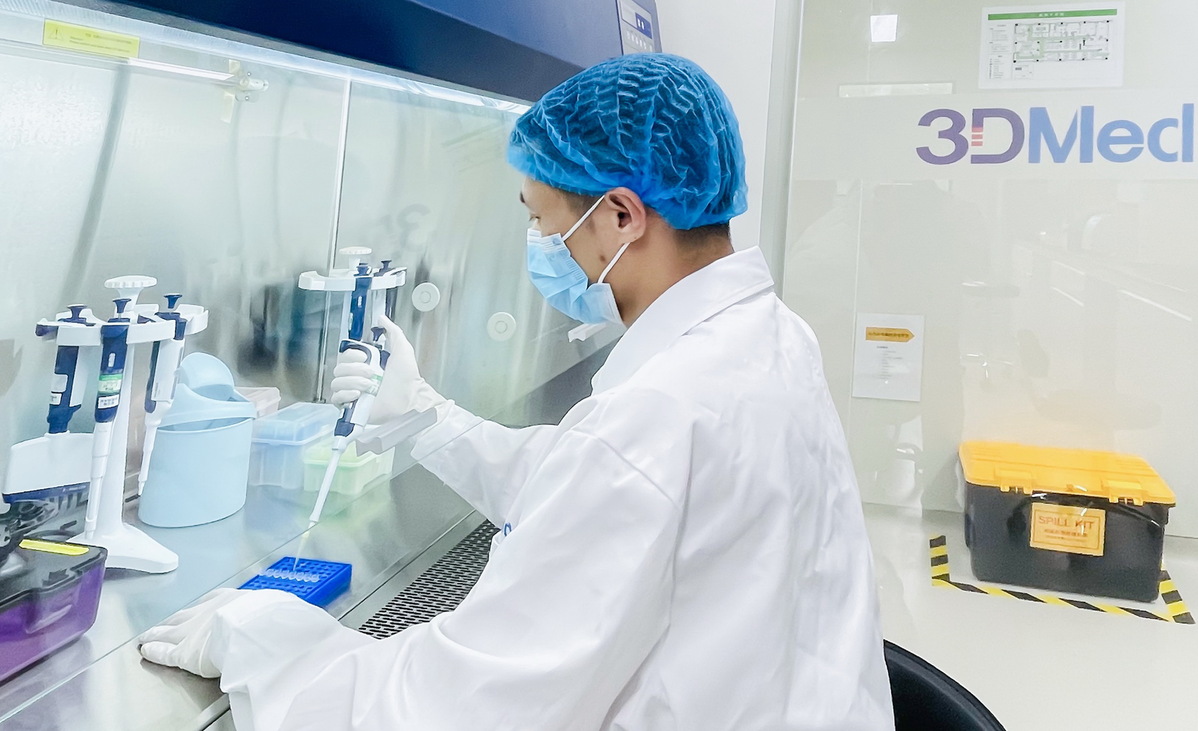 Innovative therapies from China benefit patients worldwide
Innovative research and development-driven domestic biopharmaceutical companies are expected to have a strong presence in the global market over the coming decade with their first-in-class pipeline, persuasive quality and down-to-earth international expansion footprint, industry experts said.
Some of these businesses, which have risen rapidly over the years due to the accumulation of clinical trial experience over decades, the country's streamlined medical regulatory mechanism and an ecosystem encouraging vibrant innovation under the Healthy China 2030 initiative, may even secure places in the world's first echelon of this frontier sector, the experts said.
"Some powerful Chinese enterprises are already equipped with the skill sets to address unmet medical needs not only for Chinese patients but also for those around the world," said Jay Mei, founder of Shanghai-based Antengene Corp Ltd.
"We've already seen that some medicines first discovered or developed in China and with clinical trials initiated in China and other markets simultaneously are benefiting international patients. I'm convinced that more will come," added Mei, who is also chairman and CEO of the company dedicated to therapeutics in hematology and oncology.
The company's oral drug Selinexor, which works in a mechanism different from all existing approved therapies, was approved on July 29 in South Korea, the first overseas market in Asia, to treat relapsed/refractory multiple myeloma and relapsed/refractory diffuse large B-cell lymphoma, a form of cancer.
The drug, the first product of the company, had obtained approvals from the United States Food and Drug Administration in 2019. This was followed by Israel, the United Kingdom and the European Union.
Besides South Korea, the company also submitted new drug approval applications of the drug in five other markets in the past eight months. They are the Chinese mainland, Australia, Singapore, and China's Hong Kong and Taiwan.
Mei said the enterprise was established in 2017 and had a pipeline of 13 products. It initiated a strategy of being rooted in China and then expanding to the Asia-Pacific and beyond.
"Our development in South Korea was the result of full preparations. We have a team in that country. Members of the team are locals with a profound understanding of the market and the regulatory system and most have global pharmaceutical company experience," he said.
A growing number of innovative homegrown medical companies are exhibiting their strength in the international arena and attracting capital investment, according to industry reports.
Data showed that in 2020, the total market value of local biotechnology companies and ecosystem participants listed on the Nasdaq, the Hong Kong stock exchange and the Shanghai Stock Exchange was roughly $220 billion.
Suzhou, Jiangsu province-based Ascentage Pharma is dedicated to developing first-in-class or best-in-class novel therapies with a global orientation to satisfy patients' unmet medical needs in the areas of cancer, chronic hepatitis B and age-related diseases.
The company was established in 2009. It is conducting more than 40 Phase I and II clinical trials for its eight original innovative drug candidates in the US, Australia, Europe and China.
A key drug candidate was developed for the treatment of drug-resistant chronic myeloid leukemia, which affects an estimated 10,000 patients in the country each year, said Yang Dajun, chairman and CEO of Ascentage Pharma.
The orally taken drug has been granted orphan drug and fast track designation by the US FDA. A new drug application for the drug has also been submitted in China. It was granted priority review status and a breakthrough therapy designation by the country's drug review authority, the company said.