Exchanges in education at thematic exhibition
Share - WeChat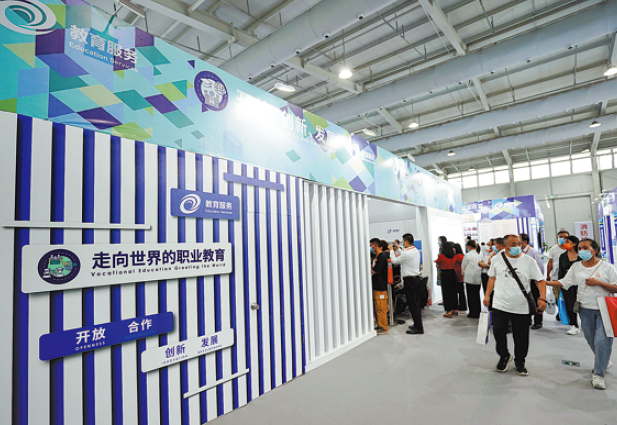 The education services exhibition, a supplementary event of the 2021 China International Fair for Trade in Services, came to a close on Tuesday, with exhibitors embracing the opportunities brought by the five-day event.
The exhibition attracted more than 50 well-known educational institutions and enterprises from home and abroad. The event is regarded as a key platform for sharing development opportunities and boosting cooperation.
The exhibition was held in at Shougang Industrial Park, one of the two venues for the 2021 CIFTIS. It was initiated by the Beijing Education Commission and organized by the Beijing International Education Exchange Center.
The 3,300-square-meter exhibition hall was divided into four sections focused on regional education cooperation, international education services, intelligent education and comprehensive services. In the intelligent education section, a number of educational institutions and enterprises showcased their latest innovations with cutting-edge technologies covering such areas as artificial intelligence, big data and cloud computing.
Through a string of activities such as a special showcase of educational services and an international forum on education services trade, the exhibition explored pathways for worldwide high-quality education and innovative services.
A number of exhibitors held on-site activities such as live performances, teaching intangible cultural heritage skills and providing experiences of intelligent education products.
In recent years, Beijing has made progress in improving educational services and has become one of the major destinations for foreign students studying in the Asia-Pacific region.
Through continuous efforts to optimize the studying environment and improve education quality, the city is attracting more and more international students, officials said.
As an effective channel for introducing foreign educational resources, Beijing has 157 cooperative projects run together with foreign countries and regions, and has established exchange relations with nearly 2,700 overseas schools.
The projects have played a positive role in promoting curriculum reform, discipline and subject construction, and improved teachers' work and student training modes among the colleges and universities in Beijing, officials said.
The business environment for education services has also played an important role in the construction of Beijing's "two zones"-a comprehensive development zone for service sector opening-up and a pilot free trade zone-to boost technological innovation and the digital economy, officials said.
The Beijing government issued a three-year action plan in 2019 to guide the development of international schools in the city, in a bid to support the construction of international schools in key areas, and further improve the supply of foreign-related education.