Moving mountains
Share - WeChat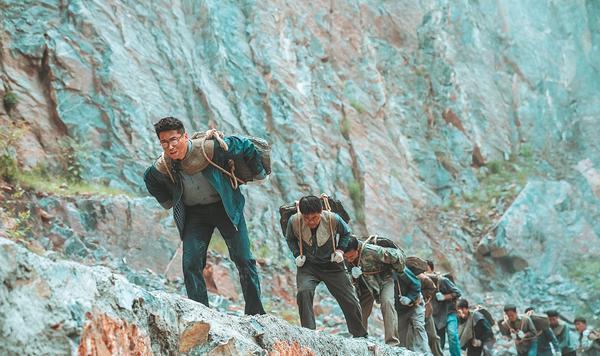 When director Gao Xixi met Wang Tao in Miyueshan village, Xichuan county, Henan province, for the first time at the beginning of 2020, he was surprised to find the Party secretary, assigned to the village by the Research Office of the State Council, quite different from how he'd imagined him. Wang is an inspiration for Bai Lang, hero of the TV series Flowered Mountain Village, which Gao, at the time, had yet to direct.
"Having graduated from Peking University, the village Party secretary seemed to be gentle and cultured. He wore a pair of glasses just like a student. I thought, 'He doesn't seem strong enough, how can he work in the village?'"
But when Wang took him on a tour around the village, talking about the changes there, Gao gradually started to see the strengths of the young secretary, who had really made a difference in the area in just two years and was welcomed by local people wherever he went.
The TV series Flowered Mountain Village, which stars actor Wang Lei and actress Li Xiaomeng, started airing on CCTV-1 on Aug 29. Adapted from a novel written by Hu Peiyuan, who works at the Counselors' Office of the State Council, the 34-episode production describes young Party cadre Bai's experience working as a Party secretary trying to help revitalize the mountainous Miyueshan village while protecting the environment.
"I believe the biggest advantage of this production is that it reflects reality," says Gao. "Most of the stories are adapted from real life experiences, and we followed the principle that, while big events must be portrayed accurately, we could take artistic liberties with small details."
The characters are based on real-life people, and the team added details to their stories so that "the audience will feel they are as real as someone living by their side", according to Gao.
In the drama, some villagers form a team engaged in projects to make money for the village. After receiving a lucrative order for stones from a construction company, secretary Bai leads the villagers in working solidly for a month on the mountain to finish the task and to live in a temporary grass shed near the work site. When they return to the village, they are welcomed by other villagers, even though they are hardly recognizable with their deeply tanned skin.
"This story arc was adapted from the real story of Wang Tao. Actors didn't need to say many lines since their actions were moving enough. You couldn't fabricate such a vivid story," says Gao.
Cast and crew started filming in Cangfang town, Xichuan county, Henan province, in March last year, and finished in June. Due to the COVID-19 pandemic, all cast members stayed on location during the whole process.