PMI low, but biz mood upbeat
Share - WeChat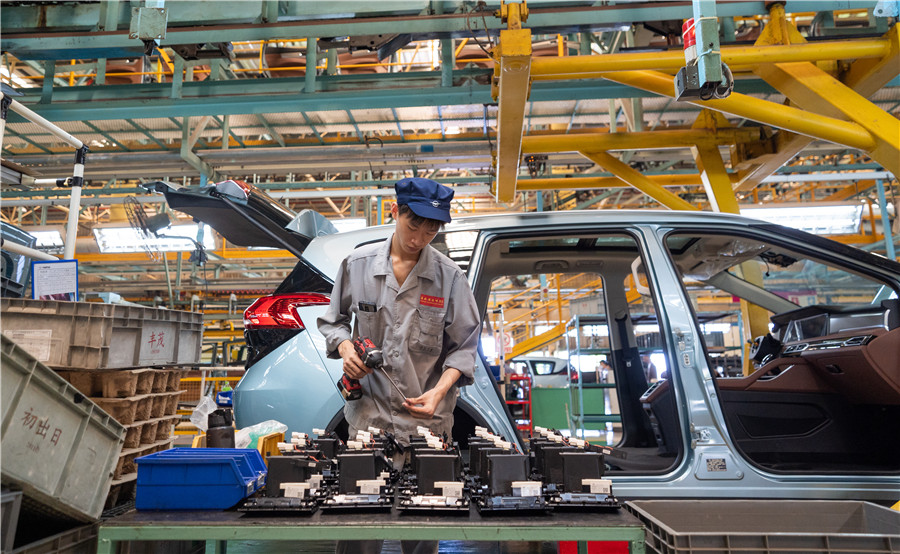 Key gauge in Aug at 18-month trough; holidays may boost services
China's economic recovery is likely to recoup its momentum this month onward as the twin impacts of local COVID-19 cases and recent heavy rains abate while macro policy supports strengthen, officials and experts said on Tuesday.
Their comments came after China reported the weakest reading for manufacturing activities since the initial wave of COVID-19 in February 2020, due to a combination of the spread of the Delta variant, heavy rains, softening market demand, and energy-intensive sectors that stayed subdued in August.
"COVID-19 is subsiding in China and these measures (the suspension of ports and airports) should not affect manufacturing activity in a prolonged way unless new cases emerge again at ports," said Iris Pang, chief China economist at Dutch bank ING.
The official purchasing managers index for China's manufacturing sector, which gauges the sector's health, declined to an 18-month low of 50.1 in August, versus 50.4 in July, signaling a slower expansion of the sector, the National Bureau of Statistics said on Tuesday. A PMI reading above the 50-mark indicates expansion, while one below signals contraction.
The non-manufacturing PMI, which covers services and construction sectors, dropped to 47.5 in August from 53.3 in July, registering the first contraction in non-manufacturing activities since February 2020, the NBS said.
Zhao Qinghe, a senior NBS statistician, said the resurgence in local COVID-19 cases that affected a number of provinces have dealt a blow to activities in the services sector, like transportation, hospitality and catering.
For manufacturers, the resurgence and heavy rains have delayed the delivery of raw materials and lengthened production cycles, leading to a slower pace of accepting new market orders, Zhao said.
However, surveyed businesses remained upbeat about future business prospects, he said. Survey respondents expressed hope the disruptions brought by the Delta variant and bad weather will fade soon, while the holidays of Mid-Autumn Festival this month and National Day in October will boost activities in the services sector.
Accordingly, the sub-indexes of business prospect expectation have remained high at 57.5 for manufacturers and 57.3 for providers of services, the bureau said.
Wu Chaoming, chief economist at Chasing Securities, said the recovery in services activities is expected to recoup its momentum in the coming months, thanks to a stabilized epidemic situation and the demand boost from upcoming holidays.
Experts said the weaker PMI readings still pointed to some downward economic pressure that will not abate soon, such as an unstable recovery in domestic demand, risks of a slower growth in exports, chip shortages that could crimp industrial output, and remaining difficulties for smaller, downstream businesses.
Wu said the manufacturing sector will likely continue to expand over the remainder of the year as market demand recovers, but the expansion may be only moderate due to a possible softening in export orders and elevated cost pressure for downstream companies.
Wang Tao, head of Asia economics and chief China economist with UBS Investment Bank, said the slowdown in business activities in August signals that the government will soon ease fiscal policy to offset rising headwinds, though a massive, all-around loosening is unlikely.
The government is likely to speed up the issuance of local government special bonds and bolster infrastructure investment in the rest of the year, helping anchor the full-year economic growth at about 8.2 percent, Wang said.
On the monetary front, she said the Chinese central bank is likely to implement another cut in the reserve requirement ratio this year, following the one in July, which may help stabilize credit expansion later this year.