Research on link of COVID, cold chain urged
Share - WeChat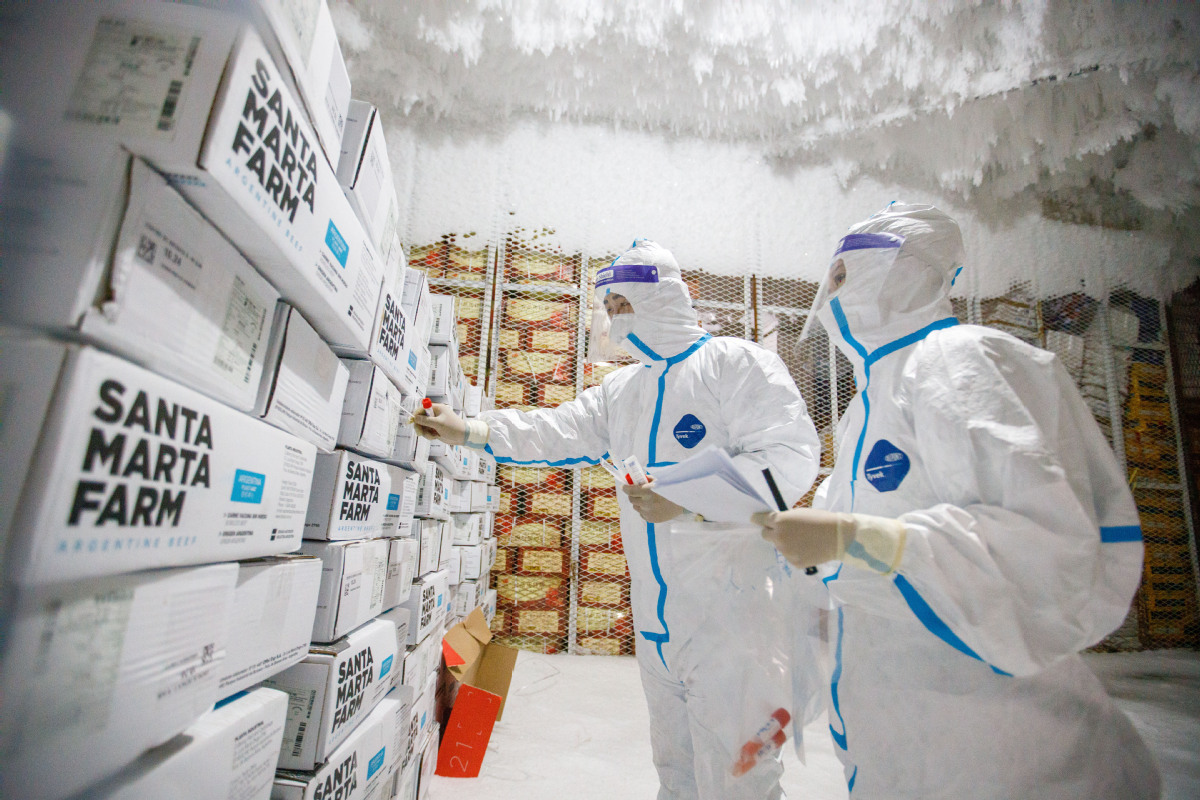 Chinese researchers are calling for global cooperation to improve understanding of the spread of SARS-CoV-2 via cold chains as part of efforts to trace the origins of the virus.
The first phase of WHO-organized studies into the origins of the virus that causes COVID-19 wrapped up in China in February and identified the cold-chain theory as a possible explanation for its spread across populations.
"The cold-chain industry inherently spans the globe. As we are seeing a large amount of science-based evidence pointing to the virus' spread via cold chains, we suggest the next phase of origin-tracing work involve concerted cold-chain studies under a global framework," Liu Jun, a professor at the National Institute for Viral Disease Control and Prevention of the Chinese Center for Disease Control and Prevention, said on Friday.
He said Chinese scientists will continue to focus on cold-chain products that arrived in Wuhan, Hubei province, in the four months before the virus emerged in the city in late 2019. Samples will be taken and tested from cold storage.
A mechanism to track international movements of cold-chain products is vitally important to the studies, he said.
"For instance, when a country reports positive results in the screening of cold-chain products or packaging, or detects the possible spread of the virus from contaminated cold-chain imports to human beings, the mechanism can come into play and facilitate research into the epidemic situation in regions exporting these products or the virus' potential transmission during cross-border transportation," he said.
Liu said the system will not only bolster origin-tracing efforts, but also offer important clues on how to optimize strategies to stem the virus' recent rampage fueled by new variants.
He also proposed joint laboratory research to simulate and evaluate the virus' ability to survive and infect people when latching onto cold-chain shipments.
There is a substantial body of scientific evidence, ranging from epidemiological information to genomic makeup, that demonstrates the virus can travel over long distances and remain infectious, experts said.
Ma Huilai, deputy head of the China CDC's center of postgraduate education and training, said that after the initial domestic wave of the epidemic that hit Hubei was brought under control, outbreaks in Beijing and Liaoning and Shandong provinces were found to be linked to cold-chain markets or seafood processing plants.
When investigating a cluster of COVID-19 infections in Qingdao, Shandong, in October, live virus was identified on the outer packaging of cold-chain products that had been handled by two infected port workers, the first time such a discovery had been made in the world, Ma said.
Two infected cold-chain workers were also found to have engaged in high-risk behavior, such as taking off their masks to smoke while at work. Genome sequencing of the viral strain that infected them found it was almost identical to a strain detected on frozen products.
"The chain of evidence is nearly complete in this instance, giving robust support to the hypothesis that the novel coronavirus can be carried by cold-chain products or packaging over long distances and trigger new local outbreaks," she said.
Xu Wenbo, head of the China CDC's National Institute for Viral Disease Control and Prevention, said only proactive monitoring across the cold-chain industry will enable researchers to ferret out traces of the virus on cold-chain products. This could explain why only a few countries, including China, have reported strong evidence of this aspect of the virus' transmission, Xu said.
"If a country or a region is experiencing severe COVID-19 outbreaks, it is impossible for local scientists to track down the virus' possible covert transmission in the cold-chain sector," he added.
In China, domestic transmission of the virus was blocked and local infections were cleared by April last year, creating a favorable environment for China to later track sources of new outbreaks and identify "patient zero" of a new infection cluster. "It is true that virus spreading via a cold chain is a rare event, but once it occurs, the incident can lead to large outbreaks," Xu said.
Liu, from the national institute for viral disease control, said that the number of cold-chain products imported to China that tested positive for viral contamination was not high, considering the huge volume of such imports.
However, he said: "If one person is infected with SARS-CoV-2 through the cold chain, this case may cause community infection via human-to-human transmission, resulting in a wider epidemic."
Xu said hunting down the origin of the virus will be extremely difficult. However, the enormous volume of global trade should pressure the international community to establish a cooperation mechanism.
He also said sampling and testing procedures for the cold-chain industry should be carefully defined. "There are a variety of cold-chain products. Questions like which batch of products will be sampled and how to test them against the virus should be discussed and defined based on scientific principles," he said.
Today's Top News
Editor's picks
Most Viewed