Zhou dispute leaves bitter taste
Share - WeChat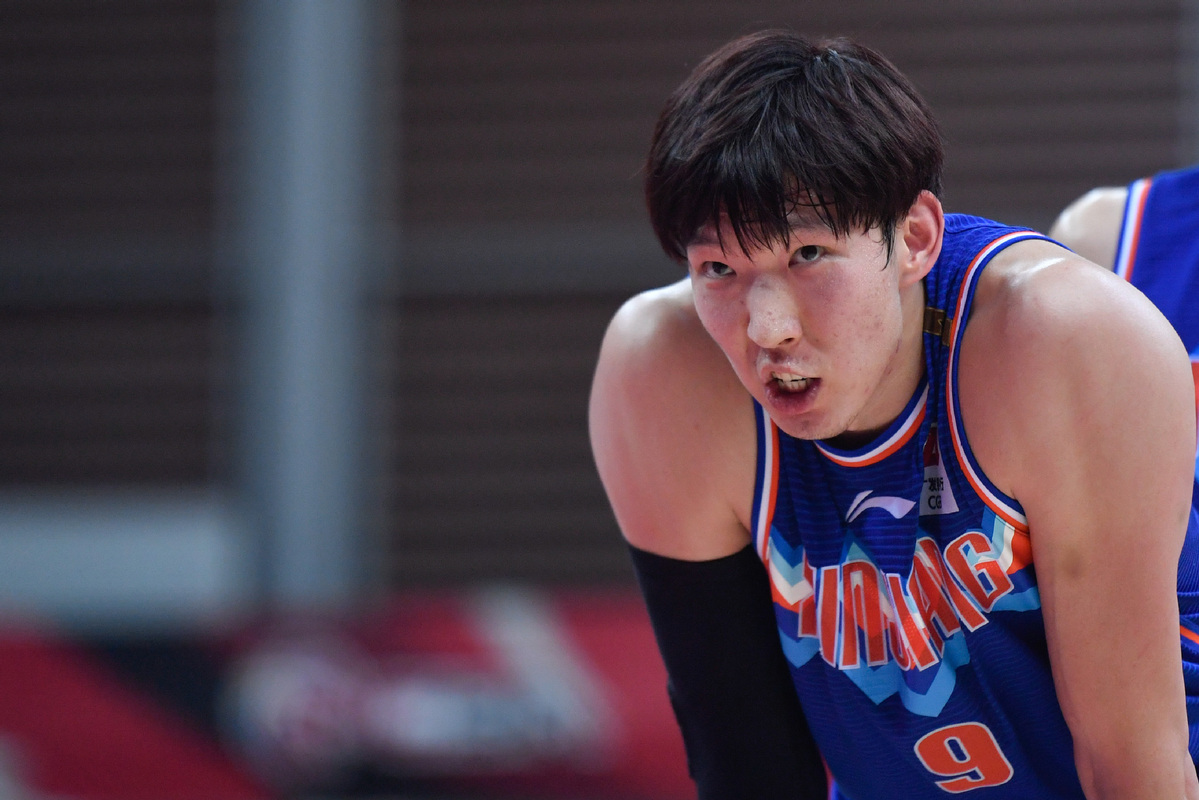 CBA rules in spotlight after Team China star decides to sit out season over contract standoff
Hoops star Zhou Qi's withdrawal from the new CBA season amid a dispute with his club has sparked heated debate on the league's rules governing contract extensions.
In a shocking decision that benefits no one involved, Chinese national team center Zhou on Sunday announced that he will sit out the 2021-22 CBA campaign after failing to secure his release from the Xinjiang Flying Tigers following the expiration of his contract this summer.
"I am announcing that I will skip the whole season without playing for any teams," the 25-year-old former NBA player said in a Weibo post.
"I insist that this is the way to protect the legitimate rights of players, which is part of my responsibility."
Despite Zhou's avowed desire to seek opportunities elsewhere as a "free agent", the Flying Tigers insist that, as per league rules, they are within their legal rights to keep Zhou as long as they offer him a maximum contract.
In June, Xinjiang offered Zhou an extension deal reportedly worth 6 million yuan ($927,600) a year-the highest possible contract within the CBA's salary cap system.
Zhou, though, has refused to return to the team despite losing an appeal to the CBA league company that challenged Xinjiang's claims to exclusivity over his services.
"I hope what happened to me will trigger the league to establish a more reasonable system to safeguard players' rights," Zhou wrote on Weibo.
"I will submit supplementary materials to the Chinese Basketball Association as soon as possible. I expect the association to conduct a fair and just arbitration over the matter."
According to Xinjiang's general manager, Guo Jian, the organization did nothing wrong in exercising its right to keep Zhou.
"Regrettably, he's made his decision the way he did. Nobody wins in this situation," Guo said in a Beijing News report. "We did what we could (to offer him a max contract), but it didn't work out."
According to reports, negotiations between the two parties to resolve the issue had failed ahead of Tuesday's player registration deadline.
As the backbone of China's current national team, missing out on domestic top-flight action for an entire season will no doubt take a heavy toll on both Zhou's own career development and the national program's prospects at next year's Asian Games, which will take place in Hangzhou during the 2022 offseason.
A product of domestic powerhouse Liaoning's youth system, Zhou was signed by Xinjiang in 2014 to a lucrative contract, and at the age of 18 was promoted to the club's senior team for the 2014-15 CBA season.
After helping the Flying Tigers win the franchise's first CBA title in 2017, Zhou joined the Houston Rockets, who selected him in the 2016 NBA Draft as the 43rd overall pick.
He ultimately failed to make the grade with the former team of Chinese hoops legend Yao Ming, and after two years in the US, returned to Xinjiang.
With several teammates, all key members on the 2016-17 championship roster, being traded ahead of the 2020-21 season, Zhou was left to almost single-handedly carry the team's hopes throughout the last CBA campaign, and grew increasingly frustrated with the team's lack of quality new signings.
Zhou repeatedly expressed his resentment on social media following the Flying Tigers' postseason elimination in April.
"Are you guys going to keep drawing a big pie on paper for me? You guys still expect me to buy it?" Zhou wrote on Weibo on April 19, referring to Xinjiang's unfulfilled promise to build a title-contending roster around him.
While some fans have criticized Zhou's outspoken approach, some observers have voiced support for his actions.
"It won't only be a matter for Zhou but also for other players, who are facing or will face the same situation," Yang Yi, a basketball commentator, said in a column published on qq.com on Monday.
"The dispute, the discussions it raised and a potential arbitration should Zhou lodge a further appeal will push the league operations to become more professional and more standard, in the sense of striking a better balance between the interests of club investors and players," he said.
Su Qun, chief editor of Basketball Pioneer newspaper, however, backed the league's stance on protecting the interests of team owners.
"Almost all the CBA teams are running with a financial loss due to the COVID-19 pandemic's impact," Su opined in a social media post. "At the moment, it's more important than ever to protect a team's investment in player development and to make sure that every team, not just the big franchises, can stay competitive for the sake of both the game and the club's financial health."