Concerns in Afghanistan also about terrorism, drugs
Share - WeChat The international community, particularly countries bordering Afghanistan, have "many difficult choices" to make following the failure of the United States' chaotic military intervention there, said a former US assistant secretary of defense.
"The US can walk away; we are 12,000 miles away, and so the mess is there," said Chas W. Freeman, US assistant secretary of defense for international security affairs from 1993 to 1994.
Freeman called the ongoing US withdrawal from a country it invaded 20 years ago a hasty exit that was a result of the wrong sequence of "decision, planning and intelligence".
US President Joe Biden set an Aug 31 deadline for the withdrawal of American military from Afghanistan.
Secretary of State Antony Blinken said Sunday that there are 300 US citizens still in Afghanistan seeking to leave.
They are among about 6,000 US citizens who wanted to leave Afghanistan when the airlift began on Aug 14, one day before the Taliban took over the capital Kabul.
"The countries with the biggest stake in this are the neighbors, not the United States, and so we have handed a problem to Afghanistan's neighbors," Freeman told China Daily in a video interview.
Those neighbors, including China, India and Pakistan, are all concerned about the war-torn nation exporting terrorism and extremism, or providing a haven and training ground for terrorists, according to Freeman, who also served as US ambassador to Saudi Arabia from 1989 to 1992.
State Councilor and Foreign Minister Wang Yi said last week that the US shouldn't simply "take to its heels" or impose sanctions on Afghanistan.
The US should assume responsibility to properly handle the frenetic situation around Kabul airport, provide necessary economic, humanitarian assistance to Afghanistan and help realize a smooth transition in the country through concrete actions, Wang said in a phone call with Dutch Foreign Minister Sigrid Kaag.
Freeman said: "First, none of us want to see terrorists based in Afghanistan, or finding a home in Afghanistan, so we all have that concern."
In addition, he said, everyone has a concern about the narcotics, the heroin produced in Afghanistan, that has a way of crossing over borders rather easily.
The Taliban have appealed for help in substituting crops for poppies — from which heroin and opium are made — which would require countries such as the US, China, Russia and European Union members who are most concerned about the drug trafficking problem to help with agricultural aid and training and provide a commitment to buy the goods to ensure Afghan farmers can make a living, according to Freeman.
A third shared concern of the international community is to prevent extremist ideology from "contaminating neighboring societies", he said.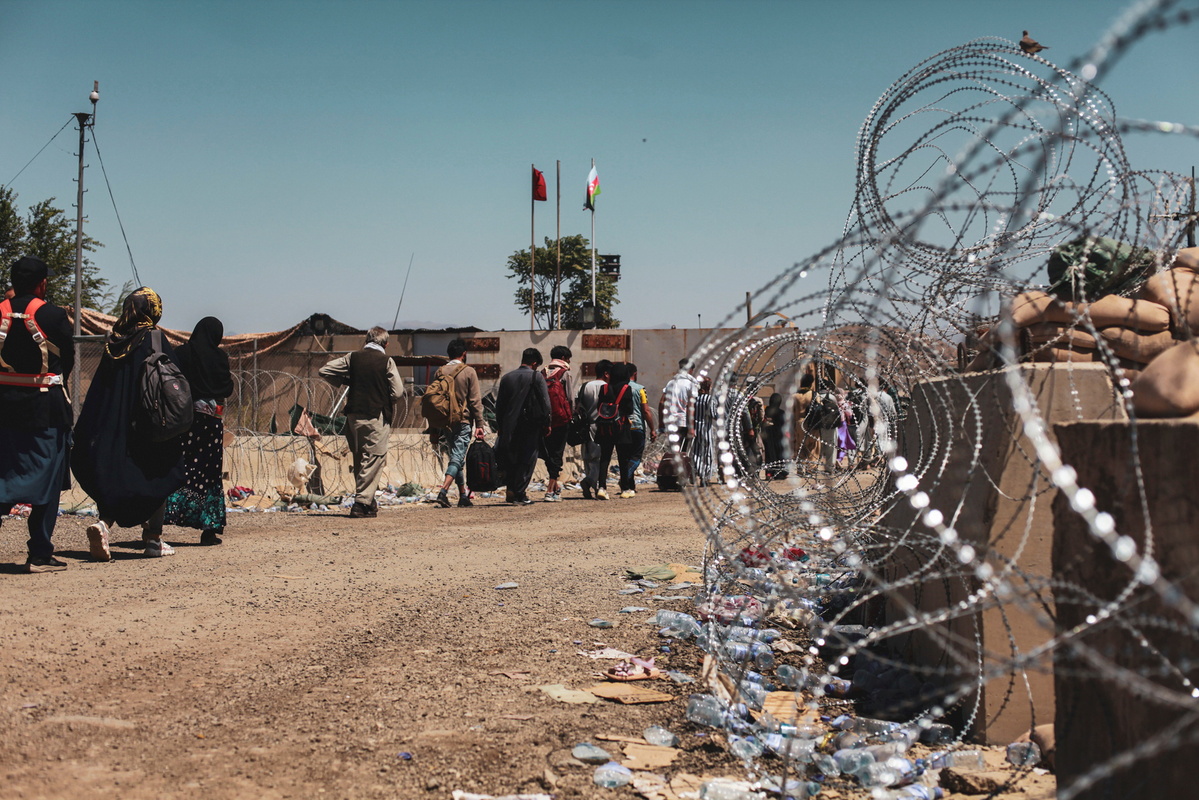 He said that Afghanistan has a "very strong" resistance to foreign intervention and culture and is where "various foreign efforts over the millennia" to change it have failed, starting with Alexander the Great and including Great Britain, the former Soviet Union and the US.
There is no military solution for Afghanistan; everybody who has tried a military solution has failed, Freeman said.
"What has just happened is that the lid has come off the pot; inside the pot is a boiling stew," he added.
The career diplomat said that the original US invasion of Afghanistan 20 years ago had "clear objectives". These were capturing those the US believed were behind the Sept 11, 2001, terrorist attacks and ousting a regime that was accused of providing shelter to terrorists.
"They were accomplished really within six weeks. That was enough, we should have left. People were never able to accurately, precisely explain why we were still fighting in Afghanistan," he said. "If you fight a war and you don't know what the purpose of the war is, you're going to fail."
Last February, Freeman pointed out that the "ill-considered" US pacification campaign in that fractious country had failed. "There has been neither clarity nor fixity about our objectives there," he said in a speech at the Watson Institute for International and Public Affairs, where he serves as a senior fellow.
In the interview, Freeman analyzed what he believed was the "going backward" policy decision process regarding the US' Afghanistan move.
Biden decided to withdraw US troops in line with the agreement that his predecessor Donald Trump had negotiated and then he asked the military to plan.
What the military did was plan for force-protection, that is, for the safety of the troops as they withdrew.
This is why they closed Bagram Air Base, which would have been essential for the kind of evacuation that is going on now at Hamid Karzai International Airport in Kabul, according to Freeman.
"So first came the decision, then came the planning, and only last came the intelligence assessment. This is all backwards," he said. "So, I think the contingency planning that was done, for the most part, did not focus on the right issue, which is the turmoil."
There are "mixed" consequences of the US failure in Afghanistan, he said. It shows that the US was "obstinate", keeping going even when it made no sense, and that American reliability is in doubt, with people thinking the US can't be depended upon, even though it stayed in Afghanistan for 20 years.
"Another result is that other countries will increase their efforts at self-defense. That is, because they want to hedge. They want to protect themselves against an American failure to come to their rescue," he said.
There are usually three criteria for recognition of a government: if it is in effective control of its territory, if it has agreed to keep its international obligations, and if it isn't causing a huge problem for its neighbors, according to Freeman.
"The United States adds another one, which is, 'Do we like them or not?'" he said. "We should recognize the reality. They have won the civil war; despite our help for their opponents, we have to live with that."
As to "the most effective way to influence the Taliban", Freeman said it is engagement with them, not disengagement, ostracism, isolation or cutting them off from funding.
Washington dismissed any chance of rapid recognition for a Taliban government and said it has not decided yet if it will maintain a diplomatic presence in Afghanistan after the troop withdrawal.
"I want to be really clear: there's no rush to recognition of any sort by the United States or any international partners we have talked to," White House spokeswoman Jen Psaki said at a briefing on Friday.