China's 'Astro Boy' takes off in Tokyo
Share - WeChat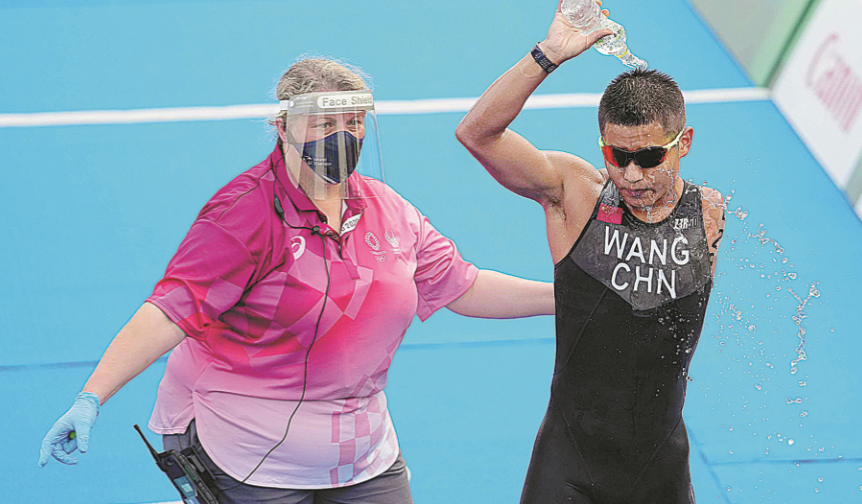 TOKYO-Wang Jiachao goes by the pseudonym "Astro Boy" on social media, in homage to the famous Japanese manga character. It's definitely a name well-chosen.
"Astro Boy derives from the English word 'atom', small but powerful. Although I am short, I am very powerful," the Chinese Paralympic triathlete said.
"My dream is to compete in the Paralympics again."
The 30-year-old former swimmer has now competed at four Paralympic Games, winning one gold, four silver and one bronze.
On Saturday in Tokyo, China's "one-armed ironman" narrowly failed to add another medal to his collection when he finished fourth in the triathlon PTS4, just 30 seconds back of Spain's bronze medalist Alejandro Sanchez Palomero.
The Paralympic triathlon consists of a 750-meter swim, a 20-kilometer cycle and a 5-km run-all half the distance of the Olympic triathlon legs. The temperature was scorching in Tokyo on Saturday, with changing outfits between events an additional challenge for athletes with physical disabilities.
Wang was placed fourth after the swimming leg, unsurprisingly his strongest discipline. At one point he moved into third spot on the bike leg, before ultimately settling for fourth in a time of 1 hour, 4 minutes and 54 seconds.
Wang lost his left arm in a high-voltage electricity accident at the age of 5, but learned to swim with one hand in a local river.
In 2001, at the age of 10, he was selected to the Yunnan provincial swimming team for the disabled, and became a disabled swimmer for the national team two years later.
In 2015, Wang retired from the swimming team and decided to use his skills in the water in triathlon.
His initial triathlon training consisted of commuting by bike and running 6km a day. With strong willpower and strict self-discipline, he reached third in the world rankings.
Wang revealed he averaged 22 hours of training a week in the buildup to the Tokyo Paralympics, but would frequently do extra without recording it on his sports watch or uploading the data to a platform that his coach could see.
"If you add in the hours I practiced secretly, that's about 30 hours a week," he said.
Wang admitted that he struggled for a long time to deal with the misfortune of losing an arm, but added that triathlon has given him true fulfillment in life.
"My optimism was not innate. It was something that I developed over time. I had low self-esteem when I lost my left arm as a child, and I still had an inferiority complex after winning the Paralympics in 2012," he said.
"What really changed me was going to university and starting the triathlon."
Wang explained that he overcame many difficulties while participating in international competitions, has made friends at home and abroad, and received a lot of help from people who did not expect anything in return.
"I can say I wouldn't be the person I am today if I hadn't chosen triathlon," he added.
Xinhua
Most Popular
Highlights
What's Hot