US military to start exit plan
Share - WeChat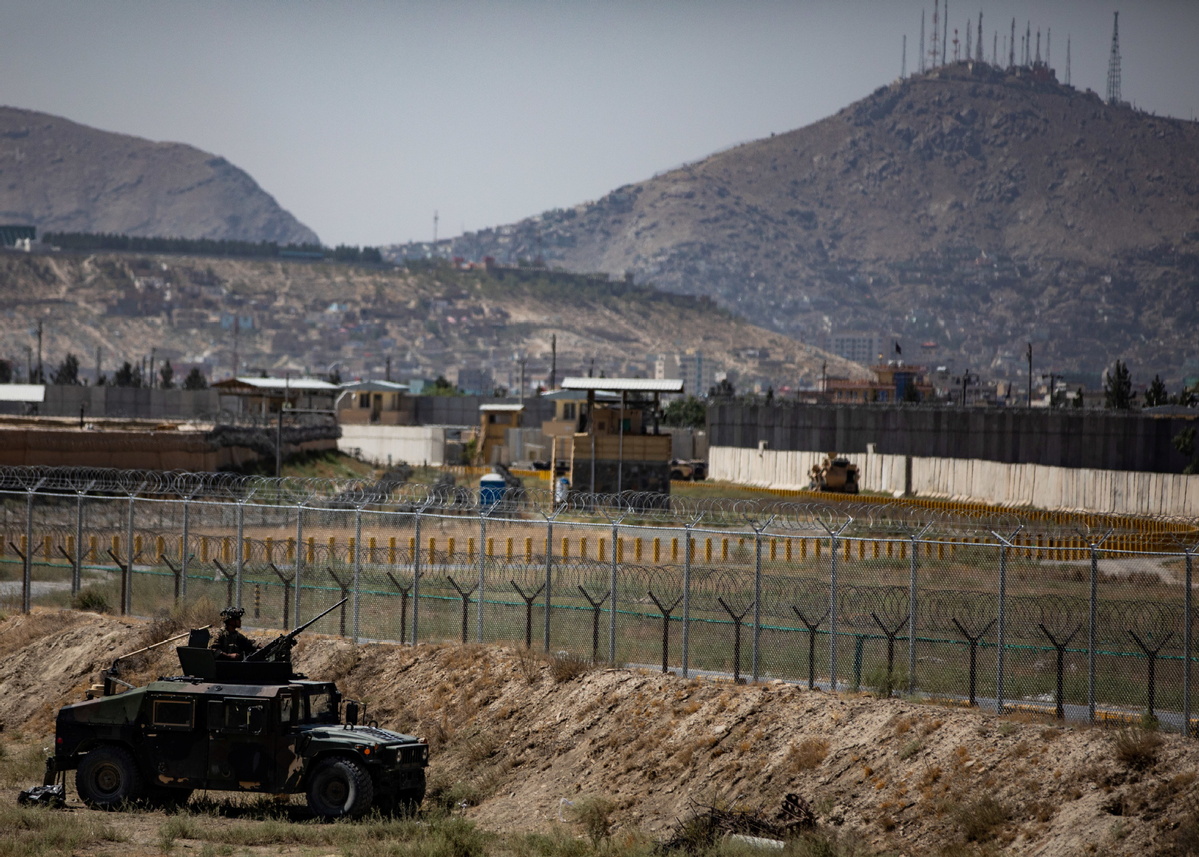 With just days left before the US says it will end the evacuation of Afghans, Americans and others foreigners from the Taliban-controlled Afghanistan, the US military said it will continue evacuating people from Kabul airport but will start to prioritize removing US troops and equipment from its massive operation.
The airlift is due end on Aug 31 and the military said it would shift its focus in the final two days to evacuating its own troops, the Pentagon said Wednesday.
Army Major General William Taylor, with the US military's Joint Staff, told a news briefing Wednesday that more than 10,000 people were at Kabul airport waiting to be evacuated.
He said that in the previous 24 hours, 90 US military and other international flights had evacuated 19,000 more people, bringing the total evacuation number so far to about 88,000. He said one plane had departed every 39 minutes.
Pentagon spokesman John Kirby said Wednesday that a total of 4,400 American nationals had so far been evacuated from Kabul, but that he didn't know how many were still there. Over the weekend, the number stood at about 2,500.
"If you're an evacuee that we can get out, we're going to continue to get you out right up until the end... But in the last couple of days ... we will begin to prioritize military capabilities and military resources to move out," Kirby said.
The number of US troops at the airport has dropped by about 400, to 5,400, but the final withdrawal hasn't begun, Kirby said Wednesday.
He said Defense Secretary Lloyd Austin will consult directly with General Frank McKenzie, the head of Central Command and overseer of the evacuation operation, before McKenzie moves ahead with the final withdrawal.
Secretary of State Antony Blinken said Wednesday that as many as 1,500 Americans may be awaiting evacuation from Afghanistan. Untold thousands of at-risk Afghans, however, are struggling to get into the Kabul airport, The Associated Press reported.
Blinken told a news conference that the State Department estimates there were about 6,000 Americans who wanted to leave Afghanistan when the airlift began Aug 14, and that about 4,500 of them have been evacuated so far. The 6,000 figure is the first public estimate by the State Department of how many Americans were seeking to get out when the Taliban completed its takeover of Afghanistan.
Taliban leaders who took control of Afghanistan this month say they won't tolerate any extensions to the Aug 31 deadline. But Taliban spokesman Suhail Shaheen tweeted that "people with legal documents" will still be able to fly out via commercial flights after Tuesday.
US-based organizations, speaking on background to discuss sensitive matters, told The Associated Press that according to accounts from witnesses on the ground, some American citizens, and family members of Afghans with green cards, still are having trouble getting into the Kabul airport for flights.
Biden administration officials have repeatedly voiced concern about security around the airport. The US believes ISIS-K, which is a sworn enemy of the Taliban, wants to create mayhem at the airport and has intelligence streams suggesting it is capable and planning to carry out multiple attacks, a US defense official told CNN.
"We're operating in a hostile environment in a city and country now controlled by the Taliban with the very real possibility of an ISIS-K attack,'' Blinken said. "We're taking every precaution but this is very high-risk. As the president said yesterday, we're on track to complete our mission by Aug 31 provided the Taliban continue to cooperate and there is no disruption to this effort."
US military and diplomatic officials appear to still be compiling a list of eligible Afghans but have yet to disclose how — and how many — they may be getting out, private Americans and American organizations told the AP.
"We still have 1,200 Afghans with visas that are outside the airport and haven't got in," said James Miervaldis with No One Left Behind, one of dozens of veterans groups working to get out Afghans who worked with the US military during America's nearly 20 years of combat there. "We're waiting to hear from the US government and haven't heard yet."
Marina LeGree of Ascend, a US-based nonprofit that worked to develop fitness and leadership in Afghan girls and young women, described getting calls from US officials telling the group's interns and staffers to go to the airport for evacuation flights, only to be turned away by American forces keeping gates closed against the throngs outside.
"It's heartbreaking to see my government fail so badly," LeGree, the group's American director, who is in Italy but in close contact with those in Kabul.
The Associated Press and Reuters contributed to this story.