Experts warn of excessive production of EV batteries
Share - WeChat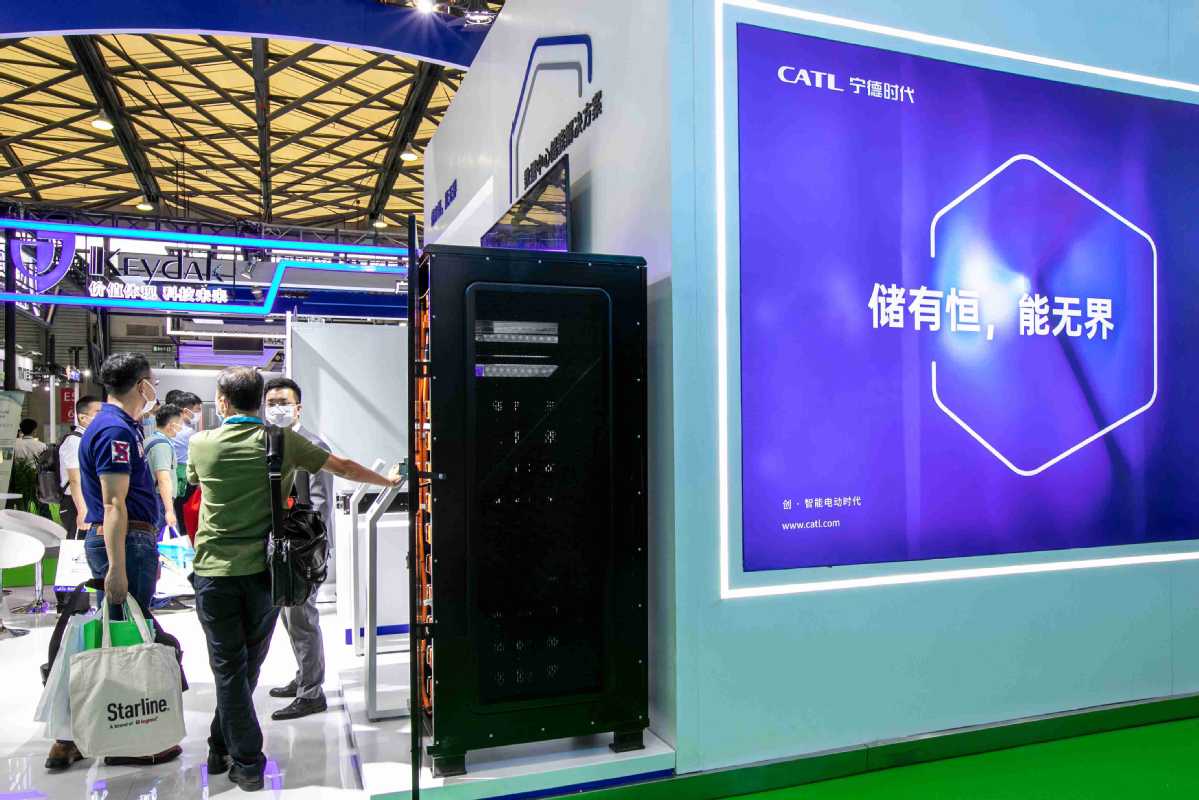 Electric-vehicle battery manufacturers in China are expanding production capacity to tap surging demand from electric vehicle companies, sparking worries over excess capacity.
To this end, experts are calling for steady expansion of production capacity, improvement on utilization rate of EVBs, stepped-up efforts in developing high-quality batteries, technical upgrades and product iteration in niche markets of EVBs.
Major types of EVBs include lithium-ion batteries, lead-acid batteries, nickel metal hydride batteries and sodium nickel batteries. Such batteries are usually rechargeable and designed to have long-endurance capacity.
On Aug 12, leading battery maker Contemporary Amperex Technology Co Ltd, disclosed a plan to raise no more than 58.2 billion yuan ($8.98 billion) for projects related to lithium batteries and research and development in new energy technologies.
Apart from CATL, Eve Energy Co Ltd signed an agreement on Aug 2 with the management committee of Jingmen High-Tech Industrial Development Zone in Hubei province, to set up a lithium-iron phosphate battery project with an annual output of 15 gigawatt-hours and a ternary lithium battery project with an annual output of 15 GWh.
In July, battery maker Gotion High-Tech also announced to cooperate with Volkswagen Group to build up an industrial chain covering raw materials, battery production and product recycling. Later, the company said it would establish a cathode material project with an annual output of 200,000 metric tons in Lujiang county, Anhui province.
In fact, there are many like the above three makers that are expanding footprints in the sector. According to the China Electric-Vehicle Battery Industry Innovation Alliance, in the first half, EVB production in China reached 74.7 GWh, up 217.5 percent year-on-year. Total capacity of EVBs sold during the period amounted to 58.2 GWh, a rise of 173.6 percent year-on-year, and installed capacity was 52.5 GWh, up 200.3 percent year-on-year.
The surge in sales of new energy vehicles, mainly EVs, is an important reason why battery makers increased their production, a report by National Business Daily said.
The report cited remarks by Zeng Yuqun, chairman of CATL, that the company had seen an increase in orders. Staff from Ganfeng Lithium also told the newspaper that growing demand of EVBs from EV makers has triggered interest and participation of upstream companies, and thus led to an increase in EVB supply.
The China Association of Automobile Manufacturers said production and sales of NEVs in the first half reached about 1.22 million and 1.21 million units, respectively, both increasing about 200 percent year-on-year.
Experts said the development of NEVs and EVBs will enter a fast track driven by China's goal of peaking carbon emissions by 2030 and reaching carbon neutrality by 2060.
Experts said the EVB industry should keep an eye on production to avoid excess capacity in the market. It is also important to improve the utilization rate of EVBs and develop high-quality products. Meanwhile, EVB manufacturers can step up efforts to develop products like hydrogen batteries and sodium-ion batteries, to meet the growing need for a technical upgrade and product iteration.
"Currently EVB manufacturers are rapidly expanding their production capacity, spurring worries on excess capacity which will have a negative impact on the industry's development. It is worthwhile noting that the utilization rate of EVBs is still relatively low," said Lin Boqiang, head of the China Institute for Studies in Energy Policy at Xiamen University.
Among EVBs produced in the first half of this year, totaling 74.7 GWh in production capacity, about 30 percent were not used, the National Business Daily said in a report.
However, the report pointed out that EVBs produced by leading manufacturers had relatively high utilization rates. The average EVB utilization rate in CATL was 74.83 percent last year, while the utilization rate of lithium hydroxide products and lithium metal batteries were 88 percent and 98.58 percent, respectively, in Ganfeng Lithium last year.
Lin said that currently the EVB industry has a supply-shortage of high-quality products from leading manufacturers, with excess capacity from companies making lower quality batteries.
Lin said EVB manufacturers should step up efforts to develop high-quality products and innovative technologies to meet the growing need of upgrade and iteration in technical and product development.